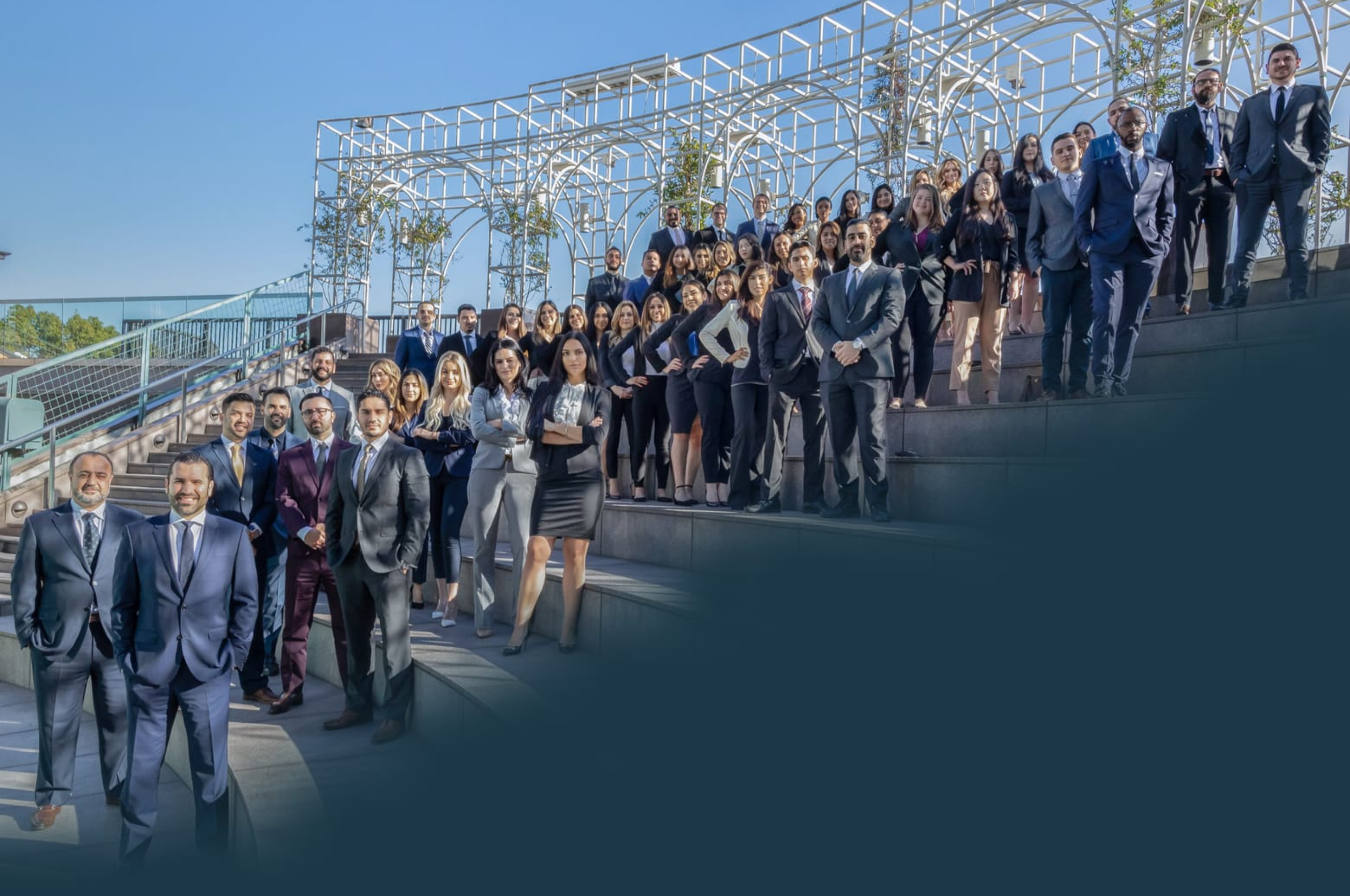 Pasadena Personal Injury Lawyer
West Coast Trial Lawyers Is Readily Available to Represent Your Personal Injury Case
Did you sustain serious injuries after an accident caused by someone else's unlawful actions? Did these injuries create a significant impact on the way you live your life? You may be entitled to file a personal injury claim against the party at-fault for your losses. In order to proceed with such an action, you will need the assistance of an experienced Pasadena personal injury attorney. At West Coast Trial Lawyers, our legal team is available 24/7. We have over 60 years of collective legal experience in handling personal injury cases. As we continue to achieve our objective of delivering client satisfaction, we remain confident that we will get you the compensation you deserve for your losses. Schedule a no-cost, risk-free consultation with us today by calling
213-927-3700
or by filling out our
online contact form
to get started on the process of filing a personal injury claim.
Types of Cases Our Top Ranked Pasadena Personal Injury Attorneys Handle
Car Accidents: With thousands of vehicles occupying the roads on a daily basis, it is inevitable for a car accident to occur.Negligent drivers often find themselves wanting to disobey the rules of the road in order to get to their location on time. Unfortunately, these selfish actions can affect other drivers nearby and cause an accident. If you were involved in a car accident and would like to file a lawsuit against the driver at-fault, West Coast Trial Lawyers has experienced Pasadena personal injury attorneys that will guide you through the process of building a strong claim to help you acquire fair compensation for your losses.
Wrongful Death: If you lost a loved one due to a wrongful death, you may be able to take legal action against the individual who was at-fault for their death. As a victim's heir, you may file a lawsuit against the defendant for losses suffered from the incident. To get help from a Pasadena wrongful death attorney, reach out to West Coast Trial Lawyers. We are ranked as one of the top personal injury law firms in Pasadena. Our wrongful death attorneys will devote themselves to get you the justice you deserve.
Uber and Lyft Accidents: Pasadena has an estimated population of 141,258 residents, and several of them use transportation services, such as Uber or Lyft to go from one place to another. Even though these services provide a lot of convenience, they could also cause unfortunate circumstances, such as leaving passengers with serious injuries. If you were involved in an Uber or Lyft accident, our Pasadena rideshare attorneys will help you get the compensation you deserve for your losses, including medical bills, lost wages, pain and suffering, and more.
Motorcycle Accidents: Motorcycles are equipped with intense speed that only experienced motorcyclists can handle. Unfortunately, many motorcyclists take to the road without learning how to properly ride a motorcycle. This creates a dangerous environment for not only the rider, but the drivers nearby. If you were involved in a motorcycle accident, our Pasadena personal injury attorneys will provide you with legal guidance on what you need to do to increase your chances of acquiring maximum compensation that will cover your damages.
Pedestrian Accidents: With so many vehicles being driven on a day-to-day basis in Pasadena, pedestrians are at a high risk of getting involved in an accident with a negligent driver. At West Coast Trial Lawyers, we will help you fight against the driver at-fault for causing injuries that have dramatically impacted your life.
Bicycle Accidents: Since bicycles are small in size compared to cars, they may often be unnoticeable on the road. It is the driver's duty to make sure that they are cautious when checking their surroundings prior to making any lane changes. Failure to do so can result in a bicycle accident. If you were hit by another vehicle while riding in the bike lane, you may be entitled to receive compensation for damages. At our Pasadena personal injury law firm, we have attorneys with over 60 years of collective legal experience in handling these types of cases.
Scooter Accidents: Scooters are difficult to operate if a person has little to no experience using one. A scooter rider could accidentally accelerate into heavy traffic or crash into pedestrians on the street. Overall, a scooter is a risky vehicle to use for transportation. If you were injured in a scooter accident and would like to file a lawsuit against the at-fault party, our Pasadena scooter accident attorneys are readily available to provide you with legal assistance.
Truck Accidents: There is a lot of pressure bestowed on truck drivers to keep up with their schedules. Lack of sleep and the urge to meet deadlines can significantly impact the way they drive. Chances of an accident from occurring can become very likely. If you were injured in a truck accident and would like to pursue a lawsuit against the driver at-fault, our Pasadena personal injury law firm has experienced truck accident attorneys who are readily available to assist you with your case.
Premises Liability: It is always the property owner's duty to make sure that their facility is safe to use. Failure to do so may result in injury or even death. Those who are harmed by faulty property conditions are permitted to file a lawsuit against the at-fault property owner. At West Coast Trial Lawyers, our experienced Pasadena premises liability attorneys will make sure that you receive maximum compensation for injuries caused by a negligent property owner.
Bus Accidents: Pasadena offers many bus routes for those who need to go from one place to another. Unfortunately, while a bus is operating on the road, it can get into an accident with a negligent driver who is recklessly attempting to pass by. This could result in a serious collision that may affect the bus driver and passengers. Our Pasadena bus accident attorneys will devote themselves to your case and make sure you have the highest chance of winning your lawsuit.
Dog Bites: Dogs are the most popular choice of a household pet. Unfortunately, many dogs are not trained properly, thus resulting in aggressive or reckless behavior towards others. If you were bitten by a dog and would like to press charges against the owner, our Pasadena personal injury law firm has experienced dog bite attorneys that are readily available to assist you.
Brain Injury: Several factors may contribute to a brain injury, such as car accidents, motorcycle accidents, scooter accidents, and so on. It is important to get legal help from a skilled Pasadena brain injury attorney to receive maximum compensation for your losses. This includes medical expenses, lost wages, pain and suffering, and more.
Spinal Cord Injury: Any accident that results in forceful impact to the back can damage the spinal cord.If you fell victim to a spinal cord injury due to an accident caused by a negligent driver, reach out to our Pasadena personal injury law firm to receive legal help from our 24/7 legal team.
Burn Injury: Burn injuries can happen anywhere.This includes your kitchen, office space, or car. You could burn your hand on a stove or have engine problems in your car that could result in a fire. A faulty office product may also cause a burst of flames. If you suffered a burn injury and need legal guidance on how to handle this kind of situation, reach out to our Pasadena personal injury law firm for more information.
Food Delivery Accidents: Food delivery services have become a preferred go-to in Pasadena. People love the idea of staying at home while having someone else get food for them. However, food delivery drivers are generally put under stress to meet their deadlines. Failure to perform may put their job on the line. This is primarily why food delivery drivers exhibit acts of negligence while on the road. If you were involved in an accident with a food delivery driver and want to press charges for damages, our Pasadena food delivery accident attorneys will make sure that you get the maximum financial and emotional compensation you deserve.
Avoid These Mistakes During a Pasadena Personal Injury Lawsuit
Once you file a lawsuit against the party who is at-fault for causing the accident, you must monitor your actions to ensure that you don't make mistakes that could negatively affect your claim. Do not:
Speak about your case to anyone besides the Pasadena accident attorney that is assigned to you.
Ignore the treatment plan the physician made for you.
Use social media to post about what is going on with your lawsuit. This includes posting pictures relating to your case.
Confirm friend requests from individuals you do not know in real life after you have started the process of filing a lawsuit.
Get in contact with the at-fault party.
Speak to the insurance company and have the conversation recorded.
Make your social media accounts public.
Make agreements to settlement offers that do not include all damages.
Gathering Evidence for a Pasadena Personal Injury Claim
If a Pasadena citizen has suffered from a personal injury accident, he or she will need convincing evidence to help win their case. It is highly suggested to gather evidence, such as:
Photos and videos. Having visual proof of your injury, damages, and the location of where the accident took place will be very beneficial to your case. This will make it easier for you to provide a clear description about your situation to the judge and jury.
Documentation.Make sure you write down exactly what you saw before, during, and after the collision. You should also include the date and time of the incident. If police officers were present at the scene of the accident, get their names and/or badge numbers. Furthermore, if you were taken to a hospital to treat your injuries, you could use your medical records to show proof that you were harmed in the accident.
Witnesses.If you are physically able to do so, look around to see if there are any witnesses nearby. Ask them if they are interested in helping you out with your situation. If they agree to participate, you should take down their names and phone numbers. Their witness testimonies can help back up your claim.
California's Statute of Limitations for a Personal Injury Case
When someone is at-fault for an accident that has resulted in your injuries or damages, you may be entitled to file a personal injury claim. In California, you are given two years starting from the date of the accident to pursue legal actions. Although you are given a lengthy period of time to begin this process, we encourage you to take the initiative of fulfilling this task sooner rather than later. If you wait until the last minute, you may not have enough time to create a well-constructed claim. If you exceed the deadline, you will no longer be eligible to file a personal injury claim against the party at-fault for your losses. Even if you try to submit a claim after you have gone over the deadline, it will be dismissed. However, there are a few exceptions that will grant you an extension. You must be:
A minor,
Out-of-state,
Incarcerated,
Legally insane, or
Incapacitated.
The "discovery rule"may also affect the statute of limitations. The statute of limitations will begin on the initiate date of when the injury was discovered or should have been discovered.
What Is Your Pasadena Personal Injury Claim Worth?
A majority of personal injury damages are identified as compensatory. This basically means that the plaintiff will be compensated for any tangible damages they lost due to the injury or accident. There are various types of compensatory damages that could be awarded to a personal injury victim, depending on the circumstances. These include:
Medical bills.Personal injury damages could include treatment for your injuries. This also includes compensation for future medical care you will need to continue taking care of your injury.
Property damage. If the victim had any items damaged from the accident, they will qualify for compensation to repair or recover what was destroyed.
Lost wages. Victims involved in accidents may lose their income due to various reasons preventing them from going back to work. This includes recovering from physical injury or mental anguish. You will be given compensation for the income lost, along with the money that would have been made in the future if you were not injured.
Punitive Damages in a Pasadena Personal Injury Case
Punitive damages are primarily awarded to punish the defendant for their egregious misconduct. If the defendant displayed an alarming amount of reckless or careless behaviors before and during the accident, the plaintiff may be awarded punitive damages on top of the normal compensatory damages they would already be entitled to. However, punitive damages are rarely given. Only 5 percent of personal injury claims include punitive damages.
Get Help From a Personal Injury Attorney in Pasadena
If you have sustained injuries as a result of someone's negligence or deliberate acts of malice, you have the right to hold the guilty party responsible for your losses.
A
Pasadena personal injury attorney
at
West Coast Trial Lawyers
can recover compensation for the losses you have suffered. No fees will be charged until your case has been settled. Contact us today by calling
213-927-3700
or filling out our
quick contact form
 form to schedule a free, no-obligation consultation with our knowledgeable, caring, and compassionate legal team.


They know what they're doing, very well. Not only did I not make a single phone call from the day I hired them, but I also received calls from their case managers and paralegals who want to make sure my treatment was going well. They whole team took care of me. Thank you WCTL for taking full responsibility of my case and getting me an amazing settlement.


I can say with confidence that this team is the best in the business. . . . Dean took the time to really listen and hear me out. He assured me that he was going to move mountains because he believed in me, and he ended up doing just that. I've never met a more focused and passionate attorney in my life. If you're looking for a firm that treats its clients with the utmost respect and care, calling WCTL is a no-brainer. I wouldn't think twice about working with them again in the future.