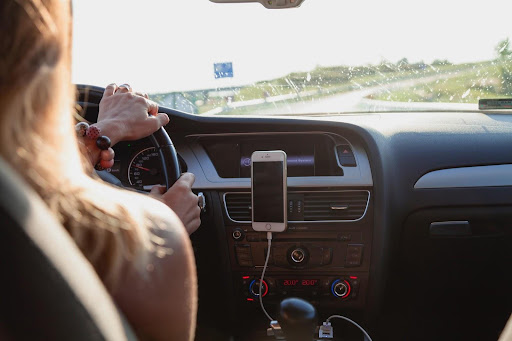 Food Delivery Accident in a Personal Car
How Do Food Delivery Accident Claims Work if You Are Using a Personal Car?
Just like the ridesharing business, food delivery companies, such as Postmates, DoorDash, Grubhub, and Uber Eats, have also attracted drivers to work for them due to the possibilities of setting up their own work schedule, being their own boss, quick turnaround for payment, and not having to deal with riders getting into their personal vehicles. 
From 2014 to 2016, digital ordering and delivery grew 300 percent quicker than dine-in traffic. Moreover, it is projected that online food delivery will grow into a massive $200 billion industry by 2025. In 2018, 36 percent of online users under 35 years old in the United States often ordered restaurant delivery. 
The rapid rise of food delivery companies has become a blessing when it comes to convenience. But as the number of food delivery vehicles in California increases, so does the likelihood for accidents. 
A driver working for food delivery companies, like Postmates and Doordash, needs a commercial auto policy given that food delivery falls under a business use of the vehicle and not personal use. Unfortunately, most companies allow its drivers to sign up to work with just their personal insurance, yet fail to inform them that they won't always be liable for damages in case of an accident.
The most popular food delivery services in California are Postmates, DoorDash, Grubhub, and Uber Eats. Specific insurance policies for these companies vary in regards to the amount of coverage they provide for damages arising from food delivery accidents, if any.
If you have any questions about your food delivery accident or would like to schedule a free consultation to speak to one of our expert food delivery accident attorneys at West Coast Trial Lawyers, you may reach us by calling 213-927-3700 or filling out our quick contact form. 
Food Delivery Companies and Their Insurance Policies
Per their website, Postmates states: "Property damage sustained to your property in an accident is [the driver's] responsibility and should be addressed by your personal insurance carrier." The company provides $1 million in excess liability to third party claims that will only come into play after the driver's personal auto insurance coverage has been exhausted. Moreover, occupational accident insurance covers medical expenses and lost income with an amount up to the policy limits.
Postmates will only cover the damages if the driver was on an active delivery, meaning after they selected "accept" on the platform and until the customer receives their order as logged by the platform. If you are offline, your personal insurance is your insurance policy. If you are online, but you haven't accepted a delivery request, again, your personal insurance is your insurance policy. 
DoorDash requires its drivers "to maintain [their] own insurance, in the amounts and of types required by law which includes, but is not limited to, an auto insurance policy. If [they] fail to maintain [their] own insurance, DoorDash's coverage may not apply." DoorDash provides excess auto insurance for its drivers, but only for property damage or bodily injury caused to third parties. In the event of an accident, the driver's personal auto insurance policy would serve as the primary coverage. This contingent liability policy only applies if the driver was in possession of goods to be delivered, meaning if they were driving from the restaurant to the customer's home address, but not to a restaurant for pickup.
Starting June 2019, drivers will be qualified to receive occupational accident insurance coverage at no cost.
Grubhub doesn't provide any kind of liability insurance to its drivers at all. This means that if you drive for Grubhub and get into an accident, no matter the circumstances, you are 100 percent liable for all damages. That's why it's of the utmost importance to have the correct insurance coverage when doing deliveries for Grubhub.
Uber Eats drivers' liability to third parties is covered from the moment a driver accepts the request until the delivery is complete. If the app is currently on and the driver has not yet begun to pick up or deliver food, or if the driver is in between deliveries, the driver is covered for up to $50,000/$100,000/$25,000 (per individual/accident/property damage). Uber provides $1 million of liability coverage per incident, which is covered by Uber's commercial insurance policy. 
The insurance coverage Uber Eats offers covers drivers while they're on active deliveries. The additional insurance the driver attains through their private insurance would cover the time they're logged in and waiting for a request.
It is essential that food delivery drivers ensure that they're covered properly in case of an accident. Injuries and property damages resulting from car accidents can easily rack up. When the driver doesn't have proper insurance, they can end up having to cover it all on their own, thus making it that much more difficult to recover damages. 
West Coast Trial Lawyers Is Here to Help
If you have sustained injuries as a result of a food delivery accident, our food delivery accident attorneys at West Coast Trial Lawyers can help you recover compensation for your losses, which includes medical bills, property damage, lost wages, and pain and suffering. 
Contact us today by calling 213-927-3700 or filling out our contact form to schedule a free consultation with our experienced, caring, and compassionate legal team.


They know what they're doing, very well. Not only did I not make a single phone call from the day I hired them, but I also received calls from their case managers and paralegals who want to make sure my treatment was going well. They whole team took care of me. Thank you WCTL for taking full responsibility of my case and getting me an amazing settlement.


I can say with confidence that this team is the best in the business. . . . Dean took the time to really listen and hear me out. He assured me that he was going to move mountains because he believed in me, and he ended up doing just that. I've never met a more focused and passionate attorney in my life. If you're looking for a firm that treats its clients with the utmost respect and care, calling WCTL is a no-brainer. I wouldn't think twice about working with them again in the future.