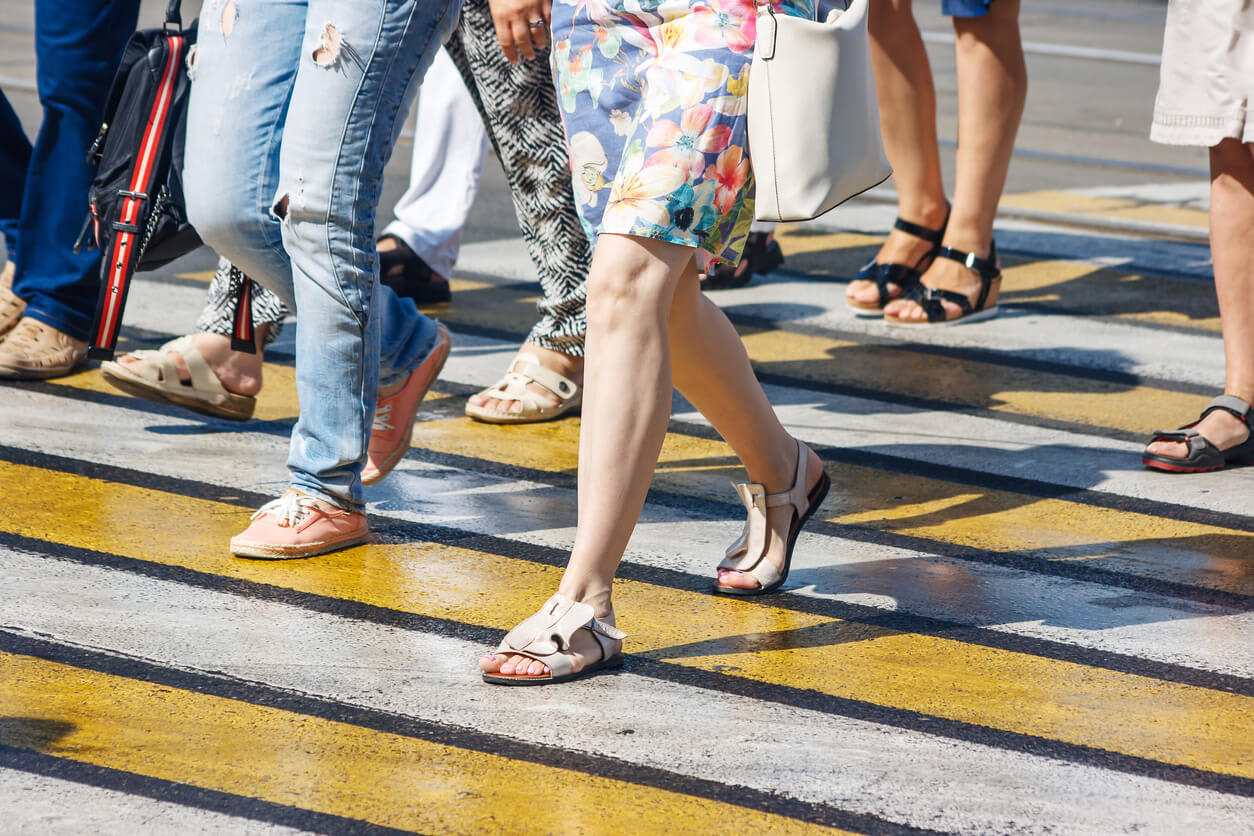 California Pedestrian Accident Attorney
Injured in a Pedestrian Accident? West Coast Trial Lawyers Will Represent Your Case
Pedestrian accidents often result in gruesome injuries. This comes to no surprise as pedestrians are left vulnerable when walking on California streets. Although laws have been established to reduce pedestrian injuries or deaths, many drivers continue to ignore them. Those who are found violating California's rules and regulations will be faced with legal repercussions.
If you were involved in a pedestrian accident and are seeking legal assistance, our qualified California pedestrian accident attorneys at West Coast Trial Lawyers are readily available to help you get the justice and compensation you deserve. With our track record of recovering more than $1 billion in settlements for our clients, we are confident that we will deliver a good outcome to your case.
To schedule a free consultation, you may contact our 24/7 legal team by calling 213-927-3700 or filling out our quick contact form.
What to Do After a Pedestrian Accident in California
After a pedestrian accident, it is important to collect as much information as possible in order to build a strong personal injury claim. Below, we have created a list of essential steps you should consider following.
Call the Police, if Necessary. If you notice any injuries or damages, you should contact the police immediately. They will arrive at the scene of the accident and conduct an official police report. You may request a copy of this report to include in your personal injury claim. Paramedics may also arrive to provide medical attention to parties who have sustained any injuries from the accident.
Exchange Information. You must request the other party's information, such as their driver's license, license plate number, vehicle model, contact information, and insurance information.
Collect Evidence. You should take photographs and/or video footage of your injuries and damages. Do not forget to also capture the scene of the accident and the condition of the road. Lastly, you should document your perspective of the pedestrian accident in a journal or diary. Make sure to include the date and time of when the event took place.
Obtain Witness Information. If you notice any witness nearby, you should ask for their consent to acquire their contact information. Witness testimonies can greatly support your personal injury claim.
Seek Medical Attention. Even if you feel unscathed after the pedestrian accident, you should still make an appointment to see a doctor. The doctor will examine your body to determine if you have any serious condition(s) that may require medical treatment.
Hire a Qualified California Pedestrian Accident Attorney. Insurance companies do not have your best interest at mind and will give you a low offer to settle your case. A California pedestrian accident attorney will negotiate with the insurance company to ensure you are given a fair settlement offer that will help cover for all of your damages.
Pedestrian Right-of-Way Laws in California
Negligent drivers have continued to become a common problem on California roads. Unfortunately, many drivers choose to ignore traffic laws, which has often resulted in accidents involving pedestrians. According to California's Office of Traffic Safety (OTS), 893 pedestrians were killed by drivers. This was a 26 percent increase compared to 2014. Furthermore, California's pedestrian fatality rate is 25 percent higher than the national average. 
In efforts to prevent pedestrian injuries or deaths, California has established a set of pedestrian right-of-way laws. According to California Vehicle Code 21950, a driver must yield the right-of-way to a pedestrian in all marked and unmarked crosswalks at an intersection. Failing to yield to a pedestrian in a crosswalk or intersection will likely cause the driver to bear liability for the accident.
However, the concept of "right-of-way" has left many under the assumption that pedestrians should be given the right-of-way no matter what, regardless of whether the pedestrian willingly involves themself in a dangerous situation. Circumstances like this are why some pedestrian accident cases can be challenging to deal with.
CVC 21950 also states: "No pedestrian may suddenly leave a curb or other place of safety and walk or run into the path of a vehicle that is so close as to constitute an immediate hazard."
Per CVC 21954 (a), "every pedestrian upon a roadway at any point other than within a marked crosswalk or within an unmarked crosswalk at an intersection shall yield the right-of-way to all vehicles upon the roadway so near as to constitute an immediate hazard." As it turns out, pedestrians are not always given the right-of-way. They are expected to yield the right-of-way to vehicles when they are crossing in an area that is outside of the crosswalk.
However, if a pedestrian accident does occur under this type of scenario, drivers will not be entirely blameless. The section continues by clarifying that, "the provisions of this section shall not relieve the driver of a vehicle from the duty to exercise due care for the safety of any pedestrian upon a roadway." This basically indicates that if a pedestrian illegally crosses the street and a driver is given enough time to react to the pedestrian, they must slow down or stop.
These rules and regulations have confused drivers and pedestrians as they are not entirely aware of when they should be giving a right-of-way to the other. Regardless, it is always expected for both parties to behave responsibly. Drivers must follow the rules of the road, especially when a pedestrian is nearby. Pedestrians should always be aware of their surroundings and safely cross in areas where they are permitted to do so.
Statute of Limitations for a Pedestrian Accident Claim in California
Since a pedestrian accident falls under a personal injury, you are given two years starting from the initial date of the incident to file a claim. If you exceed the deadline, you will no longer qualify to pursue legal actions against the other party for damages caused by the pedestrian accident. However, California does have a few exceptions that may allow for an extension. This includes the plaintiff being:
A minor.
Out-of-state.
Incarcerated.
Legally insane.
Incapacitated.
Available Damages in a Pedestrian Accident
Pedestrian accidents typically result in serious injuries that may require immediate medical attention, at times resulting in a potential pedestrian wrongful death case.Paramedics may transport the injured pedestrian to the hospital where tests will be administered to determine what areas of the body are in need of treatment. As the injured pedestrian is expected to go through extensive care, they will be missing out on school or work for a lengthy period of time. 
Not only will the pedestrian miss out on school or work days, but they may also have the inability to perform tasks the same as they used to prior to the accident. These damages can cause a detrimental impact to the pedestrian's life.
If you were injured as a result of someone else's negligence, you may be entitled to compensation for your losses, including economic and non-economic damages.
Economic damages are intended to compensate a plaintiff for losses that a dollar amount can readily be attached to. It is calculated by determining the amount of out-of-pocket losses an aggrieved individual has or will expect to incur as a result of their injuries. A few examples of economic damages include medical bills, lost wages, and loss of earning capacity.
Non-economic damages are essentially intended to cover losses that are thought of as subjective and will not necessarily cover out-of-pocket losses. This may include compensation for emotional distress, loss of enjoyment of life, and pain and suffering.
The third type of damages a California court may award is known as punitive damages. Punitive damages are intended as punishment and are only awarded when a defendant's behavior is especially harmful.
West Coast Trial Lawyers Is here to Help
If you have sustained injuries as a result of someone's negligence or deliberate acts of malice, you have the right to hold the guilty party responsible for your losses. Our California pedestrian accident attorneys at West Coast Trial Lawyers can recover compensation for the losses you have suffered.
Contact us today by calling 213-927-3700 or filling out our contact form to schedule a free consultation with our experienced, caring, and compassionate legal team.


They know what they're doing, very well. Not only did I not make a single phone call from the day I hired them, but I also received calls from their case managers and paralegals who want to make sure my treatment was going well. They whole team took care of me. Thank you WCTL for taking full responsibility of my case and getting me an amazing settlement.


I can say with confidence that this team is the best in the business. . . . Dean took the time to really listen and hear me out. He assured me that he was going to move mountains because he believed in me, and he ended up doing just that. I've never met a more focused and passionate attorney in my life. If you're looking for a firm that treats its clients with the utmost respect and care, calling WCTL is a no-brainer. I wouldn't think twice about working with them again in the future.