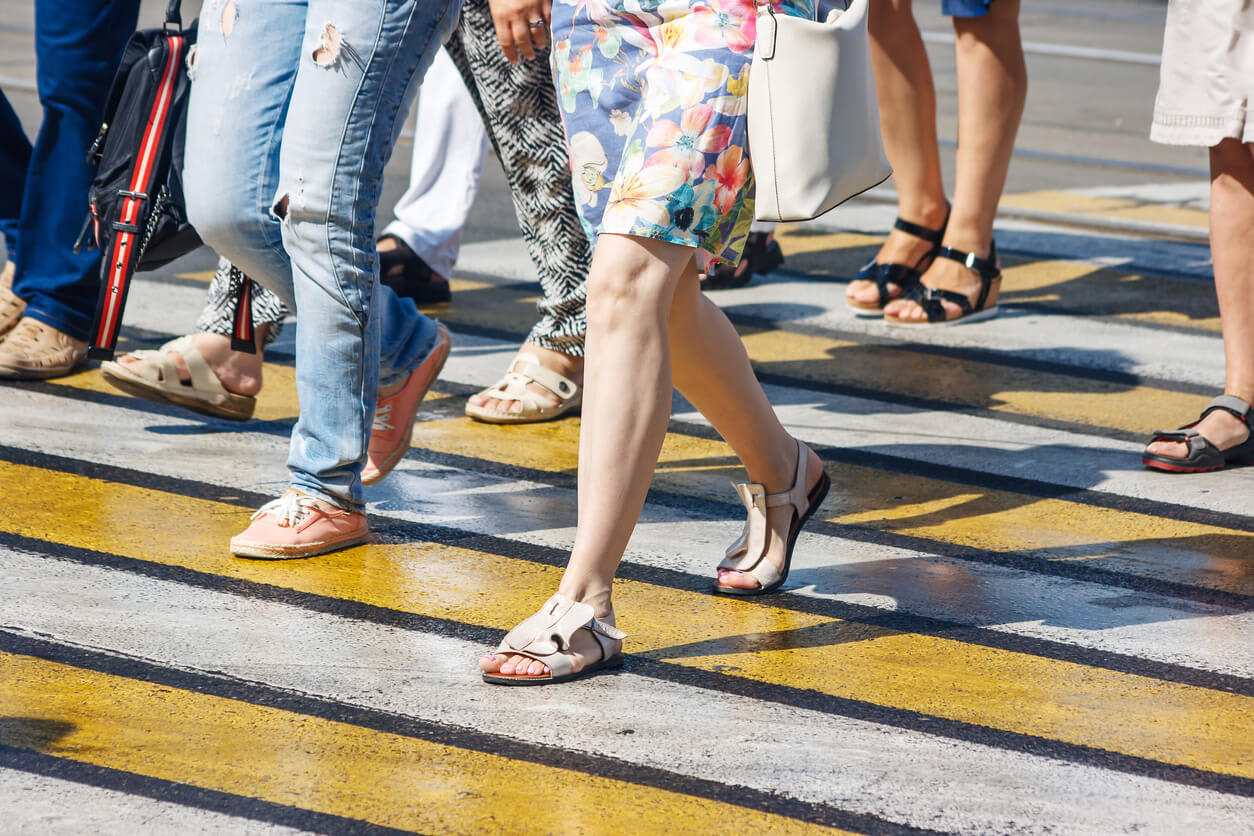 Los Angeles Pedestrian Accident Lawyer
Pedestrian accidents produce some of the most catastrophic injuries a person can experience. If your life has been turned upside down by a devastating pedestrian accident injury, and you do not know how to get through this difficult time, reach out to a compassionate Los Angeles pedestrian accident lawyer at West Coast Trial Lawyers for help. 
If we are able to take on your case, we will work tirelessly to bring the liable party to justice so you can recover the compensation you deserve. Contact our office to schedule a free consultation today and find out how much your pedestrian accident claim could be worth.
Common Pedestrian Accident Injuries to Sue for 
Pedestrian accident injuries are notably catastrophic. After all, pedestrians simply do not have the same protection surrounding them the same way people traveling in motor vehicles do. When pedestrian accidents occur, they generally happen when a vehicle strikes a pedestrian while crossing the road or walking down the street. 
However, it is important to remember that the type of injury you are diagnosed with will not determine your right to compensation. When evaluating your case, your lawyer will be looking at the ways your life has been affected by your injuries, not the type of injury you were diagnosed with. With this in mind, some of the more common types of injuries seen in Los Angeles pedestrian accident claims include:
Organ failure
Internal bleeding
Facial injuries
Head injuries
Concussion
Traumatic brain injuries
Soft tissue injuries
Whiplash
Neck injuries
Road rash
Broken and fractured bones
Paralysis
Spinal cord injuries
Lots of limbs
Post-traumatic stress disorder (PTSD)
Contusions
Lacerations leading to sepsis
Abrasions
Third-degree burns
If you suffered another type of injury in a pedestrian accident that was not listed above, you may still be entitled to financial compensation. The best way to find out whether you have grounds for a claim and how much your case could be worse is to contact a pedestrian accident attorney in Los Angeles for a free case evaluation.
LA's Pedestrian Rights to Personal Injury Protection
While the cause of pedestrian accidents varies, these types of accidents are preventable. Whether a driver ran a red light, didn't stop at a crosswalk, was texting and driving, or was just not paying attention to the road, he or she can be held liable for causing a pedestrian's injuries. Due to the impact a speeding vehicle can have on a human being, injuries sustained as a result of a pedestrian accident are often debilitating and sometimes fatal.
The city of Los Angeles is infamous for pedestrian accidents— it's the top worst city for pedestrian deaths in the U.S. Over 65% of all severe and fatal traffic collisions involving people walking occur on just 6% of our city streets, and it's known as the High-Injury Network. Of the 86 traffic collision deaths in Los Angeles by May 2020, 50 victims — nearly 60% — were pedestrians killed by drivers.
What to Do if I Suffered a Pedestrian Accident
The steps to take immediately after a pedestrian accident are crucial. Your health and safety must always be your first priority if you are injured in a pedestrian accident. Please call 911 immediately and request help if you are injured. It's possible that you may feel fine immediately after being knocked down. However, even serious injuries may not show any adverse symptoms until the next day, or even several days after. Therefore, it's always recommended to seek medical treatment as soon as possible, whether you believe you are seriously hurt or not. The next thing you must do is gather as much relevant information about the accident as you can. 
Please make sure to include:  Contact information for any available witnessesNames and contact information for everyone involvedPhotos/videos of the accident scene, the offending vehicle, and your injuries Offending driver's name, driver's license, insurance information, and license plate number It is crucial that you DO NOT admit fault or even suggest who may be at fault. If possible, DO NOT SPEAK about the accident at all. It's perfectly normal to feel upset and get caught up in the moment, but discussing the accident -- and especially, apologizing for it -- will not help you and can be used against you. 
Finally, it is important to retain the services of a Los Angeles pedestrian accident attorney. Do not attempt to negotiate directly with the insurance company. They are not on your side and will try to pressure you into settling for less money than you deserve. An experienced pedestrian accident attorney can deal with the insurance companies for you and will always be available to answer any questions about liability or damages owed to you.
Laws Affecting Pedestrians and Drivers
Below are several laws affecting both drivers and pedestrians, according to the California Vehicle Code. Among other considerations, a pedestrian accident lawyer will consider the following laws when determining who is at fault: 
A driver must always yield the right of way to a pedestrian who is crossing a roadway within any marked crosswalk or within any unmarked crosswalk at an intersection.A driver must never stop within a crosswalk, as this forces a pedestrian to walk around that vehicle, which can be very dangerous.
A pedestrian is never allowed to jaywalk. If a driver is involved in a collision because he or she was trying to avoid hitting a jaywalker, the jaywalking pedestrian would be held liable.
A driver must never pass a vehicle stopped at a crosswalk. The stopped driver could be waiting for a pedestrian to cross safely.A driver can drive on a sidewalk only when entering or exiting a garage or alleyway. However, that driver must still yield to a pedestrian when doing so.
Common Pedestrian Accident Causes
The majority of pedestrian accidents are caused by negligent drivers, but that won't always be the case. There are a variety of circumstances that can cause a pedestrian to become injured by being knocked down. 
Below are several causes of pedestrian knockdown incidents:
Physical altercations
Runners on a sidewalk
Bicyclists on a sidewalk
Skateboarders on a sidewalk
Distracted or negligent drivers
Uncontrolled or unleashed dogs
Large groups of people on a sidewalk
Parked cars suddenly opening their doors
Children running around or rough-housing
Distracted pedestrians not watching the road 
Trucks or buses with large side mirrors that extend into a sidewalk
Who Is Responsible for a Pedestrian Accident?
Many people automatically assume that a driver is always to blame for causing a pedestrian accident. However, it's possible for a pedestrian to also be at fault, either completely or partially. Just because a pedestrian is careful does not mean he or she has the right of way. It also does not mean they will be exempt from liability if they were involved in a collision with a vehicle.  
All drivers and pedestrians have a responsibility to one another: a driver must use reasonable care to avoid hitting a pedestrian and a pedestrian must use reasonable care to safely cross a street.
California has several right of way laws regulating pedestrian safety.
The penalty for a driver who does not yield the right of way to a pedestrian is at least $220 when injuries are involved. The penalty for not yielding to a blind pedestrian is more severe: a maximum $1,000 fine and six months in prison, or possibly both.
By law, drivers and pedestrians must be aware of their immediate surroundings. Following right of way laws may help absolve a driver of criminal wrongdoing, but this will not minimize his or her degree of fault. Even if a person walks across the street and does not use a crosswalk when a driver has a green light, that driver still has a duty of care to avoid hitting that jaywalker.
Likewise, a pedestrian cannot suddenly step off the curb when a car is near, or stop in the middle of an intersection, or block traffic even when they have the right of way. As mentioned, both drivers and pedestrians must be aware of their immediate surroundings and act in a safe manner.
Let's consider an example: 
Terrance is walking down Sunset Boulevard while slightly intoxicated on a legally purchased cannabis cookie. Terrance is not particularly careful about where he is going and jaywalks several times, interrupting the flow of traffic. Fortunately, most drivers, despite their annoyance, wait for him to cross the street even though he is not using a crosswalk.
Meanwhile, Randy is driving down Sunset Boulevard. Randy is not speeding. However, Randy is not fully attentive and is also doing a bit of texting.
Terrance suddenly walks across the middle of the street and is struck by Randy, who was momentarily looking down at his phone. Terrance suffers horrific injuries, including paralysis and brain damage.
Considering the circumstances, both individuals were at fault. Terrance shouldn't have been intoxicated and he should have used a crosswalk. On the other hand, Randy should have been more careful, because even though Terrance didn't use a crosswalk, it doesn't mean he still isn't entitled to a duty of care as a pedestrian.
In conclusion, a pedestrian who is hit by a car while in a crosswalk, parking lot, and sometimes even in the middle of a roadway, may be entitled to compensation through a personal injury lawsuit if driver negligence was involved. However, it is possible, as the above example illustrates, for a pedestrian to share some responsibility for causing an accident, as well.
California Shared Fault Laws Impacting Your Pedestrian Accident Claim in Los Angeles
One of the most common defenses used by respondents in Los Angeles pedestrian accident claims is shared fault. Although many pedestrian accident victims believe that sharing liability for their injuries means they are not entitled to compensation, this is not the case. California follows a pure comparative negligence system. 
Here, if you are partially at fault for the accident or the injuries you sustained, you can still collect compensation for the portion of fault that is not yours. However, you can expect your injury settlement to be reduced in proportion to your percentage of the blame. Here is an example:
Jill was crossing the street when she was struck by a drunk driver. However, because Jill was not using a crosswalk at the time of the accident, the judge found her 30% responsible for her injuries. When the jury awarded Jill $100,000 for her damages, her injury settlement was reduced by 30%, leaving her with an injury settlement of $70,000.
If you have concerns that California's shared fault laws could have an impact on your Los Angeles pedestrian accident claim, be sure to discuss your concerns with your attorney. Make sure you have a strong legal advocate on your side who will ensure liability is appropriately evaluated in your case.
How to Prove Negligence in a Los Angeles Pedestrian Accident Claim
For many Los Angeles pedestrian accident victims, proving negligence is one of the only ways to recover compensation for their damages. Under the law, to prove negligence, the four following elements must be meant:
Duty of care
Breach of duty
Causation
Damages
If your lawyer is going to secure a favorable outcome in your case, they will need to show that the defendant is liable based on a preponderance of the evidence. This is legal ease for the evidence must show that the defendant is most likely responsible for causing your injuries. Some of the most valuable types of evidence that can be used to support negligence in a Los Angeles pedestrian accident claim include:
Witness statements
Video surveillance
Photos of your Injuries
Photos of the accident
Photos of any property damages
Reports by Accident reconstructionists
Blood-alcohol concentration test results
Cell phone records
Forensic evidence
Expert testimony
Your attorney will open up an in-depth investigation into the cause of your pedestrian accident injuries to determine who is ultimately liable for your injuries. Throughout the course of this investigation, we will obtain the evidence we need to build a compelling case against the at-fault party so you can recover maximum compensation for your suffering.
Statute of Limitations for Pedestrian Accident Claims in Los Angeles
When you are lying in your Los Angeles hospital bed wondering what to do next, bringing your case to court may be the furthest thing from your mind. However, since the evidence needed to support a pedestrian accident claim is often time-sensitive, it is critical to get started on your case as soon as possible. 
The statute of limitations will have begun from the moment the accident occurred in most cases. If the statute of limitations expires before you have an opportunity to file your claim in the Los Angeles civil court system, you will lose your chance to obtain maximum compensation. 
Generally, the statute of limitations lasts approximately two years from the date of the accident. It is more common than you might think for injury victims to be unsure when the statute of limitations will expire for their case. Are you in a position to risk your injury settlement? Make sure you have an experienced legal advocate on your side who will ensure that the statute of limitations does not prevent you from financial recovery.
Los Angeles Pedestrian Accident FAQ 
The pedestrian accident claims process can be complex. While you are still recovering from your injuries, you may be confused and wondering whether moving forward with your claim is the right choice. 
In the hopes of using your concerns, we have answered some of the most frequently asked questions surrounding pedestrian accident claims in Los Angeles below. If you have additional questions that were not answered here, do not hesitate to contact our office so we can discuss your concerns in further detail.
Will I Have to Go to Court?
You should always prepare for the possibility of having to bring your case to court. Although many pedestrian accident victims can avoid going to court by securing a sizable injury settlement from the insurance company, this may not always be the case. Insurance companies do not settle claims easily, nor are they responsible for covering your damages in their entirety. 
When the defendant, or other liable party is not represented by an insurance company, you may need to ready yourself for trial. However, bringing your case to court may be an excellent way to secure the compensation you need to rebuild your life while holding the liable party accountable to the fullest extent of the law.
Can I File a Claim on Behalf of My Child?
When minors are injured in pedestrian accidents, they also have a right to financial compensation if someone else's negligence is the cause of their injuries. As your child's parent or legal guardian, it is up to you to stand up and advocate for their rights. 
With a pedestrian accident lawyer in Los Angeles by your side, you can't fight for the restitution your child is entitled to so they can access the compensation they will need to heal from their injuries and be prepared for any future implications of their Pedestrian accident injuries.
Can I Sue Someone Who Didn't Control Their Dog?
An irresponsible dog owner who loses control of his or her dog can be held liable for causing harm to a pedestrian. If a dog knocks over or attacks a pedestrian, the victim must show that:
The dog owner acted negligently 
The dog owner already knew their dog was a threat to pedestrians
The dog owner did not take any or enough reasonable steps to prevent harm to pedestrians
Let's consider an example:
Say that Jorge is out on a walk through downtown LA. 
Meanwhile, Sammy is walking her puppy on a leash. Sammy's puppy is very energetic and Sammy must work hard to restrain him. While waiting for a street light to change, Sammy momentarily  loosens her grip on the leash. In that split second, Sammy's dog runs off and jumps onto Jorge, knocking him down. Jorge badly sprains his wrist from the fall and suffers minor cuts to his face. Sammy immediately apologizes to Jorge and says that her dog was just being friendly and didn't mean him any harm. However, Jorge is furious and threatens legal action. 
In this example, Jorge does have a personal injury claim against Sammy because Sammy knew her dog could cause someone harm, even without meaning to. Sammy was not careful enough to prevent her dog from injuring anyone, and as a result of her negligence Jorge suffered injuries. 
Can I Sue a Bicyclist?
Yes, a negligent bicyclist who causes a pedestrian accident may be held liable for the resulting injuries suffered by that pedestrian, even if that bicyclist was legally riding on the sidewalk. According to Los Angeles' Municipal Code 56.15, a bicyclist can legally ride on the sidewalk. However, this cannot be done "with a willful or wanton disregard for the safety of persons or property." In other words, a bicyclist who chooses to ride on a sidewalk can do so, but must be very careful. 
Failure to do so can result in liability. If a pedestrian is hit and injured by a bicyclist while on the sidewalk, he or she is entitled to damages by proving that:
The bicyclist's negligence caused the accident, or
The cyclist displayed a "willful or wanton disregard for safety"
Finally, if a pedestrian accident occurred in an area where bicycling on the sidewalk is illegal, the bicyclist will likely be found liable for the accident. 
Can I Sue the City for Poorly Maintained Roads?
Yes, as long as the sidewalk is on city property, the city can generally be held liable for a slip and fall accident. This is especially true if the city was previously aware of the dangerous sidewalk yet did nothing to address it. 
Worse, is when a city is aware of prior injuries caused by a dangerous sidewalk and still does not take reasonable measures to address the issue. Under California premises liability law, all property owners -- including the city -- are required to keep their property in a reasonably safe condition. 
This includes maintaining sidewalks and any areas where a pedestrian may be in good condition. In order to establish premises liability, a pedestrian needs to prove that:
The defendant occupied, owned, or controlled the property 
The defendant was negligent in relation to property maintenance
The plaintiff was harmed as a result of the defendant's negligence
The defendant's negligence was the significant factor that caused a plaintiff harmIt is also possible for a city to be held liable for losses and injuries caused by faulty traffic signals, as well.
How to Recover Maximum Compensation for a Pedestrian Accident Injury in Los Angeles
Recovering compensation following a pedestrian accident can be a complex process. It is often not as simple as simply filing a claim with an insurance company or bringing your case to court. Your attorney will need to carefully examine the details of your case, gather evidence, establish liability, calculate the value of your claim, and prepare to pursue your case before insurance or civil claims can be filed. 
If you hope to recover maximum compensation for your pedestrian accident injuries, you may need to be prepared to seek compensation through multiple avenues. Although this may increase the amount of time it takes to settle your case, if doing so will produce the maximum recovery, it may be in your best interests if you hope to get the most out of your case.
What to Expect From the Insurance Company
Dealing with the insurance company after a pedestrian accident should not be as challenging as it is. Unfortunately, insurance companies rarely put pedestrian accident victims before their own financial interests. Since insurance companies lose money every time they payout on a pedestrian accident settlement, you can expect the insurance adjuster in your case to be looking for opportunities to deny your claim or reduce your injury settlement wherever possible. 
Insurance companies accomplish this goal by engaging and unscrupulous tactics such as manipulating statements given to them by claimants or making insultingly low settlement offers. When claimants give a statement, insurance adjusters have been known to manipulate their words to make it appear as though they are partially at fault for the accident. Insurance adjusters will also make insultingly low settlement offers when they recognize that the claimant's case is worth far more. By attempting to force the claimant into accepting a lowball offer, the insurance company can avoid paying out what the victim deserves.
Fortunately, when you have a highly qualified pedestrian accident attorney in Los Angeles advocating for you, you can have your lawyer step in and handle the negotiations process for you. This will show the insurance company that you mean business. You will never have to settle for less than you deserve with our firm fighting for your rights.
Available Damages After a Pedestrian Accident
Due to their violent nature, injuries suffered as a result of a pedestrian accident may require costly medical care. It's likely that an accident victim will have to miss work or school for a long period of time. Sadly, many pedestrian accident victims may never work or live a full life again.
Thankfully, when someone else's negligence is the cause of your pedestrian accident injuries, you have the right to be made whole. Although no amount of compensation will make up for what you have been through, it may ease the burden of your injuries, emotional trauma, and financial distress. 
With that being said, to ensure every loss is taken into consideration, your attorney will need to separate your damages into two categories: economic damages and non-economic damages. Economic damages include all of your monetary losses. Some of the more commonly sought after economic damages include:
Hospital bills
Physical rehabilitation fees
Medical equipment costs
Co-pays
Costs of prescription medications
Diagnostic imaging fees
Other injury-related medical expenses
Loss of income
Loss of potential future earnings
Property damages
Costs of increased insurance premiums
Unexpected child care expenses
Costs of household maintenance and upkeep
Non-economic damages consist of your emotional trauma, physical injuries, and the various ways your life as a whole has been affected by your injuries or the accident itself. Some common types of non-economic damages include:
Physical pain and suffering
Loss of companionship and love
Loss of guidance and support
Loss of society and advice
Emotional distress
Skin disfigurement and scarring
Reputational damage
Inconvenience
Diminished quality of life
Due to the negligent nature of many pedestrian accidents, a victim may also be entitled to punitive damages. However, a pedestrian accident victim must be able to prove that the other party deliberately tried to cause them harm. Punitive damages are only awarded at the court's discretion and are meant to punish a wrongdoer for his or her deliberate acts of malice.
An obvious example of a pedestrian accident claim that would almost certainly qualify for punitive damages is when a driver deliberately tries to run over a pedestrian.
Get Help From a Pedestrian Accident Lawyer in Los Angeles Today
Although pursuing civil action and insurance claims may feel overwhelming while you are still recuperating from your injuries, with help from a dedicated Los Angeles pedestrian accident lawyer at West Coast Trial Lawyers, you can heal while we demand justice for your suffering. 
Start working on your pedestrian accident claims today when you schedule your no-cost, risk-free consultation. Complete our convenient contact form or give our office a call at 213-927-3700 To find out who is liable for your injuries.


They know what they're doing, very well. Not only did I not make a single phone call from the day I hired them, but I also received calls from their case managers and paralegals who want to make sure my treatment was going well. They whole team took care of me. Thank you WCTL for taking full responsibility of my case and getting me an amazing settlement.


I can say with confidence that this team is the best in the business. . . . Dean took the time to really listen and hear me out. He assured me that he was going to move mountains because he believed in me, and he ended up doing just that. I've never met a more focused and passionate attorney in my life. If you're looking for a firm that treats its clients with the utmost respect and care, calling WCTL is a no-brainer. I wouldn't think twice about working with them again in the future.