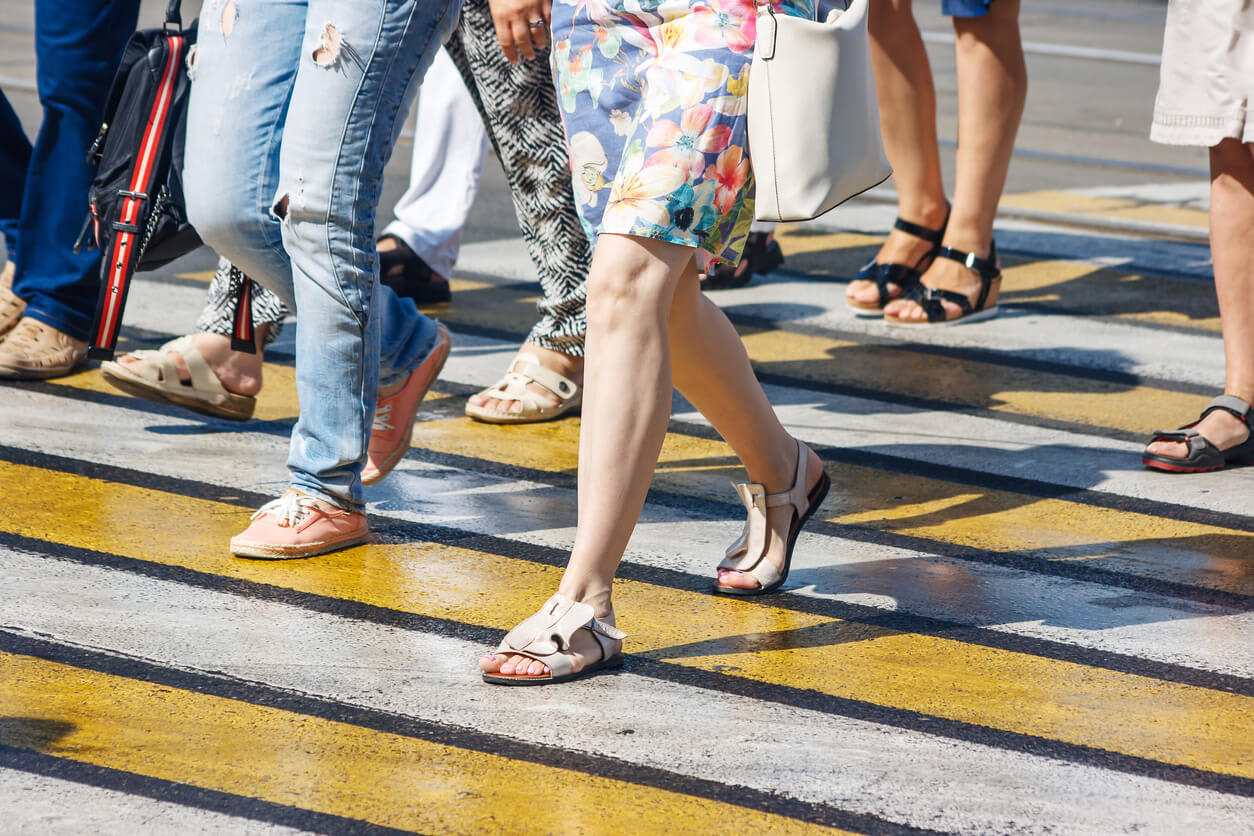 pedestrian right of way rules
Get Legal Insight on California's Pedestrian Laws

Road violence is a pretty big issue on California roadways, and the victims are often pedestrians, ironically enough. Los Angeles, in particular, is infamous for pedestrian accidents — it's actually one of the top worst cities for pedestrian deaths in the United States. Of the 86
traffic collision deaths in Los Angeles
from January to May of 2020, 50 pedestrians, nearly 60 percent, were killed by drivers. This is a shockingly high number, which in a way may stem from confusion surrounding California's pedestrian right-of-way laws. According to
California Vehicle Code 21960
,
a driver must yield the right-of-way to a pedestrian in all marked crosswalks or at an intersection. Failing to yield to a pedestrian in a crosswalk or intersection will likely cause the driver to bear liability for the accident. According to
Drivingtips
: "Right-of-way rules, together with courtesy and common sense, help to promote traffic safety. It is important to respect the right-of-way of others, especially pedestrians, motorcycle riders, and bicycle riders. Never assume other drivers will give you the right-of-way. Yield your right-of-way when it helps to prevent collisions. Respecting the right-of-way of others is not limited to situations, such as yielding to pedestrians in crosswalks, or watching carefully to ensure the right-of-way of bicyclists and motorcyclists." However, the concept of "right-of-way" is sometimes assumed to mean that the pedestrian always has the right-of-way no matter what, even in dangerous instances where they're walking into oncoming traffic. This is why
pedestrian accidents
tend to be some of the most contested cases by insurance companies. However, under
Vehicle Code 21950(a)
, as long as a pedestrian is crossing a marked crosswalk or at an intersection that may or may not have a marked crosswalk, they have right-of-way under the law. This vehicle code also states: "No pedestrian may suddenly leave a curb or other place of safety and walk or run into the path of a vehicle that is so close as to constitute an immediate hazard." Because of the ambiguity in the vehicle code as it refers to "immediate hazard," this is why insurance companies often contest these types of cases. Per
CVC 21954(a)
, pedestrians are not legally allowed to walk out into the street without a crosswalk. It says, "Every pedestrian upon a roadway at any point other than within a marked crosswalk or within an unmarked crosswalk at an intersection shall yield the right-of-way to all vehicles upon the roadway so near as to constitute an immediate hazard." As it turns out, pedestrians don't always have the right-of-way. They actually must yield right-of-way to vehicles when they cross in an area outside of a crosswalk. However, in the event of an accident in such a scenario, drivers aren't exactly completely blameless. The section continues, "the provisions of this section shall not relieve the driver of a vehicle from the duty to exercise due care for the safety of any pedestrian upon a roadway." What this means is that if a pedestrian illegally crosses a street and a driver has enough time to notice and slow down or stop, they must do so. All this verbiage causes a lot of confusion between pedestrians and drivers, which oftentimes leads to accidents. Drivers must always act responsibly and be vigilant, given they're the ones behind the deadly vehicles, particularly when pedestrians are present. Pedestrians, for their part, must always remember to cross safely and to not impede traffic in order to do their part to ensure their safety — especially in a city like Los Angeles, known for road rage and traffic violence.
Sharing Liability in an Accident
It is very important to note that even if a pedestrian is found to have been partly at-fault for an accident, they can still receive damages. California is a comparative negligence state, meaning each party involved is assigned a percentage of blame for an accident. Let's consider an example: Terrance is walking down Sunset Boulevard while slightly intoxicated on a legally purchased cannabis cookie. He's not particularly careful about where he is going and jaywalks several times, interrupting the flow of traffic. Meanwhile, Randy is driving down Sunset Boulevard. Randy is not speeding, but he is not fully attentive and is also doing a bit of texting. Terrance suddenly walks across the middle of the street and is struck by Randy, who was momentarily looking down at his phone. Terrance suffered horrific injuries, including paralysis and brain damage. Considering the circumstances, both individuals were at-fault. Terrance shouldn't have been intoxicated and he should have used a crosswalk. On the other hand, Randy should have been more careful, because even though Terrance didn't use a crosswalk, it doesn't mean he still isn't entitled to a duty of care as a pedestrian.
Duty of Care
As aforementioned, by law, all drivers and pedestrians must be aware of their immediate surroundings. Even if a person walks across the street and does not use a crosswalk when a driver has a green light, that driver still has a duty of care to avoid hitting that jaywalker. Likewise, a pedestrian cannot suddenly step off the curb when a car is near, stop in the middle of an intersection, or block traffic even when they have the right-of-way. Any of the above acts are negligent and will greatly reduce a pedestrian's available damages, regardless of whether they were hit by a car.
Never forget: every individual who is using public roads is required to exercise a reasonable level of care.
In California, a driver will be charged a minimum fine of $220 if they are not yielding the right-of-way to a pedestrian and cause injuries. The penalty is more severe if the driver did not yield to a blind pedestrian. The maximum fine for this type of situation would be $1,000 or six months in jail. The at-fault driver could be given both charges, as well.
Available Damages
Accidents are bound to happen. If you were injured as a result of someone else's negligence, you may be entitled to compensation for your losses. Damages are a type of monetary award that is determined by a court of law to help compensate an aggrieved individual for any losses or injuries sustained as a result of someone's negligence. Economic damages are intended to compensate a plaintiff for losses that a dollar amount can readily be attached to. Economic damages are calculated by determining the amount of out-of-pocket losses an aggrieved individual has or will expect to incur as a result of their injuries. A few examples of economic losses include:
Loss of Earning Capacity
Medical Bills
Lost Wages
Non-economic damages are essentially intended to cover losses that are thought of as subjective and will not necessarily cover out-of-pocket losses. Non-economic damages may include compensation for:
Emotional Distress
Pain and Suffering
Loss of Enjoyment of Life
Other Non-Economic Damages
The third type of damages a California court may award are known as punitive damages. These are intended as punishment and are only awarded when a defendant's behavior is especially harmful. Punitive damages are relatively rare and in fact are only incorporated in 5 percent of all verdicts. Moreover, there is no real set standard for calculating and awarding punitive damages. Punitive damages are awarded at the court's discretion and will vary depending on the specific circumstances of a case.
West Coast Trial Lawyers Is Here to Help
If you have sustained injuries as a result of a pedestrian accident, you have the right to hold the guilty party responsible. A
pedestrian accident attorney
at
West Coast Trial Lawyers
can help you recover financial compensation for the losses you have suffered, including medical bills, property damage, lost wages, and pain and suffering. Call us today at
213-927-3700
or email
[email protected]
to schedule a free consultation with our experienced, caring, and compassionate legal team.


They know what they're doing, very well. Not only did I not make a single phone call from the day I hired them, but I also received calls from their case managers and paralegals who want to make sure my treatment was going well. They whole team took care of me. Thank you WCTL for taking full responsibility of my case and getting me an amazing settlement.


I can say with confidence that this team is the best in the business. . . . Dean took the time to really listen and hear me out. He assured me that he was going to move mountains because he believed in me, and he ended up doing just that. I've never met a more focused and passionate attorney in my life. If you're looking for a firm that treats its clients with the utmost respect and care, calling WCTL is a no-brainer. I wouldn't think twice about working with them again in the future.