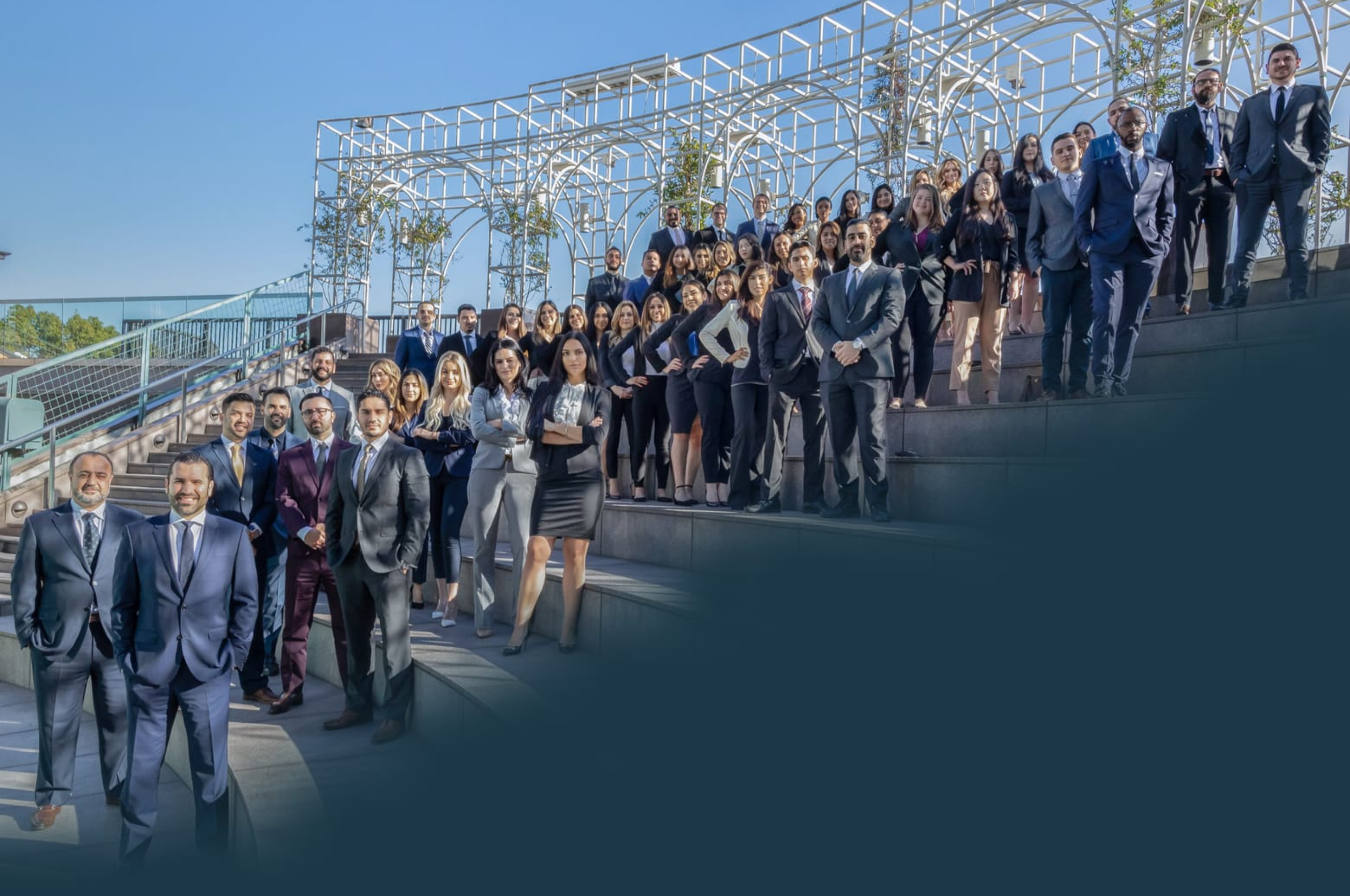 Fresno Personal Injury Lawyer
Get Legal Assistance From One of Our Experienced Fresno Personal Injury Lawyers
Sometimes when life hands us obstacles out of our control, our best bet is to seek support. Being injured in a car accident or any accident in general is a devastating experience that can be catastrophic, both physically and emotionally. An injured person should focus solely on recovery and a healthy regimen, not spend time on legal paperwork or insurance claims. Finding the right
Fresno personal injury lawyer
to represent you while you recover should be of top priority. If you've been injured in Fresno County due to someone else's negligence or carelessness, Per California Law, you are entitled to be compensated for medical bills, emotional distress, lost wages, and other economic / non-economic losses caused by the negligent entity. Hiring a
personal injury lawyer
can drastically improve your settlement and help you gain the maximum compensation for you and your loved one's injuries. To schedule a free consultation with an experienced Fresno personal injury lawyer call 888-539-9582  or fill out this
online contact form
.
What Separates West Coast Trial Lawyers From the Rest?
WCTL has supported the Fresno community, with world-class legal representation for over 20 years. Our law firm is known for having renowned personal injury lawyers with actual trial and litigation experience. Other firms have little to no trial experience and refer litigation cases to firms like West Coast Trial Lawyers. We even handle our client's personal property damage from A-Z for free, so you don't have to deal with insurance companies. Other firms increase their fees after a few months and constantly charge clients minor administrative fees, we don't! Our partners are former prosecutors with decades of experience trying cases. The
President
and Founder of WCTL worked at the largest law firm in Los Angeles, representing clients like Disney, Marriott, and the Roman Catholic Church, after graduating from Harvard Law School. With over 1.5 billion dollars in settlements won, it's no secret why Fresno residents hire our Fresno Personal Injury Attorneys for their cases. To Schedule a free consultation with our multilingual staff, call this number 888-539-9582 or fill out this
online contact form
. When your personal injury case escalates, without a settlement in sight and gets taken to trial, don't you want to be represented by the best in the business?
What Will It Cost to Hire a Personal Injury Attorney?
At West Coast Trial Lawyers we believe everyone should have fair access to quality legal representation, that's why our personal injury attorneys work solely on
contingency fees
. Our firm takes care of all upfront costs for your case, including court fees, administrative fees, hiring expert witnesses, running diagnostic forensic tests if needed, and negotiating with insurance companies. Clients don't have to pay anything until their case is won. In the end, Attorneys are awarded a percentage of the settlement as payment. Speak with one of our Fresno personal injury attorneys today and learn more about our contingency fee arrangement. If we don't win, You don't pay!
Types of Personal Injury Cases in Fresno
Our Fresno personal injury lawyers can handle numerous types of personal injury cases, beyond just car accidents. Some other common types of cases we handle  include:
We are expert car accident lawyers, but our personal injury law firm is extremely knowledgeable in non-motor vehicle accidents as well. Whether it be a
premises liability accident
like a slip and fall case or a
dog bite
accident that involves a negligent dog owner, WCTL has a personal injury lawyer for every case in every field! In the tragic event that a loved one has passed from a car accident or a family member has been fatally injured due to someone else's negligence, West Coast Trial Lawyers take on
wrongful death claims
as well. For more information about all the areas of practice our Fresno personal injury lawyers cover, call 888-539-9582 for a free consultation today. From car accidents to wrongful death cases, WCTL has you covered!
Common Types of Personal Injuries in Fresno
If you or a loved one have suffered any injuries from an accident, whether from a car accident, truck accident,
slip and fall
, or motorcycle accident. Our Fresno personal injury attorneys are here to help you recover any losses that resulted from your accident. The tragedy of losing a loved one should not be felt or handled alone. You have the legal right to hold the negligent party accountable for their actions, on your family's behalf. Our law firm houses the best, award-winning wrongful death attorneys in Fresno. Don't make a mistake and file your wrongful death claim incorrectly. Let our legal professionals take care of your claim, while you spend time healing. Dealing with a catastrophic injury is a task all on its own. Staying on top of doctor's visits, medical care, undergoing surgery, and visiting a chiropractor all take time out of your day. Why trouble yourself with hundreds of phone calls, opposing counsel, court systems, and paperwork? We are experts at winning personal injury cases and representing personal injury victims! Call West Coast Trial Lawyers and enlist a Fresno personal injury lawyer to assist you with your personal injury claim. With that in mind, some types of serious injuries are seen more frequently in auto accidents than others. Although many injuries are sustained through premises liability cases, pedestrian accidents, and other situations. Some of these physical injuries include:
Paralysis
Spinal cord injuries
Head injuries
Concussion
Traumatic brain injuries
Amputation
Post-traumatic stress disorder (PTSD)
Compound fractures and broken bones
Burn Injuries
Neck injuries
Back injuries
Organ failure
Internal bleeding
Lacerations leading to sepsis
Conclusions and abrasions
Suppose you suffered an injury not listed above and haven't received medical treatment. That does
not
mean you do not have grounds for a personal injury case. Instead, contact a Fresno personal injury lawyer to discuss the extent of your injuries, details of your accident, and potential remedies for recovering your losses.
What To Do After an Accident in Fresno?
Pursuing legal action against a
negligent
party for causing bodily harm to you or a loved one requires a lot of work. Seeking medical attention, Gathering evidence, collecting and exchanging the right information, and withholding communication from insurance adjusters are all crucial steps to take after an accident. These steps can be difficult to complete on your own. Our experienced Fresno personal injury attorneys will guide you, step by step into building a strong claim that will achieve the highest possible payout. Below, our law firm has created a list of essential steps you should take after an accident to be granted economic and non-economic damages for your personal injury claim.
Seek Medical Treatment & Police reports: If an accident involves any injuries or damages, the police and paramedics will arrive at the incident scene. Once both parties are present, the police will conduct an official police report, while the paramedics will cater to those who need immediate medical attention. You should request to have a copy of any police reports made, as proof that there was, in fact, an accident that took place.
Photos and videos: Photos and videos can play a crucial role in showing proof of the defendant committing negligent acts. We suggest you include images or footage of your injuries, damages, and the location of where the accident took place.
Witness information: If you notice any witnesses nearby, you should request to obtain their contact information. Witness testimonies will immensely help strengthen your claim.
Exchange information: Document the other party's driver's license, license plate number, contact information, and insurance information. You should also ask the police officer(s) for their name(s) and badge number(s). Lastly, if you made any doctor or hospital visits due to the injuries caused by the accident, you may request to acquire a copy of your medical records to use as proof that you were, in fact, injured.
Your perspective: Make sure you write down or video record exactly what you saw and experienced during the accident. Do not forget to include the date and time in your entry. Let your Fresno Personal Injury Lawyer handle all communications with the defendant's insurance company and counsel.
Do You Have Grounds for a Personal Injury Claim?
The biggest factor in most personal injury claims is proving who's liable or at-fault for causing bodily harm and property damage, whether it be from a motorcycle accident, car accident, or a truck accident. Typically, Fresno personal injury lawyers do not take on cases that have a slim chance of winning, due to the law firm taking on most of the risk. The harder it is to prove an individual's liability, the harder it is to win a case. Here are a few questions to consider, before filing a Fresno personal injury lawsuit:
Is someone else responsible for causing your accident and injuries?
Did someone else's negligence play a part in the accident that caused your injuries?
Have your injuries caused you significant financial distress?
Is the emotional trauma from the accident or your injuries too much to bear?
Are your injuries expected to have a continued impact on your life for years to come?
After carefully examining the circumstances of your accident and injuries, our experienced Fresno personal injury lawyers can provide you with legal guidance and support. Feel free to contact our law firm for a
free consultation
regarding your case, together we can create a game plan and decide whether to formally file a personal injury lawsuit against the negligent party.
How Are Fresno Personal Injury Claims Paid Out?
Are you considering filing a Fresno personal injury lawsuit? You may be anxious about how long it may take to get compensation for your lost wages, medical bills, emotional distress, and other damages. There are two primary ways injury victims collect compensation for their damages. This includes obtaining a settlement from the insurance company or awards through trial verdicts in civil courts. The good news is about 90% of our cases are settled out of court, directly with the insurance company or defendant. The 10% of cases that do end up in court are mainly due to:
Disagreeing on the pertinent facts of the case;
The extent of damages being claimed;
The readiness of the other party to collaborate; and
The robustness of your supporting evidence.
Remember, if your case does go to trial, our experienced personal injury attorneys are ready to represent you in court. We have the best trial lawyers in the business!
What to Expect From the Insurance Company
Insurance adjusters
rarely are willing to provide injury victims with settlements that meet their needs. This is because insurance companies lose money every time they payout a claim. Their entire business is reliant on paying out less in claims than they bring in through policy premiums. For this reason, we ask all of our clients to limit their communication with the insurance company and insurance adjuster. Do not be surprised if the insurance adjuster attempts to place unwarranted blame on you, manipulate any statements you gave them, deny your claim in bad faith, or make you a lowball settlement offer. We suggest you take steps to protect yourself from being taken advantage of and hire a Fresno personal injury lawyer to negotiate with the insurance company on your behalf. Our Fresno personal injury attorneys are the best in the business and continue to win significant settlements for our clients.
Statute of Limitations for Personal Injury Claims in Fresno
According to California personal injury law, the
statute of limitations
to file a personal injury claim in Fresno is two years starting from the initial date of the accident. If the accident victim does not file a claim before the deadline, they will no longer be qualified to pursue legal actions against the party at fault for causing the accident. The "
discovery rule
" may also affect the statute of limitations. For example, if an injury isn't apparent or discovered right after the accident. The statute of limitations can begin on the date when the injury was discovered or should have been discovered. Consulting with a Fresno Personal Injury Attorney can help you understand the statutes of limitation more in-depth. Be sure to call our law offices for a free consultation or fill out this form so that we can file your claim correctly and promptly.
Fresno Personal Injury Attorney FAQ
Feeling overwhelmed by the personal injury claims process in Fresno? Remember you are not alone. Our firm is here to answer all of your legal questions and provide you with the support you need to bring the liable party to justice. With that in mind, we have addressed some of the most frequently asked questions regarding personal injury claims in Fresno below. If you have additional questions we did not answer here, contact our office for a free consultation and speak to a legal expert today.
What Is My Personal Injury Claim Worth?
Determining the value of your personal injury claim in Fresno will be one of your lawyer's most important responsibilities. Your attorney must analyze your economic and non-economic damages to ensure no loss goes unaccounted for. Some of the most frequently awarded types of damages in Fresno injury claims include:
Mental anguish
Wrongful death
Pain and suffering or emotional distress
Loss of income
Loss of companionship and love
Diminished earning capacity
Loss of enjoyment of life
Medical Care or Medical Expenses
Property damages
Disfigurement and skin scarring
Loss of household services
Inconvenience
Damage to your personal and professional reputations
You could also be awarded
punitive damages
, though these are not compensatory losses you are entitled to recover. Punitive damages just serve as an extra punishment for the defendant. The Fresno civil courts will impose punitive damages when they find the defendant's actions reprehensible or grossly negligent.
What Happens If My Child Was Injured?
Child injuries are far more common than you may think. Children have the same right to financial compensation that adults do. However, if you are the legal guardian, it is up to you to advocate for their rights. Covering your child's medical care and other expenses should not be your burden. With help from your personal injury lawyer in Fresno, you can help your child recover the compensation they are entitled to.
Can I File a Claim if I'm Partially At-Fault for the Accident?
Yes, you can. California operates under a pure comparative negligence system. Here, you can share fault for your injuries and still recover compensation for your damages. Even if you are 99 percent responsible for causing the accident, you have the right to be compensated for that 1 percent fault that is not yours. Of course, that is an extreme example, but your attorney can help you understand how sharing fault could affect your case. You still need to be held accountable when you are partially at fault for your injuries. You can expect the Fresno civil courts to reduce your injury settlement to account for your portion of the liability. Your injury settlement will be reduced in proportion to your percentage of fault. For example, if you were found 25 percent at fault for your injuries, you can expect your injury supplement to be reduced by 25 percent. For this reason, it is critical to contact a Fresno personal injury attorney who will ensure fault is assessed accurately in your personal injury claim.
Meet With a Personal Injury Lawyer in Fresno Today
If you were involved in a Fresno accident that a negligent party caused, you might be entitled to receive recoverable compensation, such as medical expenses, lost wages, pain and suffering, and more. At
West Coast Trial Lawyers
, our
Fresno personal injury attorneys
are available 24/7 to help you file a personal injury claim. To schedule a no-cost, risk-free consultation at our Fresno personal injury law firm, contact us today by calling 888-888-9285 or filling out our
online contact form
.


They know what they're doing, very well. Not only did I not make a single phone call from the day I hired them, but I also received calls from their case managers and paralegals who want to make sure my treatment was going well. They whole team took care of me. Thank you WCTL for taking full responsibility of my case and getting me an amazing settlement.


I can say with confidence that this team is the best in the business. . . . Dean took the time to really listen and hear me out. He assured me that he was going to move mountains because he believed in me, and he ended up doing just that. I've never met a more focused and passionate attorney in my life. If you're looking for a firm that treats its clients with the utmost respect and care, calling WCTL is a no-brainer. I wouldn't think twice about working with them again in the future.