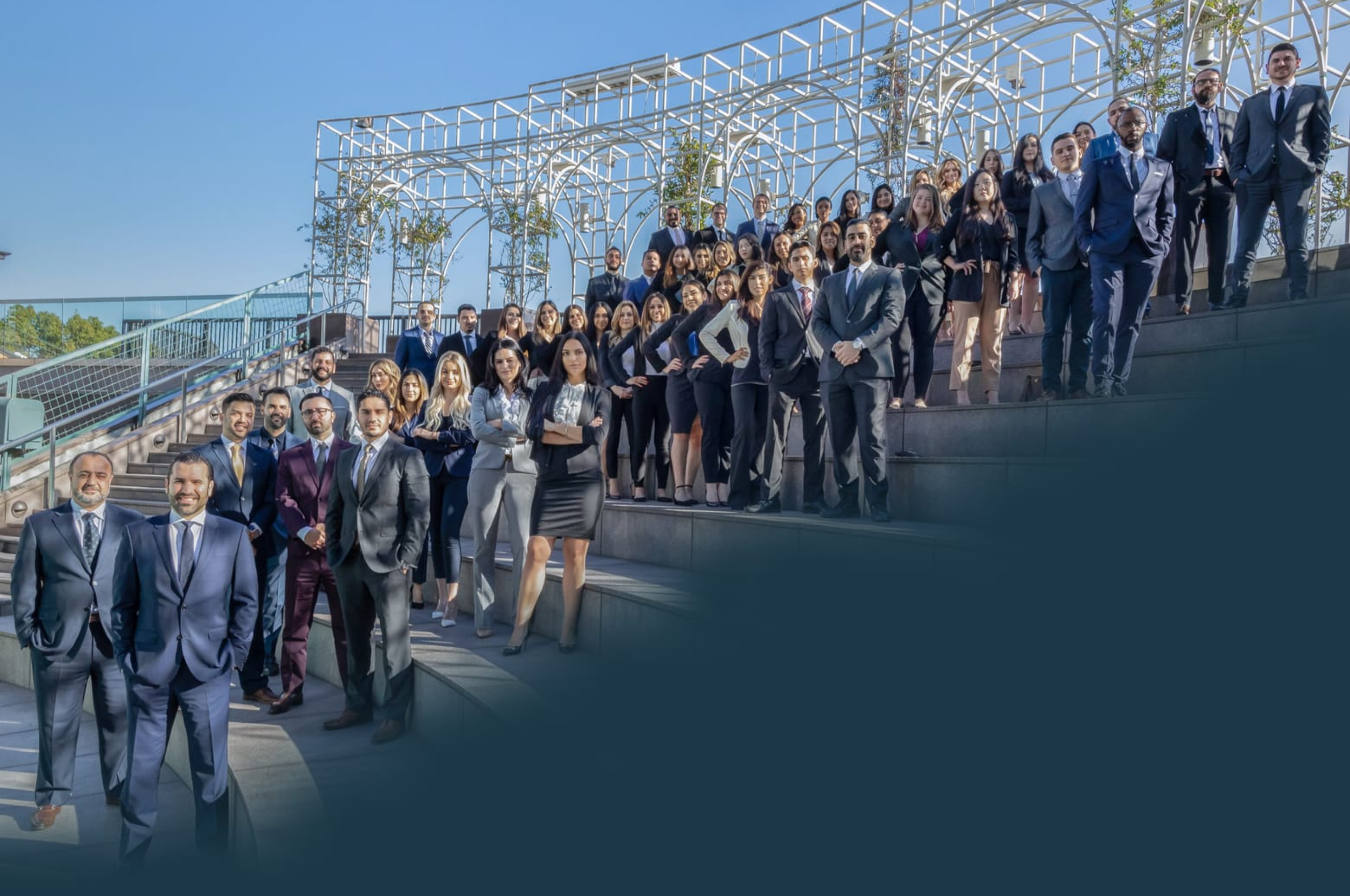 Fresno Car Accident Attorney
Expert Fresno Car Accident Lawyer 
A car crash can be frightening, regardless of whether it involves a collision with a motorcycle, car, truck, pedestrian, cyclist, or drunk driver. When an individual or family suffers injuries in an auto accident due to a
negligent driver
, a
Fresno car accident lawyer
could potentially recover compensation for property damages, medical expenses, emotional suffering, and more from the responsible party.
Choose West Coast Trial Lawyers To Assist You with Your Fresno Car Accident Claim
At West Coast Trial Lawyers, we have held thousands of negligent and
distracted drivers
accountable for damages caused by their actions. Our experienced Fresno car accident attorneys have over 100 years of collective legal experience in handling personal injury cases. We have recovered more than $1.5 billion in settlements for our clients. Due to our achievements, WCTL has been recognized as one of the top personal injury law firms in Fresno. WCTL was founded by
Neama Rahmani
, a former federal prosecutor, super lawyer, and Harvard graduate. Mr. Rahmani has prosecuted cartel kingpins on behalf of the U.S. government and represented companies like Disney, Marriott, and the Roman Catholic church during his time at O'Melveny & Myers. Neama has now built a top-rated personal injury firm that continues to break records while representing clients against negligent defendants, giant corporations, and insurance companies. Please do not hesitate to contact our law office today by calling (559) 272-9881 or emailing
[email protected]
to schedule a free, no-obligation consultation at our Fresno personal injury law firm. We are available 24/7.
Car Accidents in Fresno, CA
Car crashes are very common in Fresno, Ca! Fresno has been ranked 55th in the United States and 15th in California as the
most dangerous city to drive in
. This analysis was determined based on data gathered from multiple Fresno accident reports, including 2019 data collected by the National Highway Traffic Safety Administration (
N.H.T.S.A
). The city also has the most dangerous highway in the United States, which is infamously known as
Highway 99.
Even though Highway 99 is a fairly short highway compared to others, it has had the most fatal accidents per 100 miles in the nation. The highway was ranked second to drunk driving accidents, falling behind Interstate 45 found in Texas.
Common Causes of Car Accidents in Fresno, CA.
Car accident lawyers in Fresno, CA handle a wide range of automobile accidents. If you or a loved one has been injured in a car accident, our skilled Fresno car accident attorneys are here for you. We are committed to building a robust case and assisting all car accident victims in winning the compensation they deserve.
Road Conditions
Hazardous road conditions, such as large
potholes
, construction zones, harsh weather, gravel or dirt roads, and others, can pose a significant risk to drivers.
Driving Under The Influence
Operating a vehicle under the
influence
of drugs, alcohol, or even prescription medications can significantly hinder a person's ability to drive safely, leading to car wrecks and injuries.
Distracted Driving
Any actions that take a driver's attention away from the wheel are considered distracted driving. Using cell phones, eating, tending to children, or dozing off can quickly divert a driver's attention from the road. Momentary distractions can lead to disastrous accidents.
Reckless Driving
Sudden lane changes, weaving in and out of traffic, failing to yield the right-of-way, and ignoring traffic signs and signals are examples of
reckless
driving behaviors that can easily lead to an accident.
Speeding
As a vehicle's speed increases, so does the stopping distance required to avoid an accident, making it easier for a driver to lose control.
Common Types of Car Accidents in Fresno
Thousands of people share the road on a daily basis. Unfortunately, many negligent drivers may be present during these trips, which can affect the safety of other drivers nearby. In Fresno, CA there have been several car accidents, with each one of them having a different cause and effect.
Rear-End Accident. A rear-end accident occurs when the front bumper of a vehicle crashes into the rear of a vehicle ahead of them. There is an estimated 1.7 million rear-end accidents in the United States each year. It is one of the most common types of car accidents, especially in Fresno, CA. A recent rear-end accident occurred in December of 2021. A police officer was blocking a lane due to potholes that were causing multiple flat tires. While the police officer was inside the vehicle, a driver rear-ended them. It was later found that the driver was under the influence of alcohol and driving with an expired license. Another rear-end accident occurred in the same month. This time, the driver ran a red light and rear-ended a semi-truck.
Drunk Driving Accident. In Fresno, drunk driving has often led to rear-end accidents and single-vehicle accidents. As previously stated, a driver driving drunk recently crashed into a police officer who was barricading a lane to prevent drivers from getting a flat tire. Another incident also occurred in November of 2021. An SUV driver was under the influence of alcohol and got into an accident with a motorcyclist. The driver attempted to flee the scene of the accident but was caught by police.
Side-Impact Accident. A side-impact accident is when a vehicle crashes into the side of another vehicle. This type of accident usually happens at intersections and parking lots. In December of 2021, a driver of a minivan crashed into the side of a truck. The driver inside the van died at the scene of the accident, while three passengers were taken to the hospital with moderate to severe injuries. Investigators believed the driver of the minivan was traveling at high speeds prior to the crash occurring. Truck accidents can cause catastrophic injuries.
Single-Vehicle Accident. A single-vehicle accident is an accident that only involves one vehicle. For example, a driver crashed into a tree on the side of the road due to driving at high speeds and losing control of their vehicle. The city of Fresno has experienced multiple single-vehicle accidents, with each cause differing from one another. In November of 2021, a drunk driver crashed into a guard rail at the Highway 180 on-ramp to northbound Highway 199. Reckless driving, without intoxication, was also occurring on Fresno roads. Again, in November of 2021, a driver swerved to make an exit off the highway, however, he ended up driving down an embankment that was about 10 to 15 feet. Witnesses claimed the driver was ejected from the vehicle. No alcohol was found in the driver's system.
Hit and Run Accident. A hit-and-run accident typically occurs when the driver, who caused the accident, drives away without helping the other party(ies) and does not notify the police of the incident. Victims of a hit-and-run accident are usually pedestrians or bicyclists. Oftentimes, the driver of the vehicle will feel compelled to flee the scene of the accident to avoid facing legal repercussions. However, it only makes matters far worse. In Fresno, hit-and-run accidents are quite common. In December of 2021, a driver crashed into a bicyclist in Central Fresno. The driver proceeded to drive away from the scene of the accident. Luckily, another driver was nearby and stopped to help the victim. The victim was transported to a nearby hospital and was expected to recover from his injuries. No reports have been released yet on whether police have managed to catch the suspect.
Common Types of Injuries That Occur in Fresno Car Accidents
When you have been involved in a car accident in
Fresno County
, you may be wondering whether your injuries are severe enough to warrant legal action. It is more common than you might think for accident victims to believe their injuries are not considered debilitating enough to pursue their case. However, the type of injuries you suffer in your accident will not determine whether you have the right to move forward with a claim. Instead, your Fresno car accident lawyer will look at the ways in which your life has been impacted by your injuries to determine
your right to compensation
. Some of these injuries include:
Abrasions
Contusions
Lacerations
Organ failure
Internal bleeding
Compound fractures
Broken bones
Concussion
Traumatic brain injuries
Soft tissue injuries
Whiplash
Paralysis
Spinal cord injuries
Herniated discs
Back, neck, and head injuries
Post-traumatic stress disorder (PTSD)
Emotional injuries
And more
If you have suffered another type of injury that we did not include in the list above, you may still have grounds for
insurance
or
civil claims
against the culpable party. Be sure to contact a reputable Fresno Car Accident Lawyer to discuss possible outcomes for your case.
What to Do After a Car Accident in Fresno, Ca?
The aftermath for car accident victims can be overwhelming. It's understandable for people to feel shaken up after getting involved in a life-threatening situation. However, it is important to have some knowledge or understanding of what would be the best actions to take after a collision. Below, our firm has created a list of steps one should take after getting into a car accident.
Get yourself to safety. If you are physically capable of moving after the accident, try to get to a safe location. You should also check to see if there are any drivers or passengers that need help. If you notice that they are suffering from injuries, call 911 immediately.
Contact the police. They will arrive at the scene of the accident and create an official police report. Paramedics will also be present to assist those who need immediate medical attention.
Exchange personal information. You must share your driver's license, contact information, and insurance information with the other party(ies) involved in the accident.
Gather evidence. Try to find as much important information as you possibly can. If you notice police officers are gathering evidence, do not feel discouraged to do it. You can request for the police officer's badge number and get a copy of the official police report. Furthermore, you should take pictures of your damages and injuries, along with the location of where the car accident took place. If there are any bystanders nearby, you should ask them if they feel comfortable getting involved with your case. If they approve of being a witness, you should ask them for their contact information.
Get medical care. It is important for you to seek immediate medical attention after a car accident. Even if you think you have not suffered any serious injuries, we highly suggest our clients get checked out by trained medical staff to better rule out any chances of internal issues. If you are dealing with moderate or severe injuries, you should be transported to a hospital in Fresno County.
Speak to a Car accident attorney. If you would like to file a lawsuit against the party at fault for the accident, you should reach out to a law firm that specializes in personal injury. A car accident attorney will guide you through the process of building a strong claim. They will also negotiate with insurance companies in order to get you the maximum compensation you deserve for your losses. Most personal injury firms offer clients a free consultation.
California law requires drivers to inform the Department of Motor Vehicles (DMV) about the accident. You are given a 10-day period starting from the initial date of the incident. This is only applicable if the collision resulted in more than $1,000 in damages and/or the collision killed or injured someone.
What Is A Car Accident Claim Worth in Fresno?
After everything you have been through, it makes sense that you would wonder how much your car accident claim is worth. To find out the value of your claim, your attorney will need to separate your damages into two categories known as
economic
and
non-economic damages
.
Economic damages
are most commonly thought of, as they are financial in nature. All of your monetary damages, including lost wages, medical expenses, property damages, and other financial losses, fall into this category. However, there are also non-economic damages you may have the right to recover.
Non-economic damages
consist of the ways your entire life has been affected by the accident and your resulting injuries. Non-economic damages do not have a fixed monetary value. Your lawyer will need to quantify them based on their specific impact on your life. With that in mind, some of the more commonly awarded types of non-economic damages in a Fresno car accident claim include:
Emotional distress
Physical pain and suffering
Disfigurement and skin scarring
Loss of household services
Loss of companionship
Damage to your reputation
Loss of enjoyment of life
If the defendant's actions are considered abhorrent or reprehensible, you may also be awarded punitive damages. Although they are awarded rarely, if you are awarded punitive damages in your case, it could significantly impact the outcome of your injury settlement.
Punitive damages
are typically only issued when the Fresno civil courts find it necessary and appropriate to punish the liable party and send a message to the public that the court system will not tolerate actions of this nature.
How Much Does A Fresno Car Accident Lawyer Cost?
Most personal injury firms work on a contingency fee basis, allowing clients to not worry about upfront costs or legal fees until the case is won. Once the case is settled, your lawyer will then receive a percentage of the settlement as payment.
With this payment plan, the client is risk-free because the fee is "contingent" on the outcome of the case. If the case is not won, the client does not owe any fees to the firm or courts. Not only does this type of agreement eliminate the risk for the client, it provides an incentive for the attorney to excel and reach the highest settlement possible.
At West Coast Trial Lawyers, we only operate on contingency agreements. If we don't win, you don't pay. Call us now for a free consultation!
How are Liability and Fault Determined in a Car Accident?
Generally, negligent drivers will be held accountable for damages caused by their wrongful conduct. However, California is a
comparative negligence state
, which indicates that more than one party can be partially responsible for a motor vehicle accident. Liability will be shared based on the amount of negligence contributed by each party involved. Establishing liability is the most crucial part of presenting a personal injury claim. You should always have a highly experienced and knowledgeable Fresno car accident attorney on your side to help you prove your case in order to obtain fair compensation.
The Best Fresno Car Accident Attorneys Reside at WCTL
At
West Coast Trial Lawyers
, our qualified Fresno car accident lawyers are highly trained and highly motivated professionals. We are committed to helping you resolve your legal issues as quickly as possible while receiving the best results. To schedule a free consultation at our Fresno personal injury firm, contact our 24/7 legal team by calling
(559) 272-9881
or emailing
[email protected]
.
Fresno Car Accident FAQ
How Long Do I Have to File a Personal Injury Claim?
In California, the statute of limitations to file a personal injury claim is two years starting from the date when the incident occurred. If you exceed the deadline, you will no longer be eligible to pursue legal action against the party at-fault for your losses. However, there are a few exceptions that will allow you to have an extension on filing a personal injury claim. You must be:
A minor,
Out-of-state,
Legally insane,
Incapacitated, or
Incarcerated.
The "discovery rule" may also affect the amount of time you are given to submit a personal injury claim. Under the discovery rule, the statute of limitations will start on the date when the injury was discovered or should have been discovered.
Should I Give the Insurance Company a Statement?
You shouldn't give a statement to the insurance company unless you have gone over it with your personal injury attorney. In order to avoid getting taken advantage of by the insurance company, you should direct them to speak with your attorney in Fresno if they ask for a statement to be sent over to them.
Should I Accept the Insurance Company's Offer?
Do not accept the first offer an insurance company gives you. Insurance companies do not have your best interest in mind and will look for any opportunity to reduce their profit loss. If you have a personal injury attorney on your side, your chances of obtaining a fair settlement offer will be much greater. Your attorney will negotiate with the insurance company to ensure you get the settlement offer you deserve to cover any damages caused by the accident.


They know what they're doing, very well. Not only did I not make a single phone call from the day I hired them, but I also received calls from their case managers and paralegals who want to make sure my treatment was going well. They whole team took care of me. Thank you WCTL for taking full responsibility of my case and getting me an amazing settlement.


I can say with confidence that this team is the best in the business. . . . Dean took the time to really listen and hear me out. He assured me that he was going to move mountains because he believed in me, and he ended up doing just that. I've never met a more focused and passionate attorney in my life. If you're looking for a firm that treats its clients with the utmost respect and care, calling WCTL is a no-brainer. I wouldn't think twice about working with them again in the future.