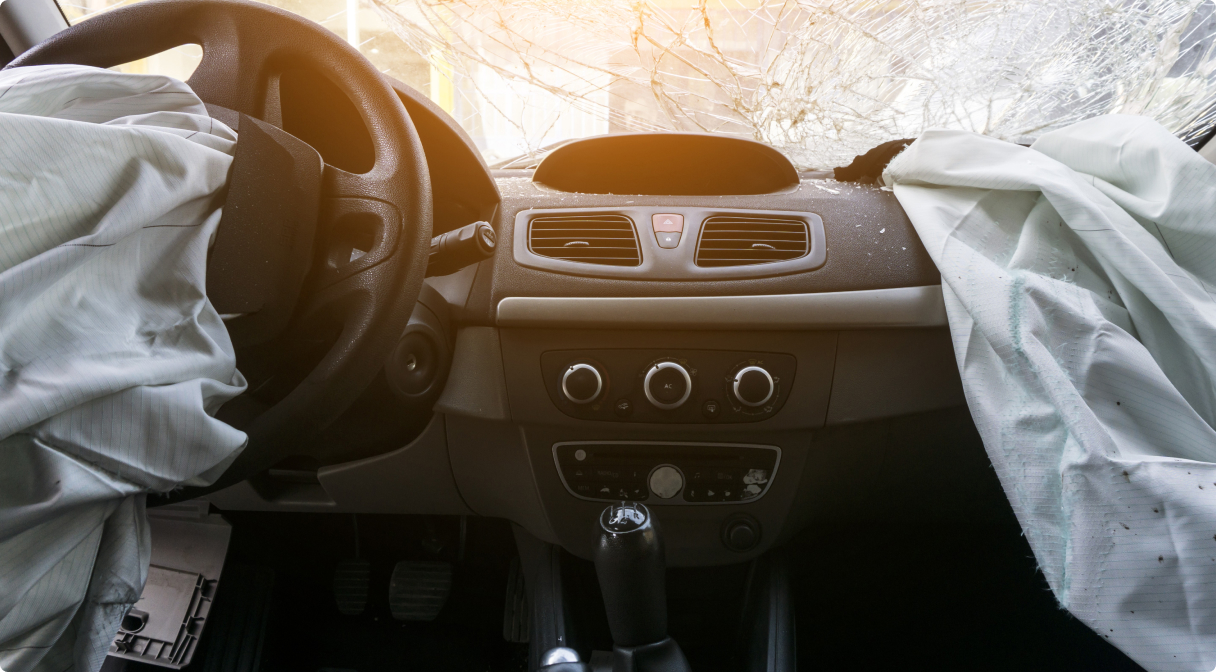 Whiplash From a Car Accident
What to Know About a Whiplash
Let's set a scene: you're stopped at a red light. You're wearing your seatbelt, have both hands on the wheel, and you're not using your phone. Seems safe enough, right? But as the traffic light changes from red to green, you're suddenly hit from behind by an overeager driver in a hurry. On impact, your head violently jerks back and then snaps forward. This is what you call a whiplash.    
And it's way more common than you might think. Based on a 2016 study posted on BMC Public Health, whiplash has been identified as one of the most common neck injuries in an accident, especially for motorists. Moreover, the Harvard Health Letter wrote that more than a million Americans suffer neck injuries from whiplash each year.
Whiplash is a soft tissue injury to the neck, which is also known as a neck strain or sprain. It can be identified based on the number of symptoms that may occur following a forceful impact to the neck, usually due to the sudden extension and flexion. 
It does not require much strength and/or force to trigger a whiplash. Many neck injuries caused by an accident typically happen at speeds of 5 to 10 mph. Even though a whiplash is considered as a mild condition, it can still cause long-term pain and discomfort. 
Everyone handles whiplash differently. Most people could feel better within days or weeks after the accident. However, others may endure serious medical injury. It mostly depends on the extent of the overextension of the soft tissues and ligaments in the neck. Moderate to severe whiplash can cause an individual to suffer from serious pain that may last for months or even years after the initial date of the injury. When a whiplash is the result of someone else's negligence — like in the event of a traffic accident — it's important to hold the at-fault driver accountable.
If you suffered a whiplash injury from a car accident that was caused by a negligent driver, you may be entitled to receive compensation for your losses. At West Coast Trial Lawyers, our car accident attorneys are readily available to offer legal assistance to victims of personal injury. We will help strengthen your claim and negotiate with insurance companies to ensure you are given a fair settlement offer.
To schedule a free consultation, please contact our 24/7 legal team by calling 213-927-3700 or filling out our quick contact form.
Causes
According to the Insurance Institute for Highway Safety (IIHS), neck sprains and strains are the most common injuries reported in accidents each year. Those who are tall, especially women, are more prone to a neck injury.
As aforementioned, sudden and forceful impact to the head can trigger a whiplash. An individual may quickly get thrown backward and forward, thus creating motion that can damage bones, such as those located in the spine, ligaments, nerves, disks between the bones, muscles, and other tissues in the neck.
A whiplash may result from:
Car accidents. Whiplash commonly happens from a rear-end car accident. 
Physical abuse or assault. Whiplash may occur if a person is punched or shaken.
Contact sports. Football tackles and other sports involving strong, physical impact could sometimes cause whiplash.
Other types of traumas. An example of this is falling.
Symptomsz
An individual who suffers from a whiplash may experience a variety of symptoms that can be long-term and/or difficult to diagnose. Symptoms, such as neck pain, may occur immediately after an accident or could be delayed for days, weeks, or even months later. 
Other common symptoms may include: 
Neck stiffness 
Injuries to the muscles and ligaments (myofascial injuries) 
Headaches
Dizziness
Abnormal sensations, such as burning or prickling (paresthesias)
Shoulder or back pain
Moreover, individuals may suffer from somatic, psychological, or cognitive conditions, such as impairment, nervousness, lack of sleep, lack of concentration, and/or memory loss.
Most individuals who are under a treatment plan, such as taking prescribed medication and/or exercising, usually feel better within a few weeks. However, others may suffer from serious chronic pain and long-term conditions, which include limited range of motion and pain that travels to the arms.
Risk factors of a whiplash include:
Experiencing whiplash more than once
Older age
Neck pain
Low back pain
A speeding accident
In any case, lingering symptoms of neck injury or whiplash should not be ignored. It's important to seek medical treatment if the symptoms aren't going away, especially if they're preventing victims from doing everyday activities. 
Treatment
Usually, at-home remedies are used to treat mild to moderate cases of whiplash. This includes taking over-the-counter medication and icing the wounded area. Severe whiplash may require an individual to take painkillers and muscle relaxants to decrease muscle spasms.
Common symptoms of a severe whiplash include the following.
Serious neck pain
Neck pain stiffness
Numbness or tingling in the arms, legs, or shoulders 
Arm or leg weakness
Bladder or bowel issues
If you are experiencing these symptoms, you must seek immediate medical attention from a physician. 
Physical therapy is an important factor to incorporate in a treatment plan. Performing simple exercises will allow an individual with whiplash to build strength, flexibility, and good posture. It is also beneficial to practice relaxation techniques to prevent the neck muscles from straining.
How to Proceed With a Whiplash Claim
Your health and well-being are obviously the first priorities following a whiplash. However, a neck injury of this capacity can alter a person's life. If a whiplash was caused by someone else's negligence — like in the case of a rear-end car accident— it's possible to seek proper compensation.
If you've experienced whiplash in a traffic accident and want to pursue an injury-related insurance claim or personal injury lawsuit, it's crucial to have documented medical evidence — such as treatment records and medical bills — for every injury you are claiming to ensure a satisfactory resolution to your case.
Only an attorney can accurately advise victims on the best course of action to pursue legal claims related to personal injuries and secure the best possible outcome. Consult with legal counsel to pursue your rights following a whiplash.
West Coast Trial Lawyers Is Here to Help
If you have sustained a whiplash as a result of another driver's carelessness, you have the right to hold that driver responsible. Our qualified Los Angeles car accident attorneys at West Coast Trial Lawyers will help you recover compensation for the losses you have suffered, including medical bills, property damage, lost wages, and pain and suffering.
Contact us today by calling 213-927-3700 or filling out our contact form to schedule a free consultation with our experienced, caring, and compassionate legal team.


They know what they're doing, very well. Not only did I not make a single phone call from the day I hired them, but I also received calls from their case managers and paralegals who want to make sure my treatment was going well. They whole team took care of me. Thank you WCTL for taking full responsibility of my case and getting me an amazing settlement.


I can say with confidence that this team is the best in the business. . . . Dean took the time to really listen and hear me out. He assured me that he was going to move mountains because he believed in me, and he ended up doing just that. I've never met a more focused and passionate attorney in my life. If you're looking for a firm that treats its clients with the utmost respect and care, calling WCTL is a no-brainer. I wouldn't think twice about working with them again in the future.