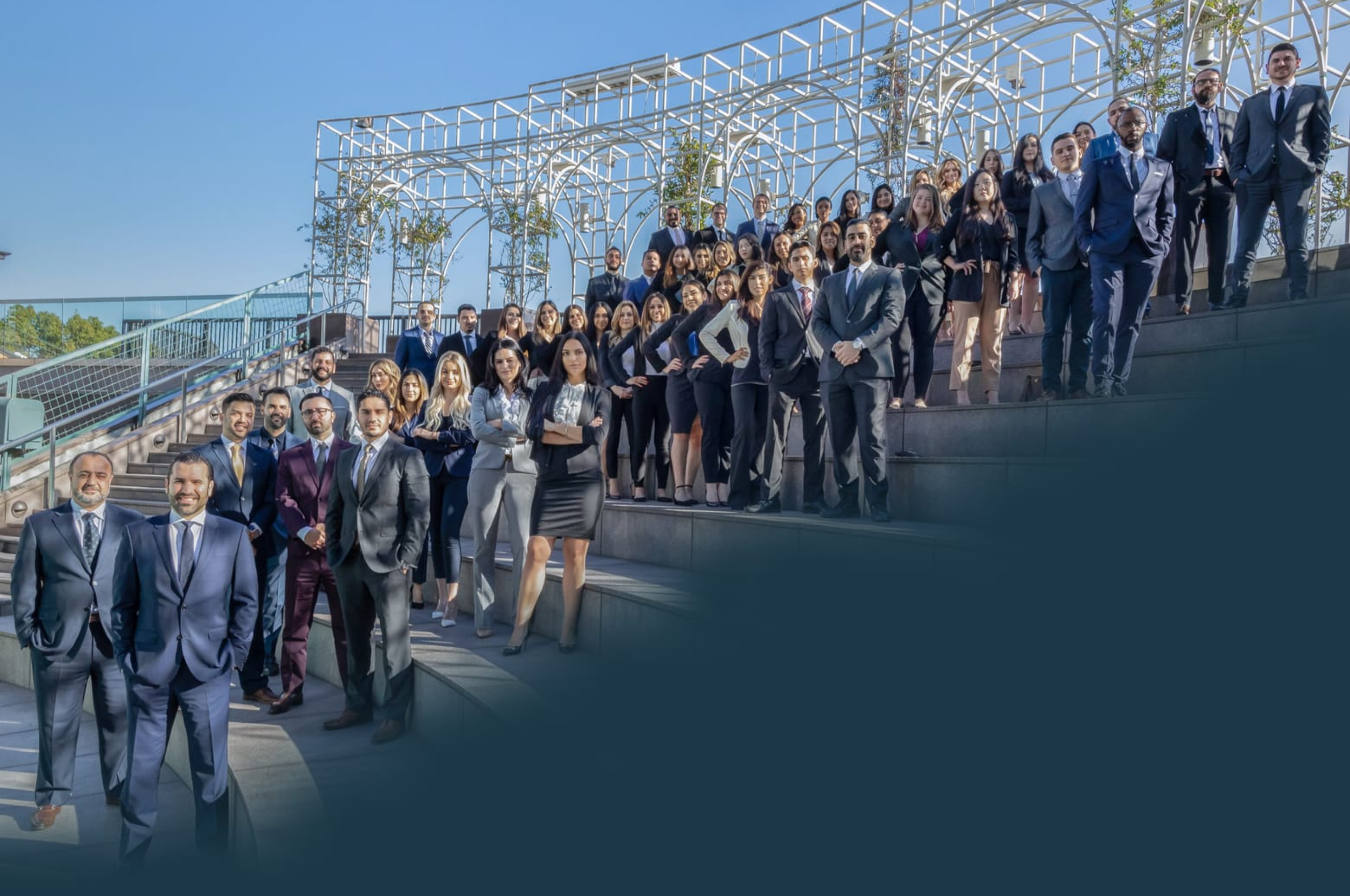 Sacramento Personal Injury Attorney
Sacramento Personal Injury Attorney
Have you been involved in an accident in Sacramento, CA? If yes, you could have the right to file a personal injury claim and receive compensation for any damages resulting from the accident. Undergoing the process of filing a claim yourself can be overwhelming, especially while recovering. However, having the right legal team on your side can turn your case into a stress-free process. That's why hiring an expert
Sacramento Personal Injury Attorney
is pivotal. At West Coast Trial Lawyers, our attorneys have over 150 years of collective legal experience. We have won more than 5,000 personal injury cases and recovered over $1 billion in settlements for our clients. Our firm was founded by former federal prosecutor, super lawyer, and Harvard graduate
Neama Rahmani
. Neama Rahmani has prosecuted cartel kingpins on behalf of the U.S. government and represented companies like Disney, Marriott, and the Roman Catholic church during his time at O'Melveny & Myers. Let our experienced Sacramento Personal Injury lawyers handle your legal representation and win you the highest compensation you deserve. Contact our Sacramento personal injury law firm today by calling
213-927-3700
or completing our
contact form
to schedule a free consultation and learn more about what your personal injury claim could be worth.
Important Facts About Sacramento
Sacramento, known as the "city of trees", is the capital city of California, the most populous state in the United States. With over 600,000 residents, the central city was pivotal in the gold rush and served as a key distribution/transportation hub.
The California State Railroad Museum
, located in Old Sacramento, is still one of the largest and most visited railroad museums in the United States. The city has over 4000 accidents a year and is no stranger to natural disasters. Sacramento is located in a seismically active region, similar to San Francisco, making earthquakes common. Flooding and Wildfires are also very common in the region. In 2018,
The Camp Fire
, which was one of the deadliest and most destructive wildfires in California history, burned through swaths of the Sacramento Valley.
Types of Accidents WCTL Covers in Sacramento
The legal team at WCTL covers these accidents below, but the best way to verify your personal injury claim is by speaking with one of our attorneys:
Car Accidents
Determining liability after a crash in Sacramento is a complex process best handled by an expert car accident attorney. We are not afraid of the insurance companies who want to lower your claim, and we will fight for your rights all the way to trial if they do not settle.
Uber and Lyft Accidents
If you have suffered injuries in an Uber or Lyft accident, contact a rideshare accident lawyer as soon as possible. For riders and passengers both, you may
receive coverage
from rideshare companies depending on the damages suffered and who carries liability.
Dog Bites
It has been estimated that almost
5 million dog bites
happen every year in the United States. If you have suffered a dog bite injury, whether or not negligence was involved, you may be entitled to compensation with the help of a specialized dog bite lawyer.
Bicycle Accidents
Bicyclists are always at a high risk of suffering
serious injuries
in an accident. If you were involved in a bicycle accident and need legal representation, West Coast Trial Lawyers has experienced bicycle accident attorneys that will help you get the compensation you deserve for your losses.
Burn Injury
Victims may be entitled to compensation if there is evidence that negligence was the primary cause of their burn injury. Restaurants, bars, and even
tanning salons
have strict regulations that, if ignored, result in serious injury that require representation from a burn injury attorney.
Pedestrian Accidents
Pedestrian accidents are especially heinous and often involve a high degree of negligence. Damages are even higher for drivers who intentionally hit a pedestrian, in which punitive damages are often given.
Wrongful Death
Experiencing the wrongful death of a person you love is one of the most tragic things anyone can live through.
Emotional damages
should not be ignored, and a wrongful death lawyer who understands your case will not let the emotional turmoil from your accident be overlooked.
Scooter Accidents
Scooter accidents involve several liability laws that can complicate your case that a scooter accident attorney has to sort through. Even something like
wearing a helmet
can affect your settlement amount.
Spinal Cord Injury
A spinal cord injury's physical and financial burdens are too much to calculate. Conditions like
spinal shock syndrome
can affect your breathing for weeks, and ones who suffer cervical spine injuries endure even more. The more severe an injury, the more legal representation from a spinal cord injury lawyer is needed.
Food Delivery Accidents
Food delivery drivers for companies like Doordash and Postmates are treated as independent contractors in the state of California. This means there are special requirements to work for these companies, and these requirements affect liability in your car accident claim that a food delivery accident attorney can sort through.
Brain Injury
Car crashes, physical violence, and numerous other circumstances cause brain injury accidents. Our Sacramento brain injury attorneys have represented clients from all across California, and our team will have a dedicated attorney to represent your brain injury case.
Truck Accidents
The majority of all truck accidents are caused by some form of driver negligence. Driving more than the legal limit, distracted driving, speeding, and even loading a truck past its
intended weight
are all violations that deserve legal action from a Sacramento truck accident attorney.
Premises Liability
Common examples of premises liability include: drowning due to negligent pool management, slip and falls due to wet floors, and physical assault in apartment buildings due to negligent security. Speak with a premises liability attorney who knows San Bernardino law to discuss your claim further.
Motorcycle Accidents
Crashes involving motorcycles often result in serious or fatal injuries primarily due to a
lack of protection
from their bike. If you suffered injuries in a motorcycle accident as a result of someone else's negligence, contact a motorcycle accident attorney to raise the compensation for your damages.
Bus Accidents
Bus drivers are considered common carriers in California, which means they have an increased duty of care to transport their passengers. Bus accident claims have unique time limits, which means you must act fast and contact a bus accident attorney if you wish to file a claim to recover damages.
What to Do After an Accident in Sacramento?
Taking the correct initiatives after an accident can greatly impact the outcome of your personal injury claim. Below, we have listed essential tips that you should consider taking to increase your chances of constructing a strong case that may lead you to acquire fair compensation for damages.
Call 911. If any injuries or damages are involved, you should contact 911 immediately. The police will arrive at the scene of the accident and conduct an official police report. Paramedics may also be present to provide medical attention to those who may need it.
Exchange information. You and the other party involved in the accident must share each other's driver's license details, license plate numbers, contact information, and insurance information.
Gather evidence. Gather as much evidence as you can. If officers are acquiring evidence, feel free to do the same. Ask for the officer's badge number and secure a copy of the official report. Take photos of the damage, injuries, and accident site as well. If witnesses are nearby, ask if they're willing to testify and get their contact information.
Find a witness. If you notice any witnesses nearby, you should ask them for their consent to get their contact information. Witness testimonies can help support your personal injury claim.
Visit a doctor. Seek medical help immediately after a car crash. Even if you don't believe you've sustained significant injuries, it's wise to be examined by healthcare professionals to eliminate the possibility of internal issues. If you have moderate or severe injuries, visit a hospital at once.
Contact an attorney. An expert Sacramento personal injury lawyer can help you by building up your claim, negotiating with insurance companies, and getting you the compensation you deserve for your losses.
How Does a Personal Injury Claim Work?
Handling a personal injury claim can be intricate, which is why victims are advised to seek the expertise of an expert Sacramento Personal Injury attorney for legal support. Your legal representative will clarify the inner workings of a personal injury claim and set expectations for your specific case. Given that each personal injury claim has unique aspects, the strategy and outcome of your case might differ from others. Your attorney will develop an effective plan after assessing all the big and minor details, which can secure you a  fair settlement to cover the losses resulting from the at-fault party's negligence. To get a general idea of how a personal injury claim is handled, we have created a list below:
Hire a Sacramento personal injury Lawyer.
Your lawyer will commence an investigation to identify the accident's cause.
Your attorney will review the evidence collected, which will help them prove liability.
Upon establishing fault, your lawyer can approximate the potential settlement sum.
Once the value is determined, your lawyer will submit the personal injury claim.
In the event that the insurance company refuses your proposed settlement, moving forward with a claim in civil court becomes your next best option. By assessing the particulars of your case, your personal injury attorney will recommend the most appropriate course to follow.
How to Know if You Have Grounds for a Personal Injury Claim in Sacramento
Many personal injury victims are unsure whether they have the grounds to pursue legal action after an accident. This uncertainty is common since victims may not be familiar with the severity of the injury or damages required to file a personal injury claim. When reflecting on the accident, consider these questions:
Was someone else responsible for the accident or your injuries?
Were multiple parties responsible for the accident?
Did the injuries or damages you sustained significantly impact your life?
Will your injuries affect your life for an extended period?
If you answered yes to one or more of these questions, consulting with a Sacramento personal injury attorney is best. They will guide you through the process of filing a personal injury claim against the at-fault party for damages.
How Much Does A Sacramento Personal Injury Lawyer Cost?
Most personal injury law firms work on a contingency fee basis, allowing clients to not worry about upfront costs or legal fees until the case is won. Once the case is settled, your lawyer will then receive a percentage of the settlement as payment.
With this payment plan, the client is risk-free because the fee is "contingent" on the outcome of the case. If the case is not won, the client does not owe any fees to the law firm or courts. Not only does this type of agreement eliminate the risk for the client, it provides an incentive for the attorney to excel and reach the highest settlement possible.
At West Coast Trial Lawyers, we only operate on contingency agreements. If we don't win, you don't pay.
What Damages Are Recoverable In A Sacramento Personal Injury Case?
Victims of personal injury often endure life-changing events that can result in pain and suffering. Immense stress is notably present in the aftermath of an accident due to the inevitable future of handling legal complications, insurance companies, medical costs, and other financial issues at once. All while trying to get better and heal from your injuries. Let WCTL handle your case and hold the negligent party/parties accountable for their actions. Our firm will make it our mission to recover:
Economic Damages
: These types of losses can be quantified and assigned a monetary value. Typical examples of economic damages for bus accident cases in California include:
Medical treatment costs
X-ray scan costs
Chiropractor therapy bills
Lost past and future wages
Property damage costs
Lost business opportunities
When faced with harsh economic damages, do not be afraid to seek medical assistance. The costs needed to heal are heavy, but necessary in order for you to come back from this disaster. Our attorneys will handle the insurance companies in your stead, so focus on recovery and your settlement will cover the rest.
Non-Economic Damages
: These types of losses are unquantifiable like
emotional distress
or pain and suffering from a bus accident. Examples of non-economic damages include:
Emotional distress
Disability or disfigurement
Pain and suffering
Loss of reputation
Loss of enjoyment of life
Even though there is no number to measure these damages, they can significantly outweigh your economic damages if an attorney proves them in court. A legal professional will diagnose your non-economic damages' severity and ensure you are justly compensated. Punitive Damages are special penalties given to the guilty party for their especially negligent behavior in an accident. Punitive damages are piled on top of economic and non-economic damages to deter others from similar acts of negligence in the future. These penalties are often involved in
gross negligence
cases, where reckless behavior causes grave harm to others.
Avoid Making These Mistakes in a Sacramento Personal Injury Case
While you are preparing your personal injury claim, you will need to be careful with what you say and do as it can greatly affect the outcome of your case. Below, we have provided a list of some actions that you should avoid doing:
Talk about your case to anyone other than your personal injury attorney.
Ignore medical treatment recommendations provided by your physician.
Use social media to post details or images relating to your accident.
Accept follow requests from people you have no relation with in real life, primarily those who have requested to follow you after you have started filing a personal injury claim.
Reach out to the at-fault party.
Speak to the insurance company and accept a settlement offer without your attorney involved in the discussion(s).
Sacramento Personal Injury FAQ
How Long Do I Have to File a Personal Injury Claim?
In California, the statute of limitations to file a personal injury claim is two years starting from the date of when the incident occurred. If you exceed the deadline, you will no longer be eligible to pursue legal action against the party at-fault for your losses. However, a few exceptions will allow you to have an extension on filing a personal injury claim. You must be:
A minor,
Out-of-state,
Legally insane,
Incapacitated, or
Incarcerated.
The "discovery rule" may also affect the amount of time you are given to submit a personal injury claim. Under the discovery rule, the statute of limitations will start on the date of when the injury was discovered or should have been discovered.
Should I Give the Insurance Company a Statement?
You shouldn't give a statement to the insurance company unless you have gone over it with your personal injury attorney. In order to avoid getting taken advantage of by the insurance company, you should direct them to speak with your attorney in Sacramento if they are requesting a statement to be sent to them. Your attorney will respond with the evidence needed by the insurance company for them to move forward with processing your personal injury claim.
Should I Accept the Insurance Company's Offer?
Do not accept the first offer an insurance company gives you. Insurance companies do not have your best interest in mind and will look for any opportunity to reduce their profit loss. If you have a personal injury attorney on your side, your chances of obtaining a fair settlement offer will be much greater. Your attorney will negotiate with the insurance company to ensure you get the settlement offer you deserve to cover any damages caused by the accident.
Contact Our Sacramento Personal Injury Attorneys for Legal Assistance
If you have sustained injuries as a result of someone's negligence or deliberate acts of malice, you have the right to hold the guilty party responsible for your losses. A Sacramento personal injury attorney at
West Coast Trial Lawyers
can recover compensation for the losses you have suffered, including medical bills, property damage, emotional distress, lost wages, pain and suffering, and more. Call us today at
213-927-3700
or fill out our
quick contact form
to schedule a free consultation with our experienced, caring, and compassionate legal team.


They know what they're doing, very well. Not only did I not make a single phone call from the day I hired them, but I also received calls from their case managers and paralegals who want to make sure my treatment was going well. They whole team took care of me. Thank you WCTL for taking full responsibility of my case and getting me an amazing settlement.


I can say with confidence that this team is the best in the business. . . . Dean took the time to really listen and hear me out. He assured me that he was going to move mountains because he believed in me, and he ended up doing just that. I've never met a more focused and passionate attorney in my life. If you're looking for a firm that treats its clients with the utmost respect and care, calling WCTL is a no-brainer. I wouldn't think twice about working with them again in the future.