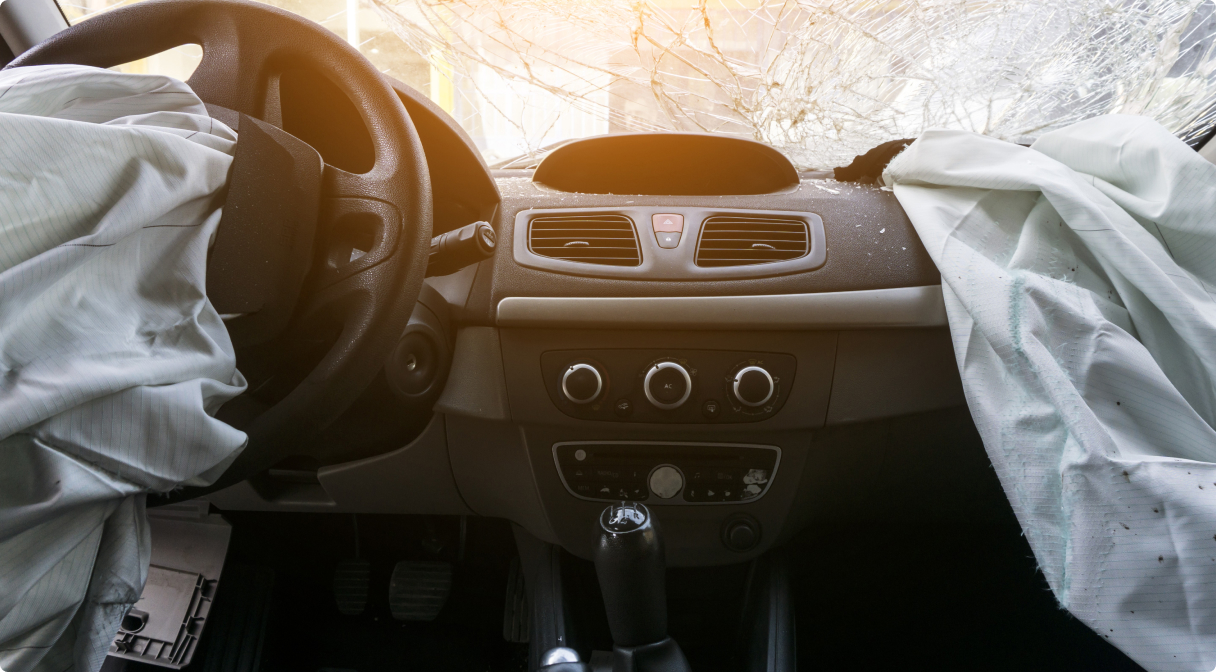 Rollover Accidents in California
How Do Rollover Accidents Happen?
Rollovers are complex accidents that are particularly violent in nature. A rollover is a type of accident in which a vehicle tips over onto its side or roof. According to Safecar, rollovers involve the driver, road, vehicle, and environmental factors.
A study reported by the National Highway Traffic Safety Administration (NHTSA) noted that rollover crashes are more likely to result in fatalities than other types of crashes. In 2018, 6,358 passenger vehicle occupants were involved in a fatal rollover accident. 72 percent of rollovers had a pre-rollover impact, while 28 percent of vehicles rolled over without making any contact. 
Any type of vehicle can rollover. Taller, narrower vehicles like SUVs, pickups, and vans are far more likely to rollover compared to average cars because they have a higher center of gravity, thus being more top-heavy. However, newer SUVs have lower rates than newer cars. The Insurance Institute for Highway Safety (IIHS) reported that the rollover driver-death rate for new, 1 to 3 year old, passenger vehicles decreased from 27 in 2000 to 6 in 2012.
In some of the worst cases, a passenger involved in a rollover accident can be ejected out of the vehicle and suffer serious injuries. Most of the time, a fatal rollover accident involves only one vehicle.
Not all car accidents are the same, and they often involve a multitude of different implications that will make a difference when taking a case to court. Rollover accidents are particularly complex, but our expert legal team of car accident attorneys at West Coast Trial Lawyers can help make the process smoother.
To schedule a free consultation, please contact our 24/7 legal team by calling 213-927-3700 or filling out our quick contact form.
Types of Rollover Accidents
Rollover accidents can be separated into tripped and untripped. An untripped rollover usually takes place when attempting extreme maneuvers during a high-speed collision, like going at an excessive speed during cornering, attempting to evade obstacles, or harsh lane change maneuvers. These are also less likely to happen than tripped accidents.  
On the other hand, a tripped accident happens when a car exits the roadway and slides sideways, digging its tires into soft soil or hitting an object like a curb or a collision with another driver, which destabilizes the vehicle. NHTSA data shows that 95 percent of single-vehicle rollovers are tripped. It's the high tripping force applied to the tires in these situations that causes a vehicle to roll over.
Tripped accidents can be separated into three different types, and Safecar gave examples to understand each one:
Soft Soil. A pickup driver travels down a two-lane highway at a high speed. As they veer off the right side of the road, the driver attempts to remedy this by steering the wheel harshly to the left, thus causing the pickup to rollover as the wheels dug into the soft soil.
Guardrail. The driver of a car travels down a two-lane highway at a high speed. As the car veers off the right side of the road, the driver tries to avoid the guardrail by steering the wheel to the right, but the left front portion of the vehicle rides up the guardrail like it was on a ramp. This causes the car to become airborne and rollover. 
Steep Slope. An SUV traveling at a slower speed in an off-road environment starts going faster as it rides up a steep hill. The driver mistakes the steepness of the hill and turns right, causing the vehicle to roll over down the hill. 
Though neither tripped nor untripped rollover accidents are exclusively a result of someone's negligence, drivers traveling at high speeds or driving erratically increases the chances for these types of accidents. 
What Causes a Rollover Accident?
A 2020 report conducted by the Insurance Information Institute (III) found that rollover collisions are the one of the most common types of fatal accident. As mentioned previously, taller, narrower vehicles like SUVs, pickups, and vans have a higher probability of being involved in these types of accidents given their sizes and weight. However, any vehicle can rollover, and there are several factors that could contribute to the cause of these dangerous accidents: 
Speed. Whether the driver was driving at a high speed or they switched lanes suddenly, rollovers are at a high risk of happening. Speeding constitutes 40 percent of fatal rollover crashes.
Alcohol and/or Drugs. Fatal rollover crashes often involve a person driving under the effects of alcohol.  
Location. Fatal rollover accidents are more likely to take place in rural roads given they often lack barriers and are undivided. Poorly maintained roads are also often involved in these types of accidents.  
Driver Error. Driver behavior, like distraction, road rage, or falling asleep at the wheel for example, often plays a key role in these types of crashes. NHTSA data reports that nearly 85 percent of fatal rollover accidents are caused by single-vehicle crashes, thus implying that driver behavior plays a large role. 
Defective Auto Parts. As previously mentioned, though SUVs are more likely to result in rollover crashes than other passenger vehicles, newer models of SUVs have lower rates than the newest cars. However, auto parts like tire blowouts can contribute to a rollover accident, leading to a product liability case.
Injuries
A rollover collision may cause a serious wreckage that could result in devastating losses. Those who are involved in this type of accident may also suffer severe injuries, depending on the level of impact. These injuries include:
Head and traumatic brain injuries (TBI)
Neck injuries, like whiplash, slipped discs, herniated discs and nerve damage 
Spinal cord injuries and other serious back injuries
Broken bones
Lacerations, bruises and soft tissue injuries, like torn ligaments and pulled muscles and tendons
West Coast Trial Lawyers Is Here to Help
If you have sustained injuries as a result of another driver's carelessness, you have the right to hold that driver responsible. Our car accident attorneys at West Coast Trial Lawyers will help you recover compensation for the losses you have suffered, including medical bills, property damage, lost wages, and pain and suffering.
Contact us today by calling 213-927-3700 or filling out our contact form. to schedule a free consultation with our experienced, caring, and compassionate legal team.


They know what they're doing, very well. Not only did I not make a single phone call from the day I hired them, but I also received calls from their case managers and paralegals who want to make sure my treatment was going well. They whole team took care of me. Thank you WCTL for taking full responsibility of my case and getting me an amazing settlement.


I can say with confidence that this team is the best in the business. . . . Dean took the time to really listen and hear me out. He assured me that he was going to move mountains because he believed in me, and he ended up doing just that. I've never met a more focused and passionate attorney in my life. If you're looking for a firm that treats its clients with the utmost respect and care, calling WCTL is a no-brainer. I wouldn't think twice about working with them again in the future.