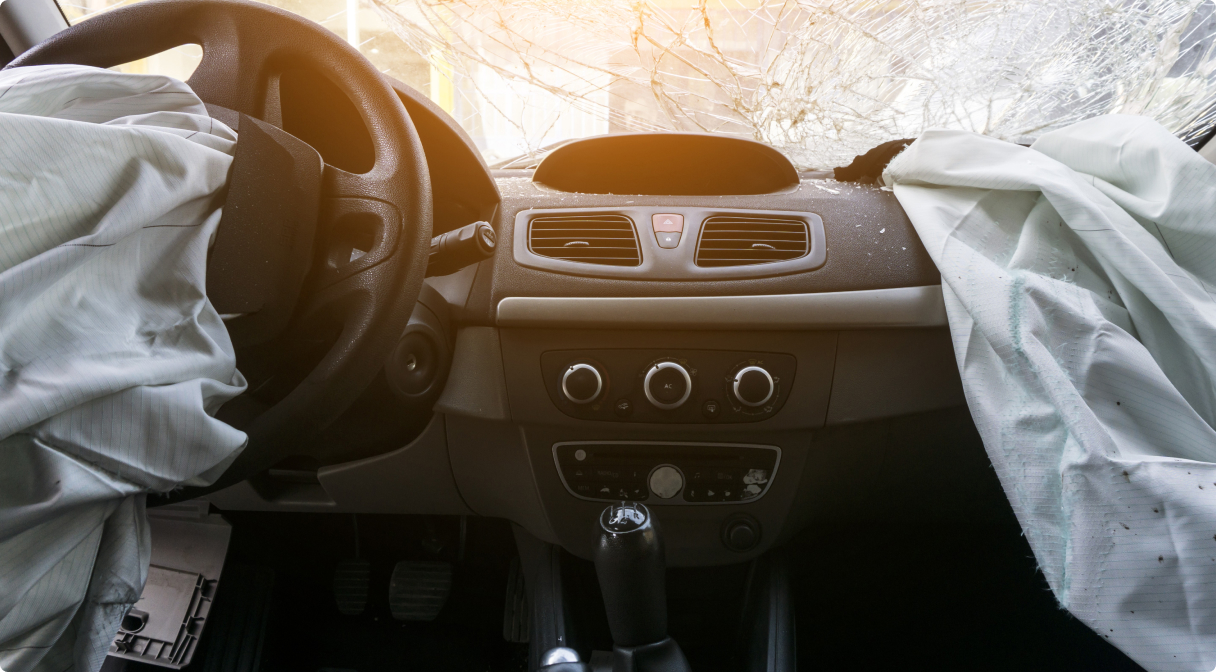 7 Crucial Steps to Take After a California Car Crash
Here's What You Have to Do After a Car Accident to File a Successful Claim
Los Angeles is said to have a car accident every 36 hours on average. This comes to no surprise as the city is known for its busy traffic and aggressive drivers. Common forms of car accidents that have occured in Los Angeles include head-on accidents, rear-end accidents, and sideswipe accidents. 
Getting into any type of car accident can leave a person feeling overwhelmed with fear and anxiety. These emotions are justifiable as it can be very traumatic to witness a large, heavy machine crashing directly into you. As you try to exit out of your vehicle, you should observe your surroundings to detect whether you have suffered any injuries or damages. If so, you may be eligible to file a personal injury claim against the party at-fault for your losses.
However, you must remain calm in order to acquire important information that you will need to include in your personal injury claim. In the section below, we will go further into detail about what essential pieces of evidence or documents you will need to obtain to have a well-constructed and convincing claim.
If you were involved in a car accident and are seeking legal representation, our experienced Los Angeles car accident attorneys at West Coast Trial Lawyers are available 24/7 to assist victims of personal injury. We will help build up your claim and negotiate with insurance companies to ensure you get the compensation you deserve. 
To schedule a free consultation at our Los Angeles personal injury law firm, please contact us by calling (888) 573-3619 or filling out our quick contact form.
7 Steps to Take After Being in a Car Accident in California
To help protect you and to make sure you are prepared in the event of an accident, we have outlined seven important steps to take after a car accident:
Make sure everyone is okay. The first thing you should do after an auto accident is to make sure that you and your passengers are okay. If anyone is injured, call 911 to request an ambulance.                                   
Call the police. Even if no one appears to be injured and you believe the damages are minor, you should call the police so they can make an official report of the accident. This is an important step because it can strengthen your case when you file for an insurance claim. Some law enforcement agencies will not take a report if no one is injured, so you should make sure to communicate your injuries to the officers who respond to the accident.                                
Exchange information with other drivers. Make sure that you get the names, addresses, phone numbers, driver's license numbers, and insurance information for all parties involved in the accident. You should also write down the make, model, year, color, and license plate number of all vehicles. The easiest and fastest way to accomplish this is to take pictures with your cell phone.           
Get contact information from witnesses. Talk with witnesses and write down their names and phone numbers because you may need to get in touch with them in the future.                                           
Be careful with what you say. While you may be flustered or angry, it is important to watch what you say after a car accident. You should never apologize for the accident or admit or claim anything. Statements you make at the scene of an accident can be used against you and may hurt your case later on.               
Take pictures. Take pictures of any damages done to all vehicles involved in the accident. You should also include photos of the location of where the incident took place, road conditions, traffic signs, and traffic signals.                    
Contact a lawyer. After an accident, it is important to get in touch with an attorney experienced in handling car accident claims even before you report the accident to your insurance company. Additionally, you should consult with your attorney before making any statements to the other driver's insurance company. Accident victims often make the mistake of discussing their case with an insurance company before they have spoken with qualified legal counsel. A Los Angeles car accident lawyer can protect your rights and help you take the right steps to obtain the financial compensation you deserve.
Contact West Coast Trial Lawyers
If you have been involved in a car accident, our experienced Los Angeles car accident attorneys at West Coast Trial Lawyers are here to help. We understand what you are going through and will do everything we can to make the process as easy as possible for you. With our track record of winning more than 5,000 personal injury cases, we are confident that we will deliver a good outcome to your settlement.
To schedule a free consultation at our Los Angeles personal injury law firm, please contact our 24/7 legal team by calling (888) 573-3619 or filling out our quick contact form.


They know what they're doing, very well. Not only did I not make a single phone call from the day I hired them, but I also received calls from their case managers and paralegals who want to make sure my treatment was going well. They whole team took care of me. Thank you WCTL for taking full responsibility of my case and getting me an amazing settlement.


I can say with confidence that this team is the best in the business. . . . Dean took the time to really listen and hear me out. He assured me that he was going to move mountains because he believed in me, and he ended up doing just that. I've never met a more focused and passionate attorney in my life. If you're looking for a firm that treats its clients with the utmost respect and care, calling WCTL is a no-brainer. I wouldn't think twice about working with them again in the future.