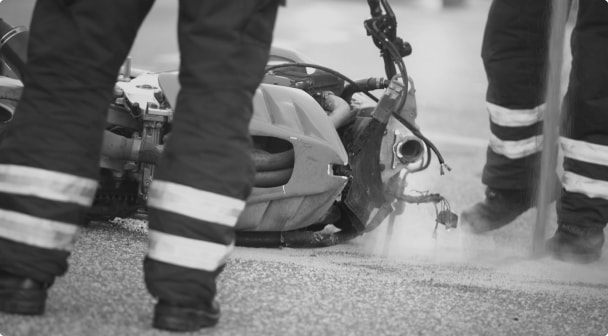 Compensation for Motorcycle Accident Pain and Suffering
How to Determine Compensation for Pain and Suffering in a Motorcycle Accident
Motorcycle accidents can have brutal consequences due to the lack of protection a motorcycle offers. Unlike cars, they are not protected on all sides, and are therefore more susceptible to several injuries. Motorcyclists injured in an accident have the right to file an insurance claim to receive compensation for any damages they've suffered as a result of the crash, including pain and suffering.
Below, we will break down pain and suffering compensation for motorcycle accidents to inform riders on how to get compensation for their physical and emotional injuries.
Victims of a motorcycle accident are welcomed to contact our 24/7 legal team at our Los Angeles personal injury law firm. Our experienced motorcycle accident attorneys at West Coast Trial Lawyers will strengthen your claim and negotiate with insurance companies to ensure you get the compensation you deserve for your losses.
To schedule a free consultation, you may contact us by calling (888) 243-1195 or filling out our quick contact form.
What Is Pain and Suffering?

Pain and suffering is a type of non-economic damage that is not based on hard numbers already determined by how much money a person has lost and will lose in the future. Rather, pain and suffering accounts for a kind of loss of quality of life due to physical and emotional damages resulting from injuries sustained in an accident. Injuries that may require surgery, such as bone fractures, spinal cord injury, and brain injury, can all make a serious impact on a victim's overall health. To get a better understanding of how these injuries contribute to pain and suffering, please read the following:
Broken Bone. A motorcycle does not provide proper protection to prevent a motorcyclist from flying out of their vehicle. It is very likely that a motorcyclist may endure forceful impact to the ground, thus causing them to suffer a bone fracture. Broken bones restrict an individual from performing certain activities. Pain is also associated with this type of injury. Due to these reasons, it is common for a victim to experience pain and suffering from a broken bone.
Spinal Cord Injury. A victim of spinal cord injury will experience significant back pain and/or paralysis depending on how severe the impact was. The individual may be restricted from moving their body around as much as they used to prior to the crash. Furthermore, costs for medical help, such as medication, doctor visits, surgery, and rehabilitation services, could leave the victim in debt. Under these circumstances, the motorcyclist is likely to go through pain and suffering.
Injuries That Require Surgery. It is inevitable to suffer some type of injury after an accident. The process of recovery may differ for each individual. For some, it may only require medication and regular check-ups with a doctor. However, for others, they may be required to take medication, get surgery, go through physical therapy, and get check-ups for several years. Using these services can be very costly. The individual could go into debt if they do not own health insurance or acquire health insurance that is able to cover for all of their medical expenses. Throughout this journey, victims of a crash may endure a lot of pain and suffering, both mentally and physically.
How Can You Determine Compensation for Pain and Suffering?
Compensation for pain and suffering accounts for the largest portion of available damages from an insurance claim. However, as mentioned earlier, because it is not an economic damage, meaning that it is not related to financial loss, but rather quality of life, it is not easily calculable at a glance.
There are several contributing factors to calculating compensation for pain and suffering:
Severity of the injury
Medical treatment received for the injury
Recovery time
Possible long term effect of the injury
Since most of these factors are accounted for over a course of long periods of time, determining compensation for pain and suffering is only an estimated projection of the amount of money you should be awarded.
What's With the Bias Against Motorcyclists in Receiving Fair Compensation?
Motorcyclists are commonly seen in a bad light in societal standards. Oftentimes, prejudices against motorcyclists come into play when insurance companies or the court of law are devising compensation for damages, including pain and suffering. Motorcyclists are stereotyped to be rebellious speed mongers who partake in dangerous driving at their own risk. When motorcyclists are injured in an accident, it is common for people to state that it is their own fault for driving a motorcycle, though this is likely not the case if another driver's negligence caused the accident.
This bias against motorcyclists comes into play on the end of insurance companies and in the court of law, as well. Insurance companies are already in the business of maximizing profits at the hand of their clients' losses. An insurance company representative is trained to offer their clients and pressure them to accept minimum compensation for insurance claims. If you are a motorcyclist making an insurance claim, this bias against motorcyclists only strengthens the insurance company representatives' argument to offer you less compensation or flat out deny your claim. Should the insurance company deny your claim, you have the right to open up a lawsuit against the company, however you need to be aware that this bias against motorcyclists carries into the court of law, as well.
The bias against motorcyclists is why you should get an experienced motorcycle accident attorney who knows how to handle the insurance companies and get you the maximum compensation that you deserve.
West Coast Trial Lawyers Is Here to Help
If you are a victim of a motorcycle accident and would like to file a lawsuit against the individual you believe is at-fault, our experienced Los Angeles personal injury attorneys at West Coast Trial Lawyers will help you get the compensation you deserve for losses you have suffered, which includes medical bills, property damage, lost wages, and pain and suffering.
Contact us today by calling (888) 243-1195 or filling out our quick contact form to schedule a free, no-obligation consultation with our knowledgeable, compassionate, and caring legal team.


They know what they're doing, very well. Not only did I not make a single phone call from the day I hired them, but I also received calls from their case managers and paralegals who want to make sure my treatment was going well. They whole team took care of me. Thank you WCTL for taking full responsibility of my case and getting me an amazing settlement.


I can say with confidence that this team is the best in the business. . . . Dean took the time to really listen and hear me out. He assured me that he was going to move mountains because he believed in me, and he ended up doing just that. I've never met a more focused and passionate attorney in my life. If you're looking for a firm that treats its clients with the utmost respect and care, calling WCTL is a no-brainer. I wouldn't think twice about working with them again in the future.