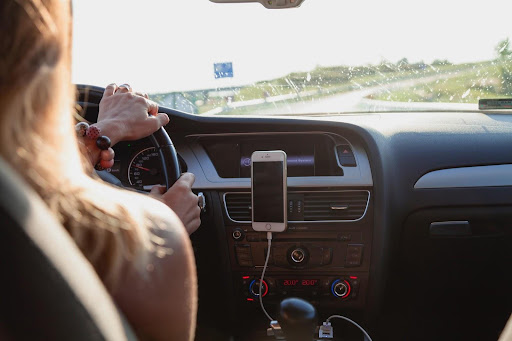 Instacart Accidents and Injuries in California
How Do I File a Personal Injury Claim After Getting Involved in an Instacart Accident in California?
Nowadays, it's all about making even the most menial of daily tasks as convenient as possible. So if California residents can order take out, rideshare, and even cannabis with a swipe of the finger on an app, it makes sense that grocery shopping would also be this easy to do. 
Although apps, such as Instacart, offer convenient grocery shopping services to customers, the food delivery drivers are often met with the pressure of having to deliver orders on time. To avoid receiving bad reviews for late deliveries, they could be influenced to perform reckless actions, such as speeding or ignoring traffic signals. If any accidents occur while a food delivery driver is breaching their duty of care, they will face legal repercussions for damages. 
If you were involved in a food delivery accident and are seeking legal representation, our expert food delivery accident attorneys at West Coast Trial Lawyers are readily available to offer assistance. We will help strengthen your claim and negotiate with insurance companies in order to get you the compensation you deserve.
To schedule a free consultation, please contact our 24/7 legal team by calling 213-927-3700 or filling out our quick contact form.
Instacart
Instacart is a popular grocery delivery app that helps you shop for food at the comfort of your own home. The company is one of the largest and widely available grocery delivery services across the United States, with the delivery app partnering with stores like Costco, Ralphs, Northgate Market, H Mart, and Walmart. 
According to Coresight, more than 36 percent of adults polled in 2019 purchased groceries online within the past 12 months. Based on data collected by the U.S. Census Bureau, there were a total of 93 million online grocery shoppers, which is a large increase compared to the year before, where the total number of online grocery shoppers was 35 million.
And though Amazon is well-ahead of other retailers in drawing online grocery shoppers, Instacart is growing fast. In fact, the company has seen customer demand soar during the pandemic, with the platform seeing a 300 percent growth since last year. At the start of California's stay-at-home order, Instacart announced plans to bring on an additional 300,000 full-service shoppers in the U.S. to meet the increasing demand.
Like Instacart, grocery delivery services are extremely popular throughout the country, especially in big cities. The rapid rise of food and grocery delivery companies has become a blessing when it comes to convenience. But as the number of food and grocery delivery vehicles in California increases, so does the likelihood of car accidents.
Establishing Liability
In order to become an Instacart shopper, the requirements are simple:
Must be at least 18 years of age
Have legal authorization to work in the U.S.
Be able to lift up to 50lbs without accommodation
Have regular access to a reliable car
Have regular access to a smartphone capable of running the Instacart Shopper app
Must pass a background check
That's it! There's no mention of car insurance in their list of requirements. Sure, if you're operating a car, it's common knowledge that you must have the proper insurance coverage. The problem with companies, like Instacart, that classify their workers as independent contractors and not employees, is that they protect themselves from being liable for any damages incurred in accidents involving their drivers. Instead, the liability is placed on the driver, who may or may not know that they need additional insurance because they're using their cars for commercial and/or business purposes. 
Those who are interested in signing up for Instacart must sign a contract that emphasizes the terms and conditions of what they will expect when working under the company, which is practically designed to make it complicated for anyone to hold that particular company at-fault for a car accident.
Instacart, in fact, does not provide commercial auto insurance for drivers. The contract merely notes that while certain jurisdictions may require commercial auto insurance, it is the responsibility of the independent contractor to determine what insurance they are required to have. So not only do they not assume responsibility for its drivers, but they don't make it a point to let them know that they may need further insurance if they don't read the terms and conditions closely. 
Their terms and services read:
"If you have a dispute with one or more Personal Shoppers or Third Party Providers, you agree to release Instacart (including Instacart's affiliates, and each of their respective officers, directors, employees, agents, shareholders, retail partners, licensors, and suppliers) from any claims, demands and damages of every kind and nature, known and unknown, suspected and unsuspected, disclosed and undisclosed, arising out of or in any way connected to such disputes."
According to Autoinsurance.org, a person's premium can increase by 50 percent if they tell their insurance company they're working as a delivery driver for companies like Instacart. If a driver is involved in a car accident and doesn't have the proper coverage, the insurance company is within its rights to cancel the policy and decline to pay for any damages to the other driver's car or the Instacar driver's own if the accident occurs while on the job. 
It goes without saying that Instacart does not offer any excess insurance for their drivers. To reiterate, the company requires drivers to supply all of their insurance, including health and workers' compensation, as "independent contractors."
Filing an Instacart Accident Claim
Drivers who work under food and grocery delivery companies, such as Instacart, are more prone to drive carelessly than other drivers because of their incentive to maximize profits. Because grocery delivery drivers are usually paid by the delivery and not by the hour, they are more likely to:
Speed
Neglect right of way laws
Make reckless lane changes
Make deliveries while tired
Drive while distracted, i.e., texting, looking up an address, or talking on the phone
Food and grocery delivery accident claims can become very complicated, especially when some companies deny that their drivers are employees and argue that they are "independent contractors." In most cases, employers are not held liable for the negligent conduct of independent contractors. However, these rules and regulations are changing rapidly. 
West Coast Trial Lawyers Is Here to Help
If you have sustained injuries as a result of a food delivery accident, our food delivery accident attorneys at West Coast Trial Lawyers can help you recover compensation for your losses, which includes medical bills, property damage, lost wages, and pain and suffering. 
Contact us today by calling 213-927-3700 or filling out our contact form to schedule a free consultation with our experienced, caring, and compassionate legal team.


They know what they're doing, very well. Not only did I not make a single phone call from the day I hired them, but I also received calls from their case managers and paralegals who want to make sure my treatment was going well. They whole team took care of me. Thank you WCTL for taking full responsibility of my case and getting me an amazing settlement.


I can say with confidence that this team is the best in the business. . . . Dean took the time to really listen and hear me out. He assured me that he was going to move mountains because he believed in me, and he ended up doing just that. I've never met a more focused and passionate attorney in my life. If you're looking for a firm that treats its clients with the utmost respect and care, calling WCTL is a no-brainer. I wouldn't think twice about working with them again in the future.