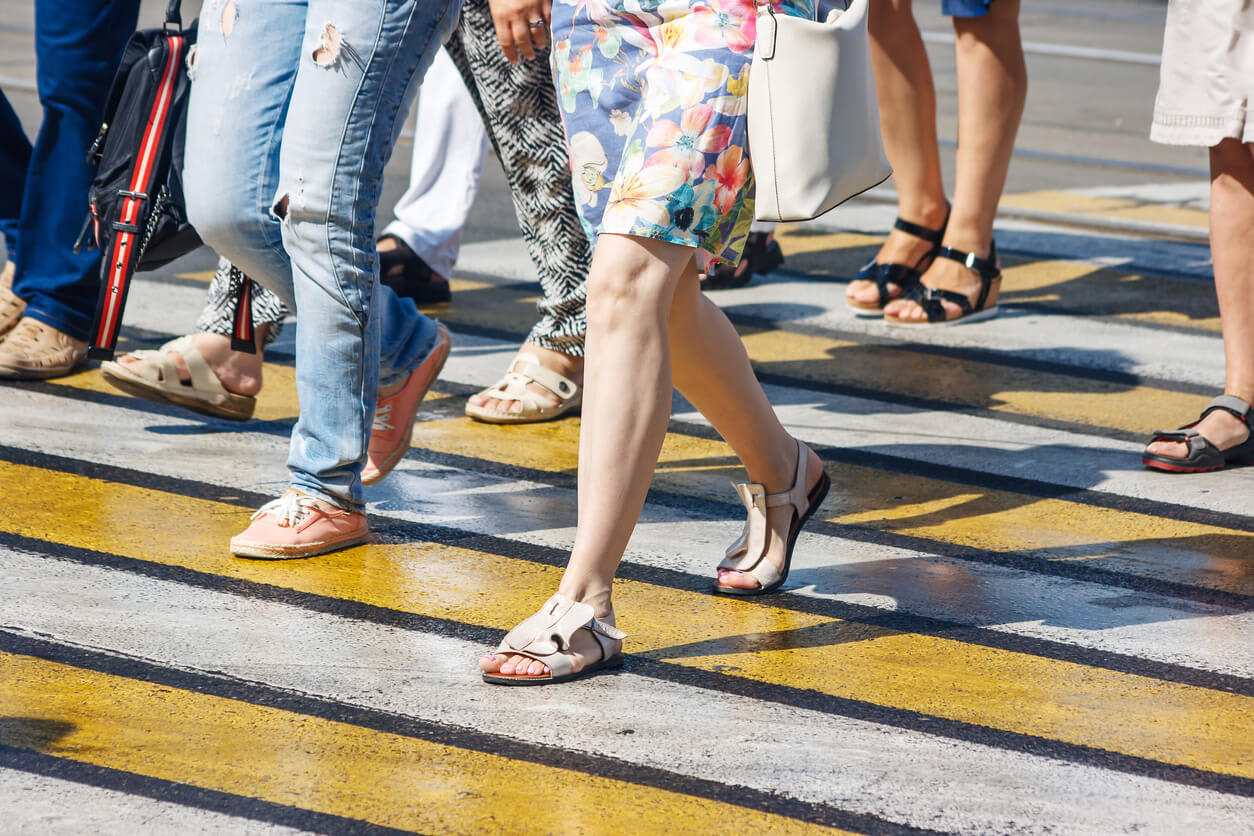 8 Common Pedestrian Accidents
How Pedestrian Accidents Happen on the Road
Los Angeles is known for its heavy traffic. Thousands of vehicles occupy the roads on a daily basis, which puts pedestrians in a hazardous position. Fortunately, California offers protection for pedestrians who are wounded after getting involved in an accident with a vehicle. If you or a loved one was injured in a pedestrian crash in Los Angeles, our experienced personal injury attorneys at West Coast Trial Lawyers will help you recover all the compensation you are entitled to so that you can focus on your recovery and on the ones you care most about. To schedule a
free consultation
at our
Los Angeles personal injury law firm
, please contact our
24/7 legal team
by calling
213-927-3700
or filling out our
quick contact form
.
Vehicle Backing Up Pedestrian Accidents
Commonly seen in parking lots or on streets where a driveway is blocking visibility for drivers who are backing into a road. Regardless of visibility, a driver must always be aware of his or her immediate surroundings and slowly and carefully back up in order to react to any pedestrians who may be crossing.
Off Road Pedestrian Accidents
These typically occur when a driver veers off the road and strikes a pedestrian on the sidewalk or who is standing too close to the edge of the road. An example could be when someone is waiting at a bus stop or near a disabled vehicle and is then struck by a car.
Pedestrian on the Side of the Road Accidents
These accidents typically occur when there is no sidewalk present. In such instances, a pedestrian may decide to walk on the far right side of the road. This is dangerous, especially after dark or when visibility is poor due to inclement weather, because a driver may not see a pedestrian on the side of the road.
Pedestrian Crossing a Highway Accidents
Generally happens along limited access highways or on off ramps. It is never a good idea to cross these roads, yet people sometimes do so when a vehicle breaks down or is involved in an accident. It is always recommended to stay in your vehicle, turn on your emergency lights, and wait for assistance.
Vehicle Running Through an Intersection Pedestrian Accidents
Particularly egregious, these incidents occur when a pedestrian is crossing an intersection and is struck by someone who is traveling straight through that intersection. There are many reasons for this to occur, including malfunctioning traffic signals, or worse, when someone deliberately runs through a stop sign or a red light.These accidents are almost always a driver's fault and may subject that driver to punitive damages.
Vehicle Turning at an Intersection Pedestrian Accidents
Typically happens when a driver hits a pedestrian when making a turn and a pedestrian is crossing the street. A driver will usually be held liable for this type of accident. However, whether a pedestrian was legally crossing a street or even wearing dark clothing at night may affect issues of comparative liability.
Failing to Yield at a Crosswalk Pedestrian Accidents
Crosswalks are designed to allow a pedestrian to safely get to where they need to. The law requires all drivers to stop for anyone who is crossing the street at an intersection. Unfortunately, there are impatient drivers who choose not to watch for pedestrians and who may end up hitting an unsuspecting pedestrian instead of yielding.
Sudden Dash Across the Street Pedestrian Accidents
Typically caused by a pedestrian's negligence, this kind of incident can also be caused or made worse by a negligent driver. These accidents occur when a pedestrian enters a street from the side of the road and steps into the path of an oncoming vehicle. A pedestrian will generally be found liable for not using a crosswalk, but a driver may also share a degree of liability if he or she was driving over the posted speed limit, intoxicated, or being reckless on the road.
Contact Us to Find Out How We Can Help
If you have sustained injuries as a result of a pedestrian accident, an expert
Los Angeles pedestrian accident attorney
at
West Coast Trial Lawyers
can help you get compensation for the losses you have suffered, which includes medical bills, lost wages, pain and suffering, and more. Contact us today by calling
213-927-3700
or filling out our
quick contact form
to schedule a free, no-obligation consultation with our knowledgeable, caring, and compassionate legal team.


They know what they're doing, very well. Not only did I not make a single phone call from the day I hired them, but I also received calls from their case managers and paralegals who want to make sure my treatment was going well. They whole team took care of me. Thank you WCTL for taking full responsibility of my case and getting me an amazing settlement.


I can say with confidence that this team is the best in the business. . . . Dean took the time to really listen and hear me out. He assured me that he was going to move mountains because he believed in me, and he ended up doing just that. I've never met a more focused and passionate attorney in my life. If you're looking for a firm that treats its clients with the utmost respect and care, calling WCTL is a no-brainer. I wouldn't think twice about working with them again in the future.