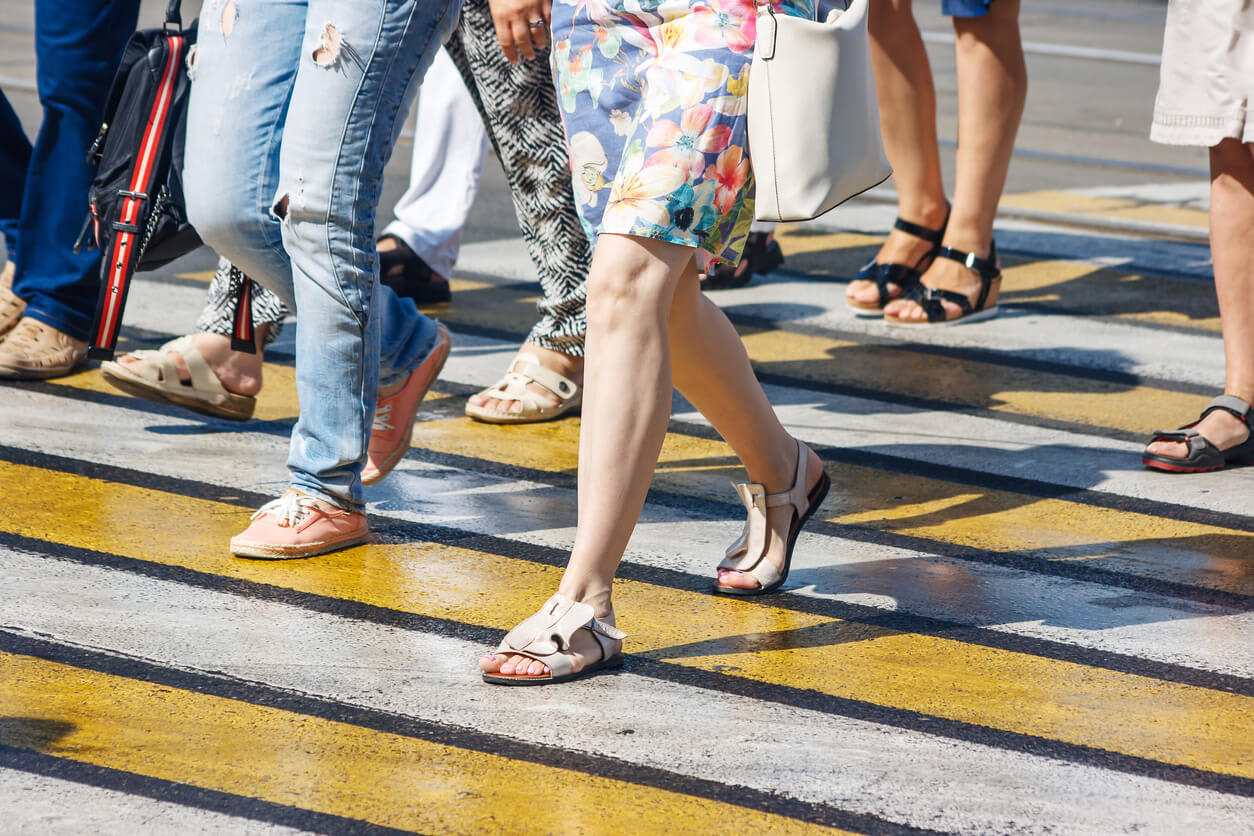 Liability in a Pedestrian Car Accident
How to Determine Fault in a Pedestrian Car Accident
The vast majority of people automatically assume that a driver is always liable for hitting a pedestrian. This makes sense, especially because a human being is no match for an oncoming vehicle. However, it is entirely possible for a pedestrian to share some degree of liability for a pedestrian accident, especially if that individual was jaywalking, not watching the road, texting, or intoxicated when the incident took place. Below, our experienced pedestrian accident lawyers will discuss what happens when a pedestrian is partially or completely at-fault for causing a collision.
If you or a loved one was injured in a pedestrian accident in Los Angeles, our knowledgeable team of pedestrian accident attorneys at West Coast Trial Lawyers are always here to help. We will recover all the compensation you are entitled to so that you can focus on your recovery and on the ones you care about the most.
To schedule a free consultation at our Los Angeles personal injury law firm, please contact our 24/7 legal team by calling 213-927-3700 or filling out our quick contact form.
Determining Fault in a Pedestrian Accident
According to CVC 21949, drivers are expected to give pedestrians a duty of care to keep them safe from getting involved in an accident. If a driver or a pedestrian fails to fulfill their duty of care, then the victim will file a lawsuit against them. A pedestrian accident lawyer will consider the following laws when determining who is at-fault for causing a pedestrian accident. 
A driver must always yield the right-of-way to a pedestrian who is crossing a roadway within any marked or unmarked crosswalk at an intersection.
A driver must never stop within a crosswalk, as this forces a pedestrian to walk around the vehicle, which can be very dangerous.
A pedestrian is never allowed to jaywalk. If a driver is involved in a collision because he or she was trying to avoid hitting a jaywalker, the jaywalking pedestrian would be held liable.
A driver must never pass a vehicle stopped at a crosswalk. The stopped driver could be waiting for a pedestrian to cross safely.
A driver can drive on a sidewalk only when entering or exiting a garage or alleyway. However, that driver must still yield to a pedestrian when doing so.
By law, all drivers and pedestrians must be aware of their immediate surroundings. Even if a person walks across the street and does not use a crosswalk when a driver has a green light, that driver still has a duty of care to avoid hitting that jaywalker. Likewise, a pedestrian cannot suddenly step off the curb when a car is near, or just stop in the middle of an intersection, or block traffic even when they have the right of way. Any of the above acts are negligent and will greatly reduce a pedestrian's available damages, regardless of whether they were hit by a car. 
Every individual who is using public roads is required to exercise a reasonable level of care. Therefore, a pedestrian who doesn't follow applicable pedestrian laws will at least be found partially liable for an accident. 
Let's consider an example. Say that a pedestrian was jaywalking between two parked cars and then walked into the path of an oncoming vehicle. In this case, the driver has little to no chance of avoiding that pedestrian. The jaywalking pedestrian in this example will most likely be held liable because he or she failed to follow their legally mandated duty of care as a pedestrian.
Further, if the driver was able to react in time to avoid hitting that pedestrian but crashed into another car in the process, the pedestrian would also be held liable for any losses caused to both the driver and the second vehicle that was struck. 
Shared Liability 
California is a comparative liability state, which means that more than one individual may be found liable, including the pedestrian. Therefore, liability can be divided based on the degree of fault. Damages will also be divided based on the share of fault. Finally, any available damages will be reduced depending on an individual's degree of fault.
Contact Us to Find Out How We Can Help
If you have sustained injuries as a result of a pedestrian accident, an expert Los Angeles pedestrian accident attorney at West Coast Trial Lawyers can help you get compensation for the losses you have suffered, which includes medical bills, lost wages, pain and suffering, and more.
Contact us today by calling 213-927-3700 or filling out our quick contact form to schedule a free, no-obligation consultation with our knowledgeable, caring, and compassionate legal team.


They know what they're doing, very well. Not only did I not make a single phone call from the day I hired them, but I also received calls from their case managers and paralegals who want to make sure my treatment was going well. They whole team took care of me. Thank you WCTL for taking full responsibility of my case and getting me an amazing settlement.


I can say with confidence that this team is the best in the business. . . . Dean took the time to really listen and hear me out. He assured me that he was going to move mountains because he believed in me, and he ended up doing just that. I've never met a more focused and passionate attorney in my life. If you're looking for a firm that treats its clients with the utmost respect and care, calling WCTL is a no-brainer. I wouldn't think twice about working with them again in the future.