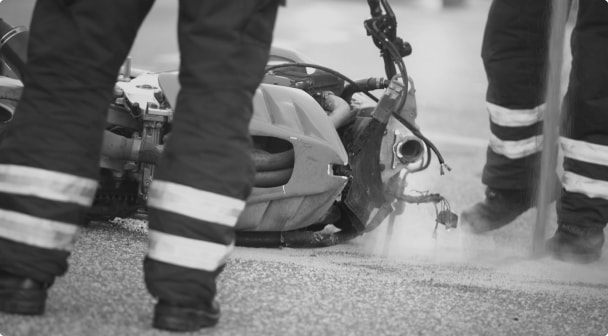 Used Motorcycle Resale Laws and Regulations in California
Important Information You Should Know About Motorcycle Resale Laws & Regulations in California

In the sections below, our experienced California motorcycle accident attorneys at West Coast Trial Lawyers will discuss several important regulations, laws, and considerations for anyone who is planning on purchasing a used motorcycle in California. 
If you were involved in a motorcycle accident while riding your used motorcycle and would like to file a personal injury claim against the party at-fault for your losses, our 24/7 legal team is readily available to handle your case. Our motorcycle accident attorneys have won more than 5,000 personal injury cases and recovered over $1 billion in settlements for our clients. Due to our success with client satisfaction, we are confident that we will deliver a good outcome to your case.
To schedule a free, no-obligation consultation, you may contact us by calling 213-927-3700 or filling out our quick contact form.
Dealership or Private Dealer?
Warranty: This is a key difference. Private sellers will generally sell their motorcycle as-is, while a dealership will at least offer some form of warranty that is time sensitive in the event that something goes wrong with the motorcycle. Warranties offer a buyer a certain peace of mind, while buying from a private seller carries a greater risk if the motorcycle develops issues.
Ownership History: Another important legal consideration. A dealership will typically conduct a search to make sure the motorcycle wasn't previously stolen or declared a total loss by an insurance company. This will offer a buyer more peace of mind before purchasing a motorcycle. On the other hand, a private seller may or may not know the background of the motorcycle they are selling.
Title Transfer: Anytime you purchase a motorcycle, there must be a transfer of title, as well. If you choose to purchase a motorcycle from a dealer, they will generally handle all the paperwork for you and transfer the title to you in compliance with the DMV. On the other hand, a private seller will sign off on the title and you will then be responsible for visiting the DMV and transferring the title yourself.
Motorcycle Inspection
Service History: Some private sellers keep detailed service records, while others do not. On the other hand, a dealership will have records of any work they have performed, and possibly work done before they acquired the motorcycle.
VIN/Title History: Legally speaking, this is crucial. Please request a copy of the Vehicle Identification Number (VIN) and research the motorcycle's history. This will help make sure it wasn't stolen or previously wrecked. If a seller refuses to provide this information, that is a very bad sign.
Motorcycle Checklist
It is encouraged for motorcyclists to create a checklist to inspect parts of their motorcycle for safety purposes. It would be ideal for motorcyclists to include the following:
Engine: Check for any wear or damage, coolant leaks, and oil leaks.
Frame: Check for missing paint or corrosion, cracks, or any missing pieces.
Suspension: Check for leaks from shocks or struts. Protective boots and covers should not have cracks.
Cables and Wiring: Cables and wiring should not show signs of fraying and must operate smoothly.
Tires: Tires should not show signs of wear and should not be cracked.
Bearings: Bearings should not be greasy.
Fluid leaks: Fluid leaks are never a good thing. Always check for oil, coolant, and radiator fluid leakage.
Chain and sprocket: The chain must be well greased and shouldn't come off when you spin it. Sprockets should not have cracks and must be clean. Finally, sprocket teeth must be sharp.
Bar ends, brake levers, and footpegs: Bar ends, levers, and footpegs must not be too scratched or damaged.
Forks: Forks must be straight and free of scratches.
Battery: Make sure the battery is new, clean, and that the battery terminals do not show signs of corrosion.
Brake Fluid: Brake fluid must be topped up and should be a light tan color. Darker fluid is a sign that it needs to be replaced.
Fuel tank: There should be a cap, it should seal tightly, and there should not be any lingering smell of gasoline. It must also be properly mounted.
Contact West Coast Trial Lawyers to Find Out How We Can Help
If you have sustained injuries in California as a result of a motorcycle accident, a skilled motorcycle accident attorney at West Coast Trial Lawyers can help you recover compensation for the losses you have suffered, including medical bills, property damage, lost wages, and pain and suffering. 
Contact us today by calling 213-927-3700 or filling out our contact form to schedule a free consultation with our experienced, caring, and compassionate legal team.


They know what they're doing, very well. Not only did I not make a single phone call from the day I hired them, but I also received calls from their case managers and paralegals who want to make sure my treatment was going well. They whole team took care of me. Thank you WCTL for taking full responsibility of my case and getting me an amazing settlement.


I can say with confidence that this team is the best in the business. . . . Dean took the time to really listen and hear me out. He assured me that he was going to move mountains because he believed in me, and he ended up doing just that. I've never met a more focused and passionate attorney in my life. If you're looking for a firm that treats its clients with the utmost respect and care, calling WCTL is a no-brainer. I wouldn't think twice about working with them again in the future.