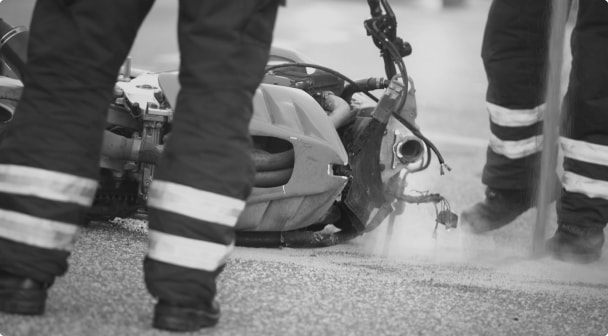 Sudden Stop Motorcycle Accidents in California
What Are Your Rights in a Sudden Stop Motorcycle Accident?
A sudden stop motorcycle accident may cause serious injuries and damages to a motorcyclist since they are forcefully colliding onto a vehicle. Despite wearing protective gear, a sudden stop crash can still be deadly. 
If you have been involved in a sudden stop motorcycle accident, you could have a personal injury claim. Depending on the circumstances, you may be entitled to claim compensation for any damage done to you. At West Coast Trial Lawyers, our California motorcycle accident attorneys have helped several clients with cases just like yours obtain fair compensation for their injuries.
To schedule a free consultation, please contact our 24/7 legal team by calling 213-927-3700 or filling out our quick contact form
Damages Caused by Sudden Stop Motorcycle Accidents
Although motorcycle accidents are generally very dangerous affairs, sudden stop incidents can be even more dangerous. A sudden stop motorcycle accident can occur in two ways.
First is when a vehicle moving ahead of the motorcycle suddenly brakes hard and the following motorcycle plows into its rear end. In such a situation, it is characteristic for the bike to spin and throw the biker off to one side or all the way over the car. This can easily end up as a fatality for many reasons. The rider may go all the way over the car. In this case, they are likely to crash into the car in front or another oncoming vehicle. If they fall to the floor, they may fall with devastating impact or flop into the way of another vehicle.
The second instance is when a motorcycle traveling in front suddenly stops for whatever reason, and a vehicle coming at the rear plows into it. The stop may be due to another vehicle in front braking hard or having a brake defect. Whatever the reason for the stop may be, there's no doubt that it can have serious implications for the biker. Depending on the level of impact by the vehicle coming in behind, it could crumple the motorcycle and the rider on it. It could also propel the driver into any objects in front of or around the impact site.
A catalog of injuries can result from a sudden stop motorcycle accident. These can include:
Broken jaws
Brain injuries
Broken bones
Skull fractures
Herniated discs
Broken cheekbones
Snapped collar bones
Fractured or broken limbs
Also, there is also a good chance of the biker suffering some sort of serious internal injury resulting from the accident.
What Are Your Rights in a Sudden Stop Motorcycle Accident?
Under California law, all motorists must offer a duty of care to one another. This means that as a motorcyclist, you are given the same rights as other motorists who use different vehicles, such as cars, trucks, SUVs, and buses. 
In a sudden stop accident case, the at-fault party, regardless of whether they are a driver or motorcyclist, must be held responsible for committing negligent actions while on the road. If you are a victim of a motorcycle accident, you may file a lawsuit against the at-fault driver.
California's Code of Civil Procedure 335.1 indicates that an individual must file a lawsuit within 2 years of the date of the accident. You must show proof that the other party's negligent behavior was what contributed to the crash.
It is highly recommended to contact a motorcycle accident attorney to guide you through this process. They will help you build a strong claim that will convince the insurance company to increase your compensation to a fair amount in order to cover for any damages caused by the collision. 
You could also sue for punitive damages. The purpose of punitive damages is to punish the defendant for the wrongful act they committed, which caused harm or death to another individual. Punitive damages may only be awarded when actions of a defendant were intentional, reckless, or malicious.
Contact a Motorcycle Accident Attorney
If you or a loved one was involved in a motorcycle accident, our experienced motorcycle accident attorneys at West Coast Trial Lawyers will help you get the compensation you deserve for damages you have suffered, which include medical bills, property damage, lost wages, and pain and suffering. 
We offer free, no-obligation consultations at our Los Angeles personal injury law firm. No fees will be charged until we win your case. Contact us today by calling 213-927-3700 or filling out our contact form to speak to our knowledgeable and compassionate legal team.


They know what they're doing, very well. Not only did I not make a single phone call from the day I hired them, but I also received calls from their case managers and paralegals who want to make sure my treatment was going well. They whole team took care of me. Thank you WCTL for taking full responsibility of my case and getting me an amazing settlement.


I can say with confidence that this team is the best in the business. . . . Dean took the time to really listen and hear me out. He assured me that he was going to move mountains because he believed in me, and he ended up doing just that. I've never met a more focused and passionate attorney in my life. If you're looking for a firm that treats its clients with the utmost respect and care, calling WCTL is a no-brainer. I wouldn't think twice about working with them again in the future.