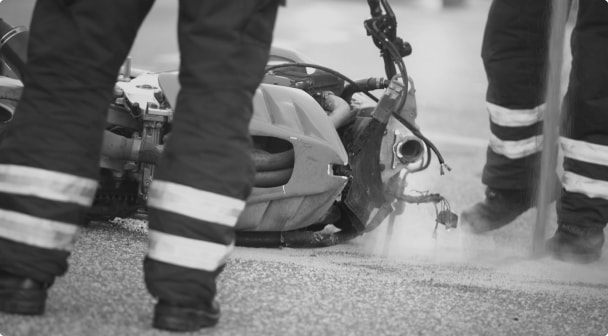 Motorcycle Accidents Caused by Poor Road Conditions
What Motorcycle Road Hazards Should I Know About? Who Will Be Held Accountable for a Motorcycle Accident Caused by Poor Road Conditions?
It is common for road hazards and bad road conditions to cause motorcycle accidents. However, since a car is more stable and protected, it does not typically endure damage due to debris, faulty pavement, or small objects like a motorcycle would. If a motorcyclist gets injured in a road hazard accident, liability is determined by negligence law. 
If you were involved in a motorcycle accident and are seeking legal assistance, our experienced motorcycle accident attorneys at West Coast Trial Lawyers will help you get the justice and compensation you deserve. Our legal team has over 60 years of collective legal experience in handling personal injury cases. We have recovered more than $1 billion in settlements for our clients and will continue to aggressively fight for justice. 
To schedule a free consultation, reach out to our 24/7 legal team by callin 213-927-3700 or filling out our quick contact form.
Common Road Hazards 
It is important for motorcyclists to be on the lookout for hazards such as:
Animals. If a motorcyclist hits an animal, it may throw their balance off. It is difficult to anticipate an animal on the road since they will randomly pop up. Even if a motorcyclist makes the attempt at avoiding the animal, they may still get into an accident. Deer are considered serious hazards due to their large size.
Snow and ice. It will be difficult for a motorcyclist to see where they are going in the snow. Also, during the cold weather, riding at a fast speed over ice may result in loss of control. This is why it is important for motorcyclists to pay attention to their surroundings and ride at a slow and steady rate.
Debris and other objects. These are capable of causing a crash. Since a motorcycle does not have as much durability and protection as a car, they will endure a strong impact when getting into contact with objects such as:

Branches,
Rocks,
Furniture,
Boxes,
Garbage, or
Food waste.

Faulty pavement or rough roads. Having bumpy or disfunctional roads make it hard for a motorcyclist to maintain their balance. Additionally, if a motorcyclist goes too fast while riding on gravel, they may also get into an accident if they do not have the proper skills to prevent themselves from falling off.
Expansion joints. This connects two road sections together. The road may separate without having any cracks. However, the uneven surface will make it likely for a motorcyclist to crash. Riders may also face potential chances of an accident during wet weather since this area can become slick.
Railway crossings. A motorcyclist may experience an accident by getting their tires caught in the railway track. Additionally, if the material is either wood or metal, it could make the railway track very slick during wet weather. This may cause the motorcyclist to lose balance and potentially get into a collision.
Still water. Hydroplaning may occur when a motorcycle is ridden through a puddle of water. Hydroplaning is when water splits up the tires from the ground, thus resulting in a loss of control. Even though motorcycle tires and treads are designed to ensure that hydroplaning does not happen, there is never really a true guarantee that it will work in every weather condition. If the motorcycle tires and treads endure more water than they normally can handle, it will result in the motorcyclist losing control of their vehicle.
Slippery surfaces. This hazard is very dangerous for motorcyclists. Motorcycles are more prone to sliding on the road, which could easily cause a collision. This is why motorcyclists must be aware of the rain since the entire road will be slippery.
Contact West Coast Trial Lawyers to Find Out How We Can Help
If you have sustained injuries as a result of a motorcycle accident, our motorcycle accident attorneys at West Coast Trial Lawyers will get you the compensation you deserve for your losses, including medical bills, property damage, lost wages, and pain and suffering. 
Contact us today by calling 213-927-3700 or filling out our contact form to schedule a free consultation with our experienced, caring, and compassionate legal team.


They know what they're doing, very well. Not only did I not make a single phone call from the day I hired them, but I also received calls from their case managers and paralegals who want to make sure my treatment was going well. They whole team took care of me. Thank you WCTL for taking full responsibility of my case and getting me an amazing settlement.


I can say with confidence that this team is the best in the business. . . . Dean took the time to really listen and hear me out. He assured me that he was going to move mountains because he believed in me, and he ended up doing just that. I've never met a more focused and passionate attorney in my life. If you're looking for a firm that treats its clients with the utmost respect and care, calling WCTL is a no-brainer. I wouldn't think twice about working with them again in the future.