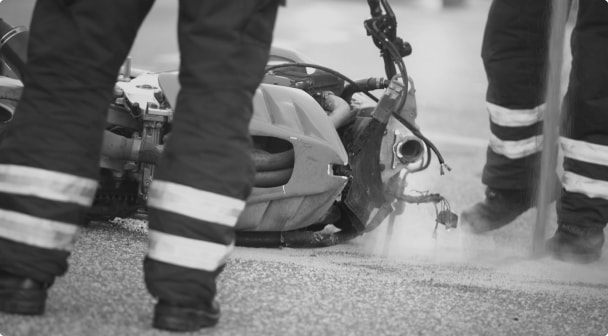 Open Car Door Motorcycle Accidents in California
Who Is to Blame in an Open Car Door Motorcycle Accident in California?
There is a tendency to blame the biker in open car door motorcycle accidents. This is because of a general belief that bikers are often reckless and it was the motorcycle doing the ramming, not the car. However, many motorcycle accidents are caused because drivers simply fail to notice oncoming motorcycles. This is even more so in open car door accidents. Regardless of who is at-fault, the potential for serious injury is quite high. 
If you are not able to assert your rights effectively or swiftly, you could find yourself being injured and having to pay for it. Your best bet to securing a positive outcome is to immediately contact a competent motorcycle injury lawyer. A qualified lawyer can help you understand your rights and will work tirelessly to ensure that the blame for the accident sits where it belongs. 
Our motorcycle accident attorneys at West Coast Trial Lawyers are ranked as one of the top personal injury law firms in California. With decades of experience representing injured bikers, we are known for fighting hard to get the best outcome for our clients.
If you are interested in our services, you may contact our 24/7 legal team by calling 213-927-3700 or filling out our quick contact form to schedule a free consultation at our Los Angeles personal injury law firm. 
Common Causes of an Open Car Door Motorcycle Accident
Since the legalization of lane-splitting, motorcycle accidents have slightly dipped. Despite this, open car door accidents continue to be one of the biggest dangers for motorcyclists. There are several causes for open car door motorcycle accidents. Although the majority of these causes stem from unintentional acts, in some cases, they may also be intentional. These causes include the following:
Negligence: This would often be the case where drivers fail to look properly before opening their car door. Although drivers and passengers are legally required to look before they open a car door in traffic, they will often forget. In other situations, they may look but fail to see motorcycles.
Motorcycle turns: Bikers are required to move to the right side of the road before attempting a right hand turn. In doing this, they often have to ride dangerously close to parked vehicles on the shoulder of the road. This can often end badly.
Poor visibility: Fog, rain, or snow can make it difficult to see that anyone is approaching. In this manner, it can obstruct the driver from seeing that a motorcycle is coming and can even prevent the biker from noticing the parked car.
Illegal parking: Vehicles that are illegally parked will often get drivers that are eager to get out and get back in so they can avoid a ticket. In their haste, they can fail to notice oncoming motorcycles, leading to an open door collision.
Road defects: On a road that is full of potholes, it may often become necessary for bikers to weave around such holes. If a rider veers too close to a parked car, it can result in an open door collision.
Road rage: In many cases, drivers have intentionally opened their car doors into the path of unwary motorcyclists. Apart from being actionable in civil court, such an act can also amount to a crime.
Unwary biker: In other instances, the accident could occur because the biker failed to take note of his or her surroundings.
In all of these instances, an open car door can lead to a collision and will in turn cause severe injuries to the biker. Common injuries that may include brain damage, spinal cord injuries, road rash, concussion, broken bones and trauma. There are tips on how to crash a motorcycle safely, however even if the biker is able to react quickly to the open car door, it can cause the motorcycle to veer off into oncoming traffic or into the path of a vehicle coming from behind. This increases the possibilities of a fatal accident.
Who Is to Blame for an Open Car Door Accident?
The causes of open car door accidents outlined above show that the accidents could be brought about by the act of a motorist or a biker or even the government itself. But the real question is: in the event of an accident, who is to blame? As an injured biker, against whom can you institute an action for compensation?
This can be a tricky question to answer. This is because the general rule regarding accidents such as this is: the party at-fault bears the responsibility for the damage. Fault is often determined by ascertaining which party or parties failed to follow the law at the time. This often falls square at the feet of motorists.
Under California Vehicle Code 22517, drivers and their passengers have a duty to refrain from negligently opening a car door. Apart from this, they must not keep the door open for longer than is necessary to load or unload passengers. What this provision of the law does is lay the primary responsibility for car door accidents at the feet of drivers and passengers. As such, the fault will ordinarily lie at the feet of car owners and their passengers if an open car door motorcycle accident occurs.
This can be rebutted though, especially if evidence is shown that other factors are responsible for the accident. The amount of damages awarded will also depend on the circumstances of the case. If you were speeding, as the biker, it could lead to a divided blame between you and the driver. Of course, you can still obtain compensation in such a case but the damages will be reduced in proportion of fault. So, if the driver was deemed to be 80 percent responsible and the biker 20 percent responsible, the damages will be reduced by 20 percent.
Also, in some situations, neither the biker nor the driver would be at-fault. The accident could have occurred due to the poor condition of the road or the failure of the county authority to provide adequate safety measures. In either case, your motorcycle accident lawyer will help you determine who is most at-fault and where your claim for compensation should lie.
West Coast Trial Lawyers Is Here to Help
If you have been a victim of an open car door motorcycle accident, you need to act fast to retain a qualified motorcycle accident attorney. At West Coast Trial Lawyers, our motorcycle accident attorneys have a reputation for aggressively representing the interests of our clients. We have extensive experience dealing with insurers and understand all the tricks they use. Our number one priority is securing the best possible outcome for our clients.
If you wish to learn more about your rights in an open car door motorcycle accident, please contact us by calling 213-927-3700 or filling out our contact form. Our lawyers stand ready to answer your questions and help you understand your rights.


They know what they're doing, very well. Not only did I not make a single phone call from the day I hired them, but I also received calls from their case managers and paralegals who want to make sure my treatment was going well. They whole team took care of me. Thank you WCTL for taking full responsibility of my case and getting me an amazing settlement.


I can say with confidence that this team is the best in the business. . . . Dean took the time to really listen and hear me out. He assured me that he was going to move mountains because he believed in me, and he ended up doing just that. I've never met a more focused and passionate attorney in my life. If you're looking for a firm that treats its clients with the utmost respect and care, calling WCTL is a no-brainer. I wouldn't think twice about working with them again in the future.