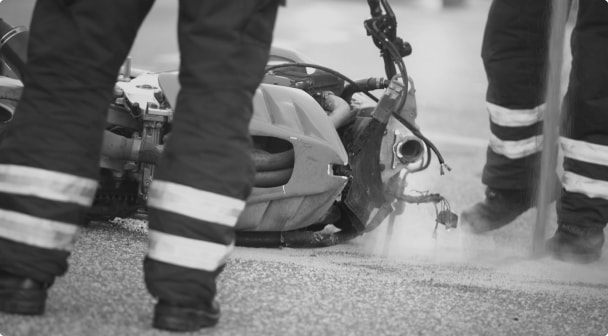 Motorcycle Sidecar Passenger Rules
What Are California's Rules on Riding in a Motorcycle Sidecar?
Typically, sidecars are one-wheeled passenger seats that are attached to either a motorcycle, scooter, or bike. Motorcycle sidecars have fallen in and out of popularity since the early 1900s. Most of these one-wheeled fixtures can be added to a vehicle and are sometimes called a combination, outfit, rig, or hack. 
Due to the fact that the accessory fluctuates in demand, the laws differ per state. Before purchasing a sidecar, it is important to know about the legality in your state and the liability you may incur in case of an accident. West Coast Trial Lawyers practices California motorcycle laws and can always advise you in case of a motorcycle accident. 
If you were involved in a motorcycle accident and would like to pursue legal actions against the party at-fault for damages, our experienced California motorcycle accident attorneys will assess your case to determine necessary courses of action in order to get you the compensation you deserve.
To schedule a free consultation, reach out to our 24/7 legal team by calling 213-927-3700 or filling out our quick contact form.
California Class C Driver's License
The type of vehicle you drive may require a speciality license. For those who are interested in operating a two-wheeled vehicle, there are 3 types of licenses you can obtain. This includes:
Class M1. You are permitted to use any two-wheel motorcycle, motor-driven cycle, or motorized scooter.
Class M2. You are allowed to ride any motorized bicycle, moped, or motorized scooter.
Class C License. You may use a motorcycle with a sidecar attached, three-wheel motorcycle, or motorized scooter.
For requirements, it varies depending on the motorist's age.
Minors who are between 15 ½ to 17 ½ years old are required to submit a DL 389 and bring proof that they have completed their driver education and driver training. They could also show their Class C driver's license and pass the driver knowledge and motorcycle driver knowledge test.
Those who are between 18 to 20 years old are required to submit a DL 389, as well. They do not have to complete driver education and driver training. However, they must pass the driver knowledge test and the motorcycle driver knowledge test.
Motorcycle applicants who are 21 and under must complete the California Motorcyclist Safety Program (CMSP) training course prior to obtaining a motorcycle instruction permit.
It is not mandatory for rider's who are 21 and older to enroll themselves in the CMSP training course, however, it is encouraged for them to partake in it.
For a Class C non-commercial license, you will be allowed to operate these following vehicles:
Motorized scooters.
A 2-axle vehicle with a gross vehicle weight rating of 26,000 pounds.
3-axle vehicle weighing 6,000 pounds or less.
A housecar 40 feet or less.
In order to obtain a Class C non-commercial driver's license, California law requires the following:
You must be 18 years old or older to become a professional driver.
You must also obtain a commercial driver's license to drive a truck or to become a bus driver.
In order to transport materials across the state lines, you must be at least 21 years old.
Riding With a Sidecar
Driving a motorcycle with a sidecar is a lot different than driving without one mainly because it changes the effect of leaning. Bikes with sidecars are generally safe because they add more balance to the cycle, so long as the vehicle is made to do so. Motorcycles with sidecars tend to drive in straight lines while vehicles without one tend to have more flexibility.
Driving with a sidecar takes a bit of practice as with certain turns and angles the compact attachment may rise off the floor. However, generally speaking, passengers enjoy sidecars because of the lower center of balance and unobstructed view. Each passenger should be aware that the sidecar may bounce up and down while on the road.
Available Damages
If you were injured as a result of someone else's negligence, you may be entitled to compensation for your losses. This is often a complicated process that is simplified through the process of acquiring a motorcycle accident attorney.
Damages are a type of monetary award that is determined by a court of law to help compensate an aggrieved individual for any losses or injuries sustained as a result of someone's negligence.
Economic damages are intended to compensate a plaintiff for losses that a dollar amount can readily be attached to. It is calculated by determining the amount of out-of-pocket losses an aggrieved individual has or will expect to incur as a result of their injuries. A few examples of economic losses include:
Loss of Earning Capacity
Medical Bills
Lost Wages
Non-economic damages are essentially intended to cover losses that are thought of as subjective and will not necessarily cover out-of-pocket losses. This may include compensation for:
Emotional Distress
Pain and Suffering
Loss of Enjoyment of Life
The third type of damages a California court may award are known as punitive damages. Punitive damages are intended as punishment and are only awarded when a defendant's behavior is especially harmful. It is relatively rare and, in fact, was only incorporated in 5 percent of all verdicts. Punitive damages are awarded at the court's discretion and will vary depending on the specific circumstances of a case.
West Coast Trial Lawyers Is Here to Help
If you have sustained injuries as a result of a motorcycle accident, our skilled motorcycle accident attorneys at West Coast Trial Lawyers will help you get the compensation you deserve for the losses you have suffered, which include medical bills, property damage, lost wages, and pain and suffering. 
Contact us today by calling 213-927-3700 or filling out our contact form to schedule a free, no-obligation consultation with our experienced, caring, and compassionate legal team.


They know what they're doing, very well. Not only did I not make a single phone call from the day I hired them, but I also received calls from their case managers and paralegals who want to make sure my treatment was going well. They whole team took care of me. Thank you WCTL for taking full responsibility of my case and getting me an amazing settlement.


I can say with confidence that this team is the best in the business. . . . Dean took the time to really listen and hear me out. He assured me that he was going to move mountains because he believed in me, and he ended up doing just that. I've never met a more focused and passionate attorney in my life. If you're looking for a firm that treats its clients with the utmost respect and care, calling WCTL is a no-brainer. I wouldn't think twice about working with them again in the future.