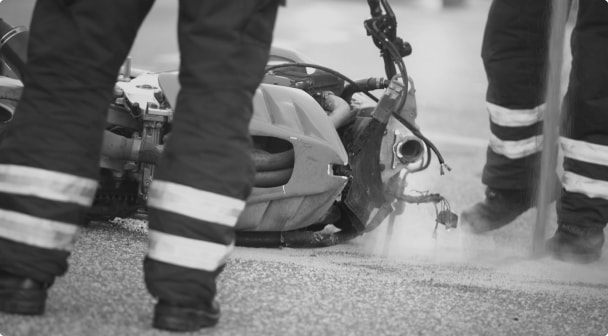 8 Tips for Motorcycle Safety in 2022
Safety Tips Motorcyclists Should Follow to Prevent Accidents
Riding a motorcycle is more dangerous than driving a car. Motorcyclists tend to suffer from serious injuries after being involved in an accident. This is why it is important to stay safe on the road if you are riding a motorcycle. Many accidents can be avoided by being educated and aware of road safety. 
In the section below, our knowledgeable motorcycle accident attorneys have established a list of safety tips that all motorcyclists should consider taking to reduce the likelihood of getting involved in an accident or the severity of an injury. 
If you were involved in a motorcycle accident, you may be qualified to file a personal claim against the party at-fault for damages. At West Coast Trial Lawyers, our experienced motorcycle accident attorneys will help strengthen your claim and negotiate with insurance companies to ensure you get a fair settlement offer. With our track record of winning more than 5,000 personal injury cases and recovering over $1 billion in settlements for our clients, we are confident that we will deliver a good outcome to your case.
To schedule a free, no-obligation consultation, please contact our 24/7 legal team by calling 213-927-3700 or filling out our quick contact form.
Motorcycle Safety Tips in 2022
Motorcyclists should always ride cautiously, especially when surrounded by heavy traffic. As motorcycles provide no protection, it is important for a motorcyclist to make preparations prior to riding on the road to reduce the chances of getting into an accident.
To get an idea of what safety tips a motorcyclist should take into consideration, we have created a helpful list below.
Wear protective gear. It is important to have on a helmet while you are riding a motorcycle. Those who choose not to will have a higher chance of enduring serious head injuries, such as a traumatic brain injury (TBI). Other than wearing a helmet, make sure you have on other types of protective gear, such as:

Goggles,
Gloves,
Leather,
Boots,
Long pants, and a
Jacket.

Obtain a motorcycle license. In California, it is mandatory to get an official motorcycle license before riding a motorcycle. It is required for a motorcyclist to pass two types of exams. A written test will be administered to evaluate your knowledge of how to properly use a motorcycle. The second test will show off your motorcycle riding skills. These are given to determine whether an individual is capable of operating a motorcycle appropriately.
Do not be under the influence when you are operating the motorcycle. A large portion of motorcycle crashes are from motorcyclists who consume alcoholic drinks prior to going out. Drunk motorcyclists are not aware of how fast they are going, thus resulting in higher chances of getting into an accident.
Get professional practice or training. It is highly suggested for a motorcyclist to take professional motorcycle courses. It is better to learn from someone who is certified rather than a friend or relative.
Keep your motorcycle in good condition. It is important to make sure that there are no faulty or defective parts in your motorcycle before taking it out on a ride. Make frequent checks to confirm that everything looks fine. Failure to do so may result in a malfunction on the road, which could lead to a collision.
Stay in your lane. Share the road. Do not try to occupy two lanes or ride past cars during slow traffic by squeezing into small spots. You are not only risking your life, but you are also putting others' lives in danger. If you want to change lanes, you must make sure that it's safe by checking your surroundings prior to making the initial move.
Avoid road hazards. There are various road hazards that will create dangerous conditions for a motorcyclist. These may include, but are not limited to:

Debris,
Faulty pavement,
Pothole,
Rough roads, or
Poor weather.

Spend some time learning about these road hazards, along with many others, to get an idea of how you could avoid them in the future.

Know your capabilities. Be aware of your limits and ride accordingly. Educate yourself on California's road rules and take the time to learn more about common causes of motorcycle accidents. This will help you protect yourself by keeping an eye out on the road.
Contact Us to Find Out How We Can Help
If you have sustained injuries as a result of a motorcycle accident, our experienced motorcycle accident attorneys at West Coast Trial Lawyers will help you get the compensation you deserve for losses you have suffered, which includes medical expenses, property damage, lost wages, and pain and suffering. 
Contact us today calling 213-927-3700 or filling out our contact form to schedule a free consultation with our knowledgeable, caring, and compassionate legal team.


They know what they're doing, very well. Not only did I not make a single phone call from the day I hired them, but I also received calls from their case managers and paralegals who want to make sure my treatment was going well. They whole team took care of me. Thank you WCTL for taking full responsibility of my case and getting me an amazing settlement.


I can say with confidence that this team is the best in the business. . . . Dean took the time to really listen and hear me out. He assured me that he was going to move mountains because he believed in me, and he ended up doing just that. I've never met a more focused and passionate attorney in my life. If you're looking for a firm that treats its clients with the utmost respect and care, calling WCTL is a no-brainer. I wouldn't think twice about working with them again in the future.