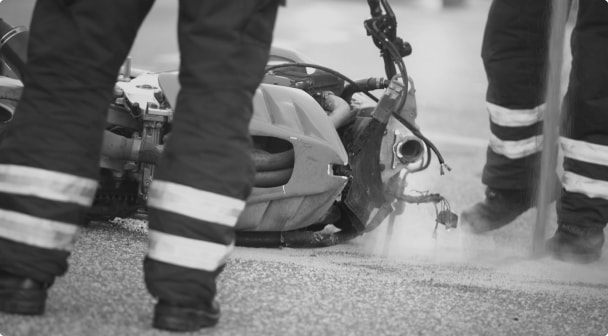 Road Rules for Riding a Motorcycle in California
Follow These Road Rules to Ride Safely on California Roads
The purpose of creating road rules is to maintain safe roads. Motorcyclists, along with drivers, bicyclists, and pedestrians, are required to follow these sets of laws. If not, legal repercussions may be enforced, especially if a motorcyclist's negligence results in an accident. 
In the sections below, our knowledgeable California motorcycle accident attorneys at West Coast Trial Lawyers will discuss various types of road rules that all motorcyclists must be aware of to legally and safely ride on California's roadways. 
If you were a victim of a motorcycle accident, you may be eligible to file a personal injury claim against the party at-fault for damages. At West Coast Trial Lawyers, our motorcycle accident attorneys are available 24/7 to offer legal assistance. We will devote our time and effort into making sure we get you the maximum compensation and justice you deserve.
To schedule a free consultation, you may contact us  by calling 213-927-3700 or filling out our quick contact form.
Safety Gear 
Before going for a ride, a motorcyclist should check the:
Throttle and levers.
Tire tread, air pressure, and brakes.
Headlights, brake lights, tail lights and signals.
Fluid levels and watch for leaks.
A helmet is the most important piece of safety equipment for any rider. California Vehicle Code (CVC) 27803 dictates that all motorcyclists and their passengers must wear a helmet. Helmets must also be in compliance with the U.S. Department of Transportation. The outer shell of a helmet will protect you from abrasion and penetration, while the chinstrap will secure the helmet on your head. A face shield is also recommended.
Additionally, you should wear leather to prevent skin injuries and protect you from harm. Gloves and boots are recommended, as well.
Below are more California rules and laws regulating motorcycle safety:
All motorcycles are required to have both right and left mirrors, according to CVC 26709.
CVC 27801 indicates that handlebars are not permitted in a position that places a driver's hands more than six inches above their shoulders when sitting on the seat.
Front and rear turn signals are required for motorcycles built and originally registered on January 1, 1973, or after.
Lane Splitting
Lane splitting happens when a motorcyclist goes in between two lanes in order to move more quickly through traffic. This practice was originally legalized in 2016. California created several laws that are intended to protect motorcyclists who choose to lane split. According to CVC 22400, a motorist cannot drive at a slow speed that interrupts the normal flow of traffic unless it is absolutely necessary to do so for safety-related purposes. Furthermore, CVC 22517 prohibits drivers from opening a car door or leaving it unclosed unless it is safe to do so and will not block traffic.
Riding With Passengers
There are safety considerations that must be kept in mind prior to allowing a passenger to ride with a motorcyclist. A motorcycle needs to be designed for an extra passenger. Also, weight limits must not be exceeded. A motorcyclist is expected to know the limitations that come along with carrying a passenger. Lastly, the passenger should know the risks that come along with riding in a motorcycle.
When Passing
Many motorcycle accidents occur due to the motorcyclist's lack of visibility on the road. A motorcyclist could be riding in a driver's blind spot, which could increase the chances of a collision from happening. It is ideal for motorcyclists to make themselves as visible as possible before attempting to pass a vehicle. This could be done by making a signal, accelerating, and pulling over to the left side of the lane. Once the motorcyclist has passed the vehicle, they should create up to a two-second following distance to allow enough space for vehicles behind them to react ahead of time to signals or actions. 
Contact West Coast Trial Lawyers to Find Out How We Can Help
If you have sustained injuries as a result of a motorcycle accident, our experienced motorcycle accident attorneys at West Coast Trial Lawyers will help you recover the compensation you deserve for damages including medical bills, property damage, lost wages, and pain and suffering. 
Contact us today by calling 213-927-3700 or filling out our contact form to schedule a free consultation with our knowledgeable, caring, and compassionate legal team.


They know what they're doing, very well. Not only did I not make a single phone call from the day I hired them, but I also received calls from their case managers and paralegals who want to make sure my treatment was going well. They whole team took care of me. Thank you WCTL for taking full responsibility of my case and getting me an amazing settlement.


I can say with confidence that this team is the best in the business. . . . Dean took the time to really listen and hear me out. He assured me that he was going to move mountains because he believed in me, and he ended up doing just that. I've never met a more focused and passionate attorney in my life. If you're looking for a firm that treats its clients with the utmost respect and care, calling WCTL is a no-brainer. I wouldn't think twice about working with them again in the future.