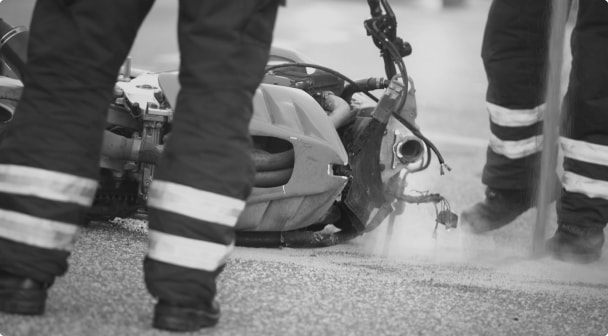 Common Motorcycle Malfunctions
Motorcycle Malfunctions and Accident Liability in California
Most motorcycle accidents are typically caused by someone's negligence. However, that will not always be the case. Motorcycle malfunctions have been known as one of the most common factors of a motorcycle accident. Manufacturing companies are expected to produce motorcycles that have no flaws. If a flaw is detected, the manufacturing company must give a heads up before allowing it to be sold. 
However, if the flaw goes unnoticed, stores will sell defective motorcycles to customers. Once a motorcyclist takes a ride on a defective motorcycle, they are at an alarming high risk of getting into a motorcycle accident. In the sections below, our knowledgeable motorcycle accident lawyers will go over defective motorcycles and how it relates to accident claims. 
If you were involved in a motorcycle accident due to a defective motorcycle and would like to pursue legal actions, our California attorneys at West Coast Trial Lawyers are available 24/7 to handle your case. With our track record of winning more than 5,000 personal injury cases, we are confident that we will deliver a good outcome to your settlement.
To schedule a free consultation, please contact us by calling 213-927-3700 or filling out our quick contact form.
Common Motorcycle Malfunctions
As mentioned, most motorcycle accidents are caused by someone's negligence, either the motorcyclist or another driver. However, accidents can also be caused by mechanical issues. Below are some common examples:
Say that a manufacturing defect causes a tiny crack in the motorcycle's frame. Over time, a break in the motorcycle's frame can affect performance and may make a motorcycle more susceptible to eventual malfunction.
Brake malfunction can be horrendous. A high speed motorcycle accident caused by faulty brakes will have horrific consequences on a rider.
Defective handlebars are another example of motorcycle malfunction that can easily cause rider instability, as well as negatively affect his or her ability to safety steer a motorcycle.
Unexpected stalling is another common example of motorcycle malfunction. A sudden stop caused by a mechanical defect is very dangerous and can not only cause the rider to be thrown from his or her motorcycle, but may also affect drivers driving behind that rider.
Defective tires and wheels can also cause tremendous damage. Unlike a car that can still drive to safety with a blown out tire, a motorcycle that suffers a tire explosion will immediately become unstable and injuries will almost be a certainty.
A motorcycle fire can easily be caused by a defect in the gas tank. These types of product defects are difficult to discover and unfortunately cause very serious injuries and possibly death.
California Product Liability 
Not all motorcycle accidents are caused by poor roads or a driver's negligence. Some accidents may be caused by defective parts or machinery. According to California products liability law, any businesses who designed, manufactured, or sold a defective part can be held liable for injuries caused.
In these cases, an injured motorcycle rider will not have to prove that the company was negligent. Strict liability after a motorcycle defect case can be imposed for:
Manufacturing defects
Design defects

Failing to warn a user of any defects
In order to recover damages, an injured motorcycle rider needs to show that:
The defendant designed, made, distributed and/or sold the defective product
The product was defective when it left the defendant's' possession
The motorcycle rider used this product in a reasonable manner
The motorcycle rider was harmed or injured because of the product defect
Contact Us to Find Out How We Can Help
If you have sustained injuries as a result of a motorcycle accident, our experienced personal injury attorneys at West Coast Trial Lawyers will help you recover compensation for the losses you have suffered, which includes medical bills, property damage, lost wages, and pain and suffering. 
Contact us today by calling 213-927-3700 or filling out our contact form to schedule a free consultation with our knowledgeable, caring, and compassionate legal team.


They know what they're doing, very well. Not only did I not make a single phone call from the day I hired them, but I also received calls from their case managers and paralegals who want to make sure my treatment was going well. They whole team took care of me. Thank you WCTL for taking full responsibility of my case and getting me an amazing settlement.


I can say with confidence that this team is the best in the business. . . . Dean took the time to really listen and hear me out. He assured me that he was going to move mountains because he believed in me, and he ended up doing just that. I've never met a more focused and passionate attorney in my life. If you're looking for a firm that treats its clients with the utmost respect and care, calling WCTL is a no-brainer. I wouldn't think twice about working with them again in the future.