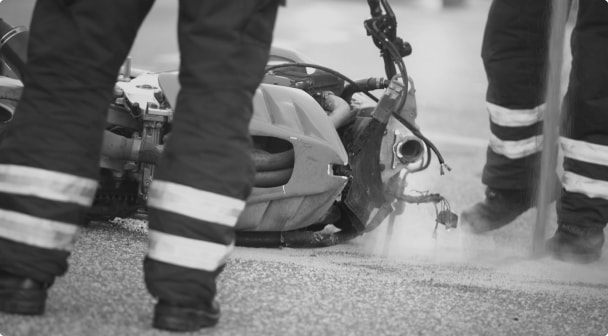 California Motorcycle License Requirements
What Requirements Do You Need to Ride a Motorcycle in California?
Motorcyclists are required to obtain a valid California license before legally riding on the road. In order to get a license, motorcyclists must first educate themselves on how to properly use a motorcycle in order to pass the permit test. Once a motorcyclist acquires a permit, they will be legally allowed to ride between sunrise and sunset.
Motorcycle permits last for 6 months. Until then, a motorcyclist is expected to learn and practice how to ride. Once they have completed their training, they can set up an appointment to take their big test. 
In the sections below, our knowledgeable motorcycle accident lawyers will go into detail about the process of obtaining a license and other legal requirements a motorcyclist must fulfill in order to ride on California roads. 
Those who are given a valid motorcycle license are expected to continue practicing safe riding, however, many will abuse the built-in speed the vehicle offers. This can increase the likelihood of getting into an accident. 
If you were a victim of a motorcycle accident, you may be eligible to file a personal injury lawsuit against the party at-fault for damages. At West Coast Trial Lawyers, our experienced motorcycle accident attorneys are available 24/7 to offer legal assistance. We will review your case to determine what necessary actions are needed to get you the compensation and justice you deserve.
To schedule a free consultation, you may contact us by calling 213-927-3700  or filling out our quick contact form.
California Requirements for a Motorcycle License 
California has a different set of rules depending on the age of the rider.
Under 18 years old. Minors are qualified for a motorcycle license if they have:
A learner's permit for at least 6 months and/or a California driver's license.
Completed a driver education and training course.
Completed a motorcycle training course.
Over 18 years old. Adults must complete these requirements in order to receive a motorcycle license:
Own a California driver's license.
Pass the written test.
Pass the motorcycle driver skills test.
Motorcycle Licenses      
Class M1. With this license, you may legally drive a:
Motorcycle. A vehicle with a saddle for the rider and not more than 3 wheels.
Motor-Driven Cycle. Motor-driven cycles are motorcycles that have a 149 cc motor or less.
Motorized Scooter. These are classified as two-wheeled vehicles that are attached to a floorboard and have handlebars. Some versions do have attachable seats, but the seat may not refrain the rider from adding propulsion.
Class M2. Those who obtain this license may legally drive a:
Motorized Bicycle or Moped. These vehicles may have two or three wheels and cannot travel faster than 30 mph.
Class C License. Eligible motorcyclists will be permitted to legally ride a:
Motorcycle with a sidecar attached.
Three-wheel motorcycle.
Motorized scooter.
Motorcycle Skills Test 
The DMV requires new riders to take an annual pass or fail motorcycle test. The instructor must rank the rider's driving skills to determine if they are still eligible to operate a motorcycle. You will be asked to demonstrate these skills:
Riding With a Tracking Path. You will be asked to travel through a designated obstacle course.
Serpentine Ride. You must travel through a twisted obstacle course.
Circle Ride. You will be told to travel in a circle, both clockwise and counter-clockwise.
Slow Ride. You will need to drive slowly in a straight path between parallel lines.
Gear Shift Ride. You must ride in a straight path while shifting gears.

West Coast Trial Lawyers Will Help You Earn Maximum Compensation for Your Motorcycle Accident

If you have sustained injuries as a result of a motorcycle accident, our experienced personal injury attorneys at West Coast Trial Lawyers will help you get the compensation you deserve for losses you have suffered, which include medical bills, property damage, lost wages, and pain and suffering. 

Contact us today by calling 213-927-3700 or filling out our contact form to schedule a free consultation with our knowledgeable, caring, and compassionate legal team.


They know what they're doing, very well. Not only did I not make a single phone call from the day I hired them, but I also received calls from their case managers and paralegals who want to make sure my treatment was going well. They whole team took care of me. Thank you WCTL for taking full responsibility of my case and getting me an amazing settlement.


I can say with confidence that this team is the best in the business. . . . Dean took the time to really listen and hear me out. He assured me that he was going to move mountains because he believed in me, and he ended up doing just that. I've never met a more focused and passionate attorney in my life. If you're looking for a firm that treats its clients with the utmost respect and care, calling WCTL is a no-brainer. I wouldn't think twice about working with them again in the future.