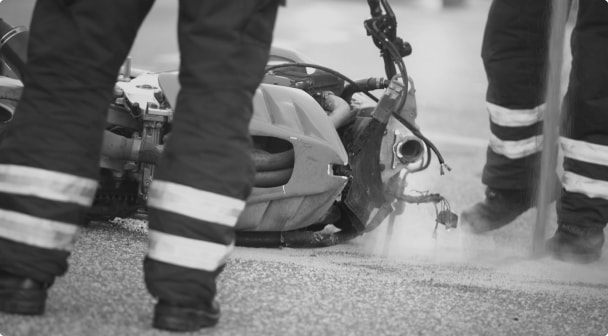 California Motorcycle Insurance
Are You Required to Have Motorcycle Insurance in California?
According to California law, motorcyclists are required to have motorcycle insurance. Since motorcyclists are involved in motor vehicle accidents far more than a driver of a standard vehicle, it is important to have financial protection. Even though other types of insurance, such as uninsured/underinsured motorist coverage, are not mandatory for a motorcyclist to acquire, it is still recommended to have for safety purposes.
In the sections below, our experienced motorcycle accident attorneys will go more into detail about the types of motorcycle insurance policies that are available for motorcycles to consider purchasing. 
If you have suffered injuries as a result of a motorcycle accident, our experienced personal injury attorneys at West Coast Trial Lawyers are available 24/7 to offer legal assistance. We have over 60 years of collective legal experience in handling personal injury cases. Our legal team has won over 5,000 personal injury cases and acquired more than $1 billion in settlements for our clients. Due to our achievements, we have been recognized as one of the top personal injury law firms in California.
To schedule a free, no-obligation consultation, please contact us by calling 213-927-3700 or filling out our quick contact form.
Car Insurance Policy Is Not a Motorcycle Insurance Policy
First and foremost, it's important to know that California requires motorcycle specific insurance, which is different and separate from car insurance.
Minimum Coverage for a Motorcycle Is the Same as for a Car
Under California law, it is required for motorcyclists to have the minimum amount of insurance coverage in order to legally ride a motorcycle. In California, a standard motorcycle insurance policy must cover:
$15,000 for any bodily injury that is incurred by another person
$30,000 for bodily injury done to others who are involved in an accident
$5,000 for all property damage caused by the collision
Minimum requirements for coverage are just that: the minimum. A policy that covers the minimum will not likely compensate for all of your losses should you be found responsible for an accident, and will likely have to pay out-of-pocket costs. However, you may purchase additional coverage if you are interested in doing so.
Liability Insurance Will Not Cover Damages You Incur if You Are Found Liable
As mentioned, a minimum coverage policy will pay for losses caused to someone else in the event that you are found guilty. However, any losses you suffer in an accident that you are responsible for will not be covered by a bare minimum policy.
A comprehensive motorcycle insurance plan is a good alternative, as it can cover repairs and non-collision-related losses. It may cost a bit more, but it is a great long-term investment.
Uninsured/Underinsured Coverage
Just like how a comprehensive coverage policy is a good idea, so is uninsured/underinsured motorist (UM/UIM) coverage. This coverage provides financial protection for those who are involved in an accident that is not their fault and was caused by a motorist who is uninsured or underinsured.
Being involved in a crash with someone who has no insurance can be a nightmare. A motorcyclist would have to pay out-of-pocket to cover all of their injuries and property damage. Adding UM/UIM coverage will help cover those costs up to the policy's limits.
Modified Bikes Are NOT Covered by a General Motorcycle Insurance Policy
Modifications are not covered by a regular motorcycle insurance policy. You will need to purchase additional coverage to protect your unique alterations.
You Must ALWAYS Carry Proof of Insurance
If a motorcyclist is pulled over without proof of insurance, he or she can potentially be fined between $100 to $2,000. A police officer may decide to impound your motorcycle if you are stopped and do not have your proof of insurance on you at hand. To avoid being involved in this type of situation, it is highly recommended for you to carry a copy of your policy in your wallet or gear bag at all times.
Contact West Coast Trial Lawyers to Find Out How We Can Help
If you have sustained injuries as a result of a motorcycle accident, our motorcycle accident attorneys at West Coast Trial Lawyers will help you get the compensation you deserve for damages including medical bills, property damage, lost wages, and pain and suffering. 
Contact us today by calling 213-927-3700 or filling out our contact form to schedule a free consultation with our experienced, caring, and compassionate legal team.


They know what they're doing, very well. Not only did I not make a single phone call from the day I hired them, but I also received calls from their case managers and paralegals who want to make sure my treatment was going well. They whole team took care of me. Thank you WCTL for taking full responsibility of my case and getting me an amazing settlement.


I can say with confidence that this team is the best in the business. . . . Dean took the time to really listen and hear me out. He assured me that he was going to move mountains because he believed in me, and he ended up doing just that. I've never met a more focused and passionate attorney in my life. If you're looking for a firm that treats its clients with the utmost respect and care, calling WCTL is a no-brainer. I wouldn't think twice about working with them again in the future.