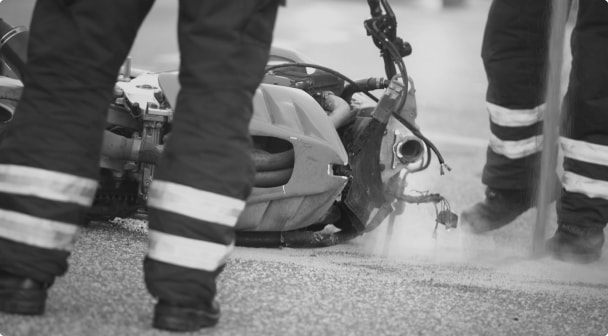 Motorcycle Head-On Collisions in California
Common Causes of a Head-On Collision and How You Can Collect Recoverable Compensation for Damages
Motorcycle head-on collisions can be caused by a variety of factors, such as having two motorcyclists colliding at full speed or a motorcyclist crashing head-on with another vehicle. Head-on collisions are rare compared to a rear-end accident and are much more deadly. Regardless of whether the crash involved a car, truck, or another motorcycle, the motorcyclist will always end up in the worst position due to lack of protection.
If you were involved in a head-on collision and would like to file a personal injury claim against the individual you believe is at-fault for causing the crash, you should contact an experienced attorney to guide you through the process of building your claim. At West Coast Trial Lawyers our California  motorcycle accident attorneys have decades worth of experience handling personal injury claims. 
We are confident that our team will exceed your expectations and will get you the compensation you deserve for losses you have suffered. We empathize with the difficulties you are facing. Our attorneys are committed to helping you get your life back on track.
To schedule a free consultation, reach out to our 24/7 legal team by calling 213-927-3700 or filling out our quick contact form
What Causes a Motorcycle Head-On Collision?
Motorcycle head-on collisions happen due to a variety of reasons. Some of these include the following:
Poor visibility: This is one of the foremost causes of head-on collisions. When driving in bad weather, visibility can be very low. Due to the fact that drivers and bikers will have difficulty seeing the road in such conditions, there is a greater risk that they will drift from their own lane and face oncoming vehicles.
Loss of vehicle control: Loss of vehicle control can be caused by intoxication, product malfunction, poor weather conditions, or road hazards.
Poor road conditions: When roads are left in a bad condition, chances of a head-on collision may increase. Motorcyclists who are not paying attention to the road could ride over these road hazards and lose control of their vehicle. This could result in a head-on collision if another vehicle from the opposite side of the lane is approaching.
Distractions: This is another rampant cause of head-on collisions. Drivers may fail to pay attention to the road because they are texting, talking on the phone, or daydreaming.
In all of these situations, either the biker or the driver could be at-fault for causing the accident. The authorities could also be held liable for lack of road maintenance. Regardless of who is at fault,  head-on collisions carry the risk of significant injury. Common injuries in this regard include whiplash and road rash. Lacerations and fractures from colliding with other vehicles or fixed objects may also occur. Lastly, possible loss of limbs or permanent disfigurement are likely to happen depending on the severity of the impact.
The aftermath of a wreck like this will typically see a biker lose their motorcycle and they will normally face lengthy hospital stays even if the motorcycle driver is properly equipped. Treatment plans may also be administered to the patient for recovery purposes. Worst comes to worst, the biker could pass away from the accident.
Obtaining Damages in a Motorcycle Head-On Collision Suit
The process of recovering damages after a head-on collision begins with determining whether you or the driver was at-fault for the accident. For example, it is against the law to use your phone while driving. It is also illegal to drive above the posted speed limit. If a motorist chooses to ignore these types of rules, then they would clearly be at-fault for causing an accident. In some cases, however, fault is less evident. For instance, when visibility is poor and the other driver unintentionally veered into oncoming traffic, it may be difficult to blame them for the accident. In such cases, you may be able to maintain a claim against the authorities responsible for maintaining the road. Your qualified motorcycle accident attorney will be able to advise you on where the fault lies.
It is important to note that if you are partially at-fault for the accident, it may affect your chances of compensation. While it would not bar you from seeking compensation, the amount you can recover may be reduced in proportion to your fault. So, if it turns out that the driver was 80 percent at-fault and you were 20 percent at-fault, the overall amount of recoverable damages would be 20 percent less. But it is important to let your lawyer know exactly what happened before, during, and after the accident. They might be able to help you emphasize those facts to prove that you were not at-fault for the crash.
Once you are able to prove fault on the part of the other driver or biker, you would be able to recover damages. You can recover any amount of money you spent on repairing or replacing your bike. You may also recover medical bills, alternative transportation, and other out-of-pocket expenses.
To recover this compensation, you need to show that you made those expenses. These can usually be proved by providing receipts and invoices for all relevant expenses. You can also claim compensation for lost wages due to the time you spent recuperating from your injuries. Compensation may also cover long-term rehabilitation or bills for specialist treatment.
Contact a Los Angeles Motorcycle Accident Lawyer
If you have been a victim of a head-on collision motorcycle accident, you need to act fast to retain a qualified Los Angeles motorcycle accident attorney. At West Coast Trial Lawyers, our motorcycle accident attorneys have a reputation for aggressively representing the interests of our clients. We have extensive experience dealing with insurers and understand all the tricks they use. Our number one priority is securing the best possible outcome for our clients.
If you wish to learn more about your rights in a head-on motorcycle accident, please contact us by calling213-927-3700 or filling out our contact form. Our lawyers stand ready to answer your questions and help you understand your rights.


They know what they're doing, very well. Not only did I not make a single phone call from the day I hired them, but I also received calls from their case managers and paralegals who want to make sure my treatment was going well. They whole team took care of me. Thank you WCTL for taking full responsibility of my case and getting me an amazing settlement.


I can say with confidence that this team is the best in the business. . . . Dean took the time to really listen and hear me out. He assured me that he was going to move mountains because he believed in me, and he ended up doing just that. I've never met a more focused and passionate attorney in my life. If you're looking for a firm that treats its clients with the utmost respect and care, calling WCTL is a no-brainer. I wouldn't think twice about working with them again in the future.