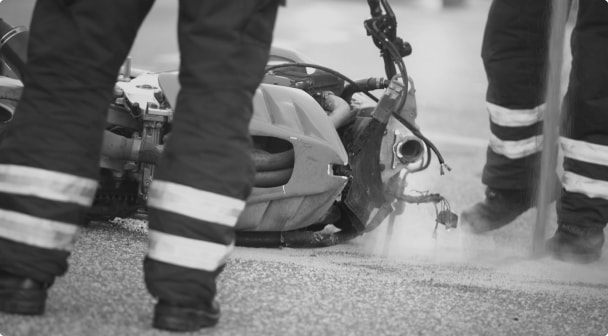 Most Dangerous Places in California to Ride a Motorcycle in 2022
Dangerous California Roads for Motorcyclists to Be Aware of
Everyone knows that riding a motorcycle can be dangerous, especially if a motorcyclist abuses its speed and is unable to control the vehicle. However, roadways may also be viewed as a safety threat from its poor construction or layout. In California, there are some roadways that present a great risk of injury or death, even for the most experienced motorcyclists.
In the sections below, our knowledgeable motorcycle accident attorneys will go more into depth about these dangerous roads. It is important for motorcyclists, along with drivers, to have an idea of where these roads are located to prepare themselves to ride as cautiously as possible to reduce the chances of falling victim to an accident. 
If you were involved in a motorcycle accident on California roads, West Coast Trial Lawyers has knowledgeable personal injury attorneys who are readily available to provide legal assistance. With over $1 billion recovered in settlements and judgements for our clients, we are confident that we will get you the best possible settlement offer.
To schedule a free consultation, we welcome you to reach out to our 24/7 legal team by calling 213-927-3700 or fill out a quick contact form.
SR-2 
This road expands 87 miles through the San Gabriel mountains from La Cañada Flintridge. SR-2 has had a total of 52 fatalities within the past 7 years and averages a fatality every 1.6 miles due to its blind curves and switchbacks. We recommend that motorists be very cautious when driving on this road.
I-8
This roadway stretches 171 miles from San Diego to Costa Grande, also known as the Border Friendship Route. It has accumulated nearly 134 deaths within 7 years, thus averaging a fatality every 1.2 miles. Weather conditions may also be an issue due to its extreme winds that reach upwards of 100 mph.
US 101 
This road spans from Los Angeles to San Francisco. It is known for its spectacular coastal views, however, it is not as great as it may seem. Unfortunately, this area averages a fatality every 1.3 miles. Furthermore, it takes emergency services about 4 minutes longer than average to arrive at the scene of an accident. We recommend avoiding this highway during its peak hours.
SR-99 
State Route 99, also known as Highway 99, is a 424-mile road that runs through the Central Valley. It is used to connect rural communities with densely populated areas that are just east of the valley. Highway 99 is considered as one of the deadliest sections with 34 fatal accidents reported in 2018. Even though it is considered as a relatively short highway, it still has the most fatal accidents per 100 miles of any other road across the United States.
SR-78 
This roadway stretches 215 miles from Oceanside to Blythe. It is mostly used by a populated area located in northern San Diego County before heading upward into the Cuyamaca Mountains. This highway has had 62 fatalities within 7 years and has averaged more than one fatality every 3 miles. Motorists must be cautious of the steep incline on Banner Hill. Make sure to check if your brakes are working well prior to making a trip down this road.
I-15 
This is a widely popular road that travels 181 miles from San Bernardino County to Las Vegas. Annually, nearly 8 million vehicles travel on this highway. It is mostly a straight road with little to no distractions, however, many suspect that the openness of the road itself influences people to speed. This is primarily why within 15 years, I-15 has had about 834 fatal accidents with 1,069 motorist deaths.
SR-86 
This highway expands for 90 miles, beginning at the border with Mexico and ending at the Coachella Valley. SR-86 was limited to 2 lanes, however, rural road access caused many collisions. It is now constructed as a 4 lane highway. Despite the improvements, there are still accidents occurring in this location.
I-5 
I-5 travels 796 miles from Mexico to Oregon. The most hazardous stretch of this highway passes through Los Angeles County, where heavy traffic often takes place. Large semi-trucks and speeding drivers may contribute greatly to the risks of creating a deadly path for other motorists. With the combination of busy traffic, massive trucks, and irresponsible drivers, it is no wonder that I-5 has been ranked as the #1 deadliest highway in California. Within a 7-year period, a fatal accident occurred nearly every mile, which accumulated to a total of 700 deaths.
Contact Us to Find Out How We Can Help
If you have sustained injuries as a result of a motorcycle accident, our skilled motorcycle accident attorneys at West Coast Trial Lawyers will help you recover compensation for losses you have suffered, which include medical bills, property damage, lost wages, and pain and suffering. 
Call us today at 213-927-3700 or fill out our contact form to schedule a free consultation with our knowledgeable, caring, and compassionate legal team.


They know what they're doing, very well. Not only did I not make a single phone call from the day I hired them, but I also received calls from their case managers and paralegals who want to make sure my treatment was going well. They whole team took care of me. Thank you WCTL for taking full responsibility of my case and getting me an amazing settlement.


I can say with confidence that this team is the best in the business. . . . Dean took the time to really listen and hear me out. He assured me that he was going to move mountains because he believed in me, and he ended up doing just that. I've never met a more focused and passionate attorney in my life. If you're looking for a firm that treats its clients with the utmost respect and care, calling WCTL is a no-brainer. I wouldn't think twice about working with them again in the future.