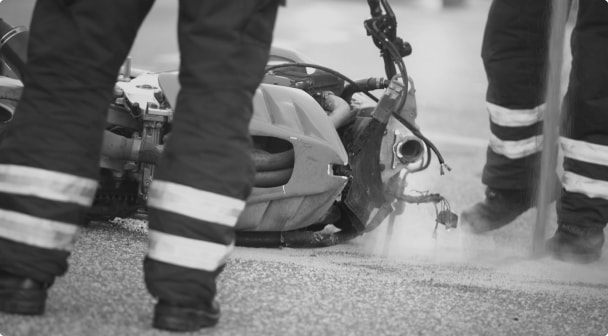 Motorcycle Accident Injuries and PTSD
How Common Is it to Develop PTSD After a Motorcycle Accident?
Getting into a motorcycle accident can turn into a traumatic experience. A motorcyclist is not only expected to face physical injuries, but mental, as well. After a motorcycle accident, a motorcyclist may develop fear and anxiety over the idea of riding on the road again. These intrusive thoughts will continue to haunt them until they get treatment to help keep it under control. 
Oftentimes, this type of mental condition is classified as post-traumatic stress disorder (PTSD). In the sections below, our experienced personal injury attorneys will go over PTSD and how it affects those who are involved in an accident.
If you were involved in an accident and now suffer from PTSD, you may be eligible to file a personal injury claim against the party at-fault for damages. At West Coast Trial Lawyers, our Los Angeles motorcycle accident lawyers will review your case to determine what necessary actions must be done to get you the compensation and justice you deserve.
To schedule a free, no-obligation consultation, you may contact our 24/7 legal team by calling 213-927-3700 or filling out our quick contact form.
PTSD From a Motorcycle Accident
Motorcycle accidents have the effect of triggering PTSD. Individuals may cope differently after getting into a crash. For some, they could be traumatized over the idea of riding a motorcycle again after what they had experienced. Aftermath symptoms of a motorcycle collision include:
Anxiety,
Depression, or
Psychological conditions that are connected to PTSD.
When it comes to PTSD, there are a variety of symptoms that could be diagnosed after an individual endures a motorcycle accident. These include:
Difficulty sleeping.
Having nightmares.
Getting flashbacks of the accident.
Losing concentration or focus.
Terrifying thoughts.
Excessive consumption of alcoholic drinks.
Exhibiting reckless behavior relating to self-destruction.
Not partaking in social activities.
One or a few of these symptoms after a motorcycle accident are normal since it is a scary experience. However, they should disappear after a few days from the initial date of the event. If the victim continues to deal with these symptoms for more than a month, they should seek medical help and get evaluated by a medical expert or physician.
Treatment for PTSD
Once a victim is diagnosed with PTSD, it is important for them to get treatment right away. They will have to attend counseling and psychotherapy for recovery. Doctors may typically provide medication, such as antidepressants, to control their symptoms. Failure to seek treatment will result in the victim's mental health becoming gradually worse.
Who Does PTSD Affect in Motorcycle Accidents?
It is common for the victim of a motorcycle accident to develop PTSD. However, other individuals may also be affected by this mental health condition.
This includes:
Witnesses.
Emergency personnel who were helping the injured victims or the deceased.
The victim's family members and friends who were given the news of their loved one's death.
Settlement for PTSD
PTSD will make it difficult for motorcycle accident victims to continue living their lives as before. This includes no longer going to work or participating in social activities. Additionally, PTSD has the affect of increasing the likelihood of suicide.
If you choose to file a lawsuit against the other party involved in the motorcycle accident, you may seek to include your costs for PTSD, along with treatment in your settlement. You may also include any lost wages you suffered due to your absence at work from your recovery process.
West Coast Trial Lawyers Is Here to Help
If you or a loved one has been a victim of PTSD after a motorcycle crash and you believe that the other party is at-fault, our skilled motorcycle accident attorneys at West Coast Trial Lawyers will help you get the maximum compensation you deserve to cover for medical expenses and other damages. 
There are no financial risks involved when using our services. Reach out to our 24/7 legal team today by calling 213-927-3700 or filling out our contact form to get started on the process of filing a claim.


They know what they're doing, very well. Not only did I not make a single phone call from the day I hired them, but I also received calls from their case managers and paralegals who want to make sure my treatment was going well. They whole team took care of me. Thank you WCTL for taking full responsibility of my case and getting me an amazing settlement.


I can say with confidence that this team is the best in the business. . . . Dean took the time to really listen and hear me out. He assured me that he was going to move mountains because he believed in me, and he ended up doing just that. I've never met a more focused and passionate attorney in my life. If you're looking for a firm that treats its clients with the utmost respect and care, calling WCTL is a no-brainer. I wouldn't think twice about working with them again in the future.