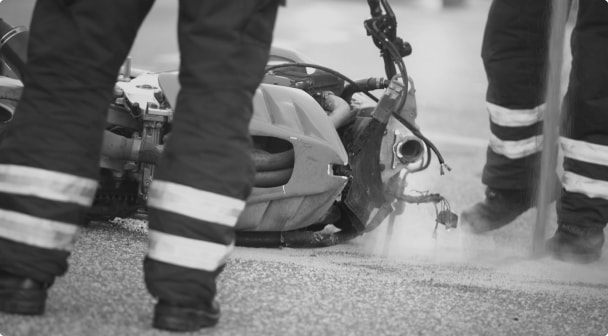 Left-Hand Turn Motorcycle Accidents in California
Who Can Be Found At-Fault for a Left-Hand Turn Motorcycle Accident in California?
Left-hand turn accidents are one of the most common types of motorcycle accidents. These accidents are caused by a driver failing to notice a motorcycle because of its small size, thus resulting in a collision. This normally happens on intersections when the driver is waiting to turn left and does not see the oncoming motorcycle. 
Victims of a left-hand turn accident are welcome to contact our experienced motorcycle accident lawyers at West Coast Trial Lawyers. We have over 60 years of collective legal experience in handling personal injury cases. With our track record of recovering more than $1 billion in settlements for our clients, we are confident that we will deliver a good outcome to your case.
If you are interested in using our services or have any questions in regards to your left-hand turn accident, you may contact our 24/7 legal team by calling 213-927-3700 or filling out our quick contact form.
Injuries
There are a variety of injuries that a motorcyclist may suffer from a left-hand turn accident. These include:
Traumatic brain injury (TBI),
Neck injury,
Brain injury,
Road rash,
Internal bleeding,
Bruises,
Cuts,
Broken bones,
Facial injuries, and
Nerve damage.
Depending on the seriousness of the accident, the motorcyclist may face temporary or permanent paralysis.
Determining Who Is At-Fault
There are several factors that come into play when determining who is at-fault for a left-hand turn accident. Generally, it would be the individual who is turning that is at-fault for the collision. They are responsible for making sure that it is safe enough to change to the left. The driver is expected to yield to oncoming traffic and should only be permitted to move when the area is clear for them to do so.
In some cases, the non-turning rider may be at-fault. An example could be the rider exceeding the speed limit, thus resulting in a powerful impact with the left-turning car. However, it may be difficult to prove this, which is why an investigation must take place to review how the road conditions were prior to the accident.
Overall, it is important for both parties involved to have evidence and relevant information on-hand to back themselves up after a left-hand turn accident.
What to Do After the Accident
After you get into a left-hand turn motorcycle accident, you should:
Call 911. The police will arrive and create an official police report of the incident. You may use this report as part of your evidence for when you file a claim with your insurance company. 
Get information on the other party involved. Speak to the driver involved in the collision. You must get their:

Name,
Phone number,
Insurance information, and
License plate number.

If any bystanders are willing to participate in your case, you should get their name(s) and phone number(s). Their perspective on the accident can make your claim stronger.

Collect Evidence. Take pictures of injuries, damages, and the location of the accident.
Seek medical assistance. Your health is very important. Regardless of whether your injury is moderate or severe, it is suggested to seek medical attention from a physician. Additionally, getting medical documents from your doctor visit will be an essential piece of evidence to strengthen your case.
Reach out to a personal injury attorney. It is highly recommended to hire an attorney to guide you through the process of building your insurance claim. If a lawsuit is filed, they may represent you in court.
West Coast Trial Lawyers Is Here to Help
If you have suffered injuries due to a motorcycle accident, then you have the authority to hold the guilty party responsible. At West Coast Trial Lawyers, our motorcycle accident attorneys are readily available to help you get the justice you deserve. We will help you recover your financial compensation for any losses you may have suffered, which include medical bills, property damage, lost wages, and pain and suffering from your injury. 
We offer a free, no-obligation consultation with the attorneys at our firm. No fees are required to be paid until we win your case. Reach out to our legal team 24/7 by calling 213-927-3700 or filling out our contact form.


They know what they're doing, very well. Not only did I not make a single phone call from the day I hired them, but I also received calls from their case managers and paralegals who want to make sure my treatment was going well. They whole team took care of me. Thank you WCTL for taking full responsibility of my case and getting me an amazing settlement.


I can say with confidence that this team is the best in the business. . . . Dean took the time to really listen and hear me out. He assured me that he was going to move mountains because he believed in me, and he ended up doing just that. I've never met a more focused and passionate attorney in my life. If you're looking for a firm that treats its clients with the utmost respect and care, calling WCTL is a no-brainer. I wouldn't think twice about working with them again in the future.