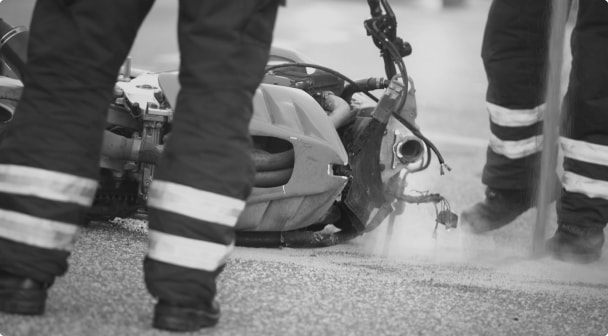 How to Safely Crash in a Motorcycle Accident
7 Steps to Take to Safely Crash a Motorcycle in the Case of an Accident
Motorcycles are dangerous to control, especially with its equipped built-in speed. Those who lack experience in riding motorcycles may find themselves having a difficult time controlling the vehicle, while those who have mastered the use of riding a motorcycle could take advantage of its speed. Either of these scenarios could contribute to the cause of a motorcycle accident. 
Motorcycle accidents may cause the motorcyclist to endure moderate to severe injuries as the vehicle itself does not have a barrier to offer protection from intense impact and falls. To reduce the likelihood of sustaining serious injuries, a motorcyclist should learn about safe ways to crash a motorcycle after an accident. In the sections below, our knowledgeable personal injury attorneys have created a list of actions a motorcyclist should consider taking to safely crash a motorcycle.
If you were a motorcyclist that was involved in a motorcycle accident and would like to pursue legal actions against the party at-fault for damages, our experienced personal injury attorneys are available 24/7 to provide legal assistance. With our track record of recovering more than $1 billion in settlements for our clients, we are confident that we will deliver a good outcome to your case.
To schedule a free, no-obligation consultation, please contact our 24/7 legal team by calling 213-927-3700 or filling out our quick contact form to claim yours today.
How to Safely Crash Your Motorcycle After an Accident
It is important for motorcyclists to get educated on how to protect themselves from a motorcycle accident. Here is a list of what you should do to safely crash a motorcycle:
Prior to your collision, try to slow the motorcycle down as much as you can by utilizing the brakes. The front brakes will have a greater effect at making an abrupt stop compared to the rear brakes.
Analyze your surroundings to choose where you would prefer to go down. Try to direct your vehicle and have it land in an area where you believe you will not have a significant impact.
Release your grip on your motorcycle once you fall down. Failing to perform this action may result in the motorcycle falling on top of you.
Form into a ball and roll, if possible. Do not try to have your arms extended outward once you fall. You will increase the chances of breaking your bone(s).
Slide, if you can. Extend your arms and legs to spread yourself out to create a dragging movement. This may help reduce your speed after you have fallen.
Try to calm your nerves. It is understandable for individuals in this situation to panic, but try to relax your body when this is happening. This may help prevent injuries to your ligaments and tendons.
Wait a few seconds before getting up. Crawl away from the scene and find safety. If you did not sustain any serious injuries during your impact, then you may get up and walk to a nearby location, as well.
Aftermath of a Motorcycle Accident 
Make sure you are okay. Even if you believe that you did not suffer any severe injuries, it is still encouraged for you to make an appointment to see a physician, just in case. You never know what type of injuries you could have sustained without getting a proper examination done by a medical expert. A common motorcycle injury is internal bleeding, which is not visible. Getting yourself checked out will help determine if you have an injury relating to an internal issue.
Look around your surroundings. Check to see the condition of the scene. Was there anyone else involved? Were there bystanders around? Did you damage anything?
Call the police. Depending on the circumstances of the accident, if the motorcyclist caused any harm to the other party, then the police should be contacted. Police officers will inspect the area and create an official police report. Paramedics may also arrive at the scene of the incident and provide immediate medical attention to those who are in need of it
Gather evidence. Make sure you take pictures of the scene of the accident along with any injuries or damages that were caused by the impact. Check to see if there are any bystanders around. If so, ask them if they would feel comfortable participating in your case. If they accept your request, you should get their name(s) and phone number(s). Lastly, it would be ideal to take a copy of the official police report to use as a piece of evidence for your case. Gathering these types of evidence will help strengthen your claim.
West Coast Trial Lawyers Is Here to Help
If you believe that you were not at-fault for the motorcycle accident you were involved in, West Coast Trial Lawyers has motorcycle accident attorneys that are committed to exceeding your expectations. Our experienced attorneys will help you recover compensation for the losses you have suffered including medical bills, property damage, lost wages, and pain and suffering. 
We offer a free, no-obligation consultation with the attorneys at our firm. No fees will be paid until we win your case. Reach out to our 24/7 legal team by calling 213-927-3700 or filling out our contact form to schedule a free consultation with our knowledgeable, caring, and compassionate legal team.


They know what they're doing, very well. Not only did I not make a single phone call from the day I hired them, but I also received calls from their case managers and paralegals who want to make sure my treatment was going well. They whole team took care of me. Thank you WCTL for taking full responsibility of my case and getting me an amazing settlement.


I can say with confidence that this team is the best in the business. . . . Dean took the time to really listen and hear me out. He assured me that he was going to move mountains because he believed in me, and he ended up doing just that. I've never met a more focused and passionate attorney in my life. If you're looking for a firm that treats its clients with the utmost respect and care, calling WCTL is a no-brainer. I wouldn't think twice about working with them again in the future.