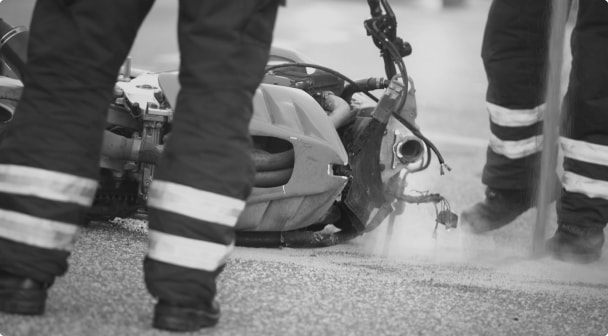 Motorcycle Helmet Laws in California
How California Motorcycle Helmet Laws Can Affect Your Personal Injury Case
With the rapid growth of motorcyclists on the road in California, the risks of getting into an accident continue to increase. Los Angeles, one of the most popular cities in California, is known for having aggressive drivers who commit negligent actions to avoid getting stuck in traffic. 
Unfortunately, their reckless behavior could contribute to a collision, which is why it is heavily encouraged for motorcyclists to wear safety gear when they are riding on the road.
Even though a motorcycle does not offer the same level of protection as a typical car would, it is still helpful to have on protective gear to reduce the chances of enduring serious injuries or a fatal crash. 
If you were a victim of a motorcycle accident, you may be eligible to file a personal injury claim against the party at-fault for damages. Our experienced California motorcycle accident attorneys at West Coast Trial Lawyers are readily available to offer legal assistance. 
We have won over 5,000 personal injury cases and recovered more than $1 billion in settlements for our clients. Due to our achievements, we have been ranked as one of the top personal injury law firms in California.
To schedule a free consultation, you may contact us by calling 213-927-3700 or filling out our quick contact form.
Must I Wear a Helmet for My Motorcycle in California?
In California, it is required for a motorcyclist to have on a fitted helmet when they are on the road. The helmet must apply to the standards and regulations set by California Vehicle Code 21212 (a). Helmets must go through certain requirements before they are allowed to legally be sold to consumers. Listed below are a few conditions that have been established under California law:
Consumer Product Safety Commission (CPSC). With regards to the Consumer Product Safety Act, the CPSC requires that a helmet must not have any blinders and cannot block the rider's view. It also clarifies that the helmet should be attached securely on the head, even in the case of a fall or an accident. 
American Society for Testing Materials. This association tests products for impact, strength, and stability.
Snell Memorial Foundation. This foundation was founded in 1976 and is known for placing strict requirements for helmet use. Their official website offers a variety of documents for people to learn more detailed information about helmets.
Selling helmets that are not up to industry standard is illegal in the state of California. Wearing an unapproved helmet is not only unsafe, but it exposes you to legal liability.
Liability, Insurance, and Financial Compensation
Determining who is at-fault for causing a crash can be a complicated process. It is highly recommended to contact an experienced motorcycle accident attorney to help you strengthen your claim before you send it off to the insurance company for investigation. Insurance companies often try to lessen the amount of compensation you actually deserve, which is why it is ideal to have an attorney by your side to prevent that from happening.
When the insurance company starts looking into your claim, they will inspect for specific details on whether you were paying attention to the road, wearing proper safety gear, or committing any negligent actions. There are a variety of other factors that may also contribute to damages and/or injuries from a motorcycle accident, such as uncontrollable circumstances, poor road conditions, street lights, or any other type of outside interference. The outcome of an insurance claim will differ for each individual, which is why there is no exact compensation that can be predicted.
West Coast Trial Lawyers Is Here to Help
If you are a victim of a motorcycle accident and would like to hold the guilty party responsible, our motorcycle accident attorneys at West Coast Trial Lawyers will help you get the compensation you deserve for any losses you may have suffered, which include medical bills, property damage, lost wages, and pain and suffering. 
We offer a free, no-obligation consultation with the attorneys at our firm. No fees are required to be paid until we win your case. Reach out to our 24/7 legal team by calling us at 213-927-3700 or filling out our contact form.


They know what they're doing, very well. Not only did I not make a single phone call from the day I hired them, but I also received calls from their case managers and paralegals who want to make sure my treatment was going well. They whole team took care of me. Thank you WCTL for taking full responsibility of my case and getting me an amazing settlement.


I can say with confidence that this team is the best in the business. . . . Dean took the time to really listen and hear me out. He assured me that he was going to move mountains because he believed in me, and he ended up doing just that. I've never met a more focused and passionate attorney in my life. If you're looking for a firm that treats its clients with the utmost respect and care, calling WCTL is a no-brainer. I wouldn't think twice about working with them again in the future.