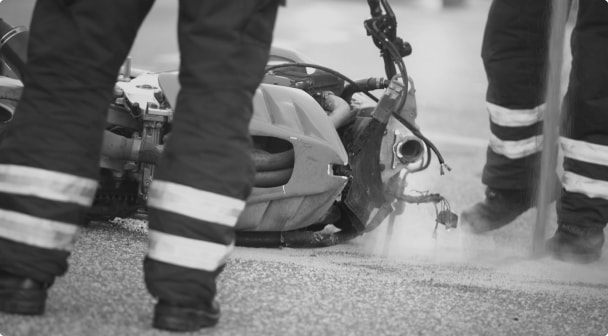 Average Settlement for a Motorcycle Accident in California
What Compensation Are You Entitled to for a Motorcycle Accident in California?
Determining the value of a motorcycle accident claim can be very complex and there is no clear cut answer as each claim is different. If you have suffered injuries as a result of a motorcycle crash, our personal injury attorneys at West Coast Trial Lawyers are readily available to offer legal assistance. We have won more than 5,000 cases and recovered over $1 billion in settlements for our clients. Due to our success with client satisfaction, we are confident that we will deliver a good outcome to your case.
If you are interested in using our services,  you may contact us by calling 213-927-3700 or filling out our quick contact form.
Liability and Damages 
Liability is the most crucial element in a motorcycle accident claim. This basically means: Who is responsible for the crash? There must be a certain individual who contributed to the incident, which resulted in injuries and property damage, otherwise there will not be much of a claim. You will be expected to show proof of how the other individual was at-fault for the motorcycle accident to be able to determine the specific amount of compensation you may be granted by the insurance company. 
For example, you were stopped at a red light and got hit from behind by another vehicle. You did not suffer any property damage nor did you sustain an injury. Under this type of circumstance, it is not likely that you will recover many damages. Even though the driver was at-fault for the impact, you did not get harmed nor did you endure any property loss, which is why the damages will not be worth the trouble fighting over. On the other hand, if your motorcycle was damaged and you were seriously hurt, then the available damages would be much greater. 
Settlement Value or Trial Value
There is a settlement value and there is a trial value. A settlement value is what you would accept after a motorcycle accident. This amount is lower than the trial value and reflects the amount you would hope to recover. The trial value is what you can expect to recover after your trial and is much more than the settlement value.
Damages After a Motorcycle Accident Claim
A motorcyclist is more susceptible to serious bodily injuries than an individual who drives a car due to the lack of protection a motorcycle provides. This is primarily why it is common for a motorcyclist to deal with expensive medical bills, broken bones, and road rash. They may also endure mental injuries, such as depression and post-traumatic stress disorder. It goes without saying that recovering from a motorcycle accident is a lengthy process. 
Once it has been proven that another individual is at-fault for causing a motorcycle crash, the motorcyclist will be offered compensation to cover for their injuries and property damage. 
However, the motorcyclist could also have compensation reduced if they committed any negligent act during the accident. Since California is a comparative liability state, the defendant may raise a partial defense by indicating that the plaintiff was partially at-fault for the collision, as well. 
For example, was the motorcyclist wearing a helmet? Were they under the influence of drugs or alcohol when the accident happened? These considerations may limit the injured individual's opportunities to receive a substantial amount of compensation. 

How Can You Determine Compensation for Pain and Suffering?
Compensation for pain and suffering accounts for the largest portion of available damages from an insurance claim. However, as mentioned earlier, because it is not an economic damage, meaning that it is not related to financial loss, but rather quality of life, it is not easily calculable at a glance. 
There are several contributing factors to calculating compensation for pain and suffering: 
Severity of the injury
Medical treatment received for the injury 
Recovery time
Possible long term effect of the injury
Since most of these factors are accounted for over a course of long periods of time, determining compensation for pain and suffering is only an estimated projection of the amount of money you should be awarded. 
Contact West Coast Trial Lawyers to Find Out How We Can Help
If you have sustained injuries as a result of a motorcycle accident, our experienced motorcycle accident attorneys at West Coast Trial Lawyers will help you recover compensation for the losses you have suffered, which include medical bills, property damage, lost wages, and pain and suffering. 
Contact us today by calling 213-927-3700 or filling out our contact form to schedule a free consultation with our knowledgeable, caring, and compassionate legal team.


They know what they're doing, very well. Not only did I not make a single phone call from the day I hired them, but I also received calls from their case managers and paralegals who want to make sure my treatment was going well. They whole team took care of me. Thank you WCTL for taking full responsibility of my case and getting me an amazing settlement.


I can say with confidence that this team is the best in the business. . . . Dean took the time to really listen and hear me out. He assured me that he was going to move mountains because he believed in me, and he ended up doing just that. I've never met a more focused and passionate attorney in my life. If you're looking for a firm that treats its clients with the utmost respect and care, calling WCTL is a no-brainer. I wouldn't think twice about working with them again in the future.