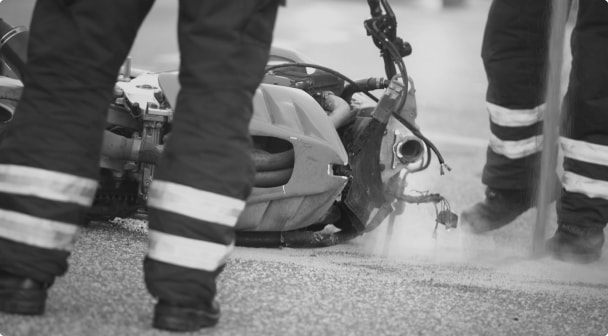 Common Types of Motorcycle Injuries in 2022
What Types of Motorcycle Injuries Have Been Reported in 2022?
As motorcyclists are often found abusing the speed of a motorcycle, they continue to  put themselves at risk of getting involved in a motorcycle accident. Speeding reduces the amount of time a motorcyclist has to react to potential hazards ahead. A vehicle may abruptly stop or make a sudden turn, an animal could be crossing the street, or a pedestrian could be seen running through a crosswalk under a yellow light. If a motorcyclist does not have enough time to react to any of these said scenarios, they will be putting not only themselves in danger, but others, as well. Since motorcycles do not offer protection, a motorcyclist will likely suffer from serious injuries, or even death, depending on how intense the impact is. Those who have suffered a motorcycle accident injury due to negligence committed by another party are qualified to file a personal injury claim for damages. Our experienced
motorcycle accident attorneys
at
West Coast Trial Lawyers
are readily available to handle your case. We will help strengthen your claim and negotiate with insurance companies to ensure you get a fair settlement offer.
You may contact our 24/7 legal team to schedule a free consultation by calling
213-927-3700
or filling out our
quick contact form
.
Common Types of Motorcycle Accident Injuries
Motorcyclists are very vulnerable when they are out on the road due to their lack of protection. It is expected for a motorcyclist to endure serious injuries from an accident since they are not shielded. Common types of motorcycle accident injuries include:
Traumatic brain injury (TBI). TBI generally occurs when an individual experiences a forced impact to the head, which causes violent shaking. This is considered as a severe injury for a motorcyclist who is involved in an accident, especially if they are not wearing a helmet. Getting a TBI will impact an individual's physical and cognitive abilities. The victim of a TBI must go through several surgeries in order to have a full recovery. In some cases, this may be an injury that could affect the individual for the rest of their lives.
Broken bones. A motorcyclist will likely experience physical contact with the ground after getting into a crash. Depending on the level of impact, they may suffer broken bones. Broken ribs are the most common part of the body to be affected by a motorcycle accident. If the collision isn't severe, then the least a motorcyclist could get away with are some bruises, cuts, and/or scratches.
Road burn. This painful injury normally occurs when a motorcyclist's skin is dragged on the road. Road burns are not necessarily fatal injuries, but infections may come about if not treated properly. Failure to seek treatment may result in permanent scarring on the body part that was dragged.
Internal bleeding. Strong force impacting the body may result in internal bleeding due to the internal organs becoming damaged or punctured. Internal bleeding may take place in any part of the body.  Since internal bleeding is not a visible injury, it is extremely important to get yourself evaluated by a medical expert after a motorcycle accident. Even if you feel like you did not sustain a severe level of injury after your accident, it is highly suggested to still get checked out at the hospital to make sure you are okay.
Spinal cord injury. The spine is classified as being one of the most delicate parts of the body. If severe impact is inflicted on it, the aftermath may result in permanent paralysis. There is a high chance of a motorcyclist sustaining this injury if they were to land on their neck or back. Basically, anything that contacts an individual's back with extreme force can result in spinal cord damage. Depending on the circumstances, an individual may face either a temporary or permanent spinal cord injury.
West Coast Trial Lawyers Is Here to Help
If you or a loved one are a victim of a motorcycle accident and are seeking to get compensation for injuries,
West Coast Trial Lawyers
will have our experienced
motorcycle accident attorneys
handle your case and get you the justice you deserve. Our attorneys are determined to get you maximum compensation for your medical care and damages. We offer a free, no-obligation consultation at our firm. No fees are charged until we win your case. Reach out to our legal team 24/7 by calling
213-927-3700
or filling out our
contact form
.


They know what they're doing, very well. Not only did I not make a single phone call from the day I hired them, but I also received calls from their case managers and paralegals who want to make sure my treatment was going well. They whole team took care of me. Thank you WCTL for taking full responsibility of my case and getting me an amazing settlement.


I can say with confidence that this team is the best in the business. . . . Dean took the time to really listen and hear me out. He assured me that he was going to move mountains because he believed in me, and he ended up doing just that. I've never met a more focused and passionate attorney in my life. If you're looking for a firm that treats its clients with the utmost respect and care, calling WCTL is a no-brainer. I wouldn't think twice about working with them again in the future.