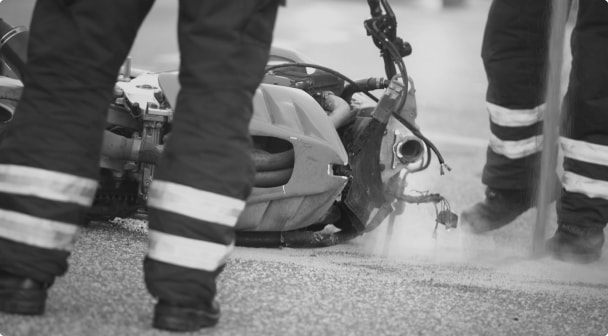 10 Common Causes of Motorcycle Accidents in 2022
What Types of Factors Have Contributed to the Cause of a Motorcycle Accident in 2022?
California is no stranger to motorcycle accidents. According to the National Highway Traffic Safety Administration (NHTSA), a total of 5,014 motorcyclist fatalities and 84,000 motorcyclist injuries occurred in 2019. Motorcyclist deaths accounted for 14 percent of traffic fatalities, while injuries had a 2 percent increase compared to 2018. 
Motorcycles have been viewed as dangerous vehicles that are difficult to control. Regardless of the amount of experience a motorcyclist may have, there is always a risk of getting into an accident. Several factors may come into play. Each of these factors can interfere with a motorcyclist's riding skills, thus resulting in a motorcyclist getting involved in an accident.
In the section below, our skilled California motorcycle accident attorneys will discuss the common types of motorcycle accidents that have been commonly occurring in 2022. 
Victims of a motorcycle accident are welcomed to contact our 24/7 legal team at West Coast Trial Lawyers by calling 213-927-3700 or filling out our quick contact form to get started on the process of filing a personal injury claim.
Common Types of Motorcycle Accidents in 2022
Our knowledgeable Los Angeles motorcycle accident attorneys have created a list below of common types of motorcycle accidents that take place on California roads:

Speeding. This is one of the leading causes of all motorcycle accidents. Speeding makes it more difficult for a motorcyclist to react in a timely manner to vehicles ahead. For example, a motorcyclist is speeding on the freeway and is headed towards a path that is curved. The speed is making it difficult for the motorcyclist to make a proper turn. The motorcyclist starts to lose control of their vehicle and crashes into a wall that divides both sides of traffic.
Abrupt stops. Speeding may contribute to an abrupt stop. If a motorcyclist is speeding on the road, they could potentially come across a vehicle that is making a sudden stop. It will be difficult for the motorcyclist to react quickly to the vehicle on time to avoid a collision. Failure to do so will result in a severe accident, with the motorcyclist suffering serious injuries. However, there could be circumstances where the motorcycle may have slight contact with the other vehicle. Under this type of situation, injuries may not be as severe.
Lane splitting.  Motorcyclists typically do this when traffic has stopped or is slowly moving. However, they are putting their lives at potential risk when they are riding in between two vehicles. It is required for everyone to stay in one lane instead of utilizing two at the same time for safety reasons. If a motorcyclist does this, they will have a higher chance of getting hit by drivers on the road.
Car doors. A driver is expected to check their surroundings prior to opening their car door. This is primarily for safety reasons for both the driver and others nearby, such as pedestrians, bicyclists, and motorcyclists. If a driver fails to cautiously open their door, they could trigger an accident.
Left turn accidents. This usually happens when a driver makes a left turn without noticing the oncoming motorcycle. The motorcyclist will experience either moderate or severe injuries, depending on the speed of both auto vehicles.
Faulty motorcycles. An individual may be given a defective motorcycle that could lose control or stop working while they are on the road. Injuries could vary from minor, moderate, or severe depending on the circumstances.
Hazardous road conditions. Since motorcycles do not offer the same level of protection as a car does, motorcyclists may face higher chances of injuries if they do not avoid hazardous conditions while on the road. Faulty pavement, debris, and potholes could all play a factor in making a rider lose control of their motorcycle.
Intoxication. Riders who drive under the influence of alcohol will face consequences in regards to breaking the law and getting injured. Being intoxicated while operating a fast vehicle is not a good mix. Doing this will make it almost inevitable for the rider to get into a motorcycle accident.
Inexperienced riders. It is encouraged for a motorcyclist to learn how to use a motorcycle before taking it out for a ride. Lack of knowledge may increase the chances of a collision. An example could be a motorcyclist riding their vehicle on the road for the first time. They are aware of the speed their vehicle is built with, which influences their decision to go over the speed limit. As the motorcyclist is attempting to make a slight turn on a curved path, they start to lose control of their vehicle and get into an accident with another driver nearby.
Improper lane changes. If a motorcyclist chooses to switch lanes without signaling or checking their blind spots, they will increase the risks of colliding with another vehicle nearby. An example could be a motorcyclist who is making several lane changes to avoid slow traffic. While doing so, they do not check to make sure it is safe for them to go to the next lane, thus getting into an accident with another vehicle.
West Coast Trial Lawyers Is Here to Help
If you have sustained injuries due to a motorcycle accident, then you have the authority to hold the guilty party responsible. At West Coast Trial Lawyers, our motorcycle accident attorneys are readily available to help you get the compensation you deserve for losses you have suffered, which include medical bills, property damage, lost wages, and pain and suffering. 
We offer a free, no-obligation consultation with the attorneys at our firm. No fees are required to be paid until we win your case. Reach out to our legal team 24/7 by calling 213-927-3700 or filling out our contact form.


They know what they're doing, very well. Not only did I not make a single phone call from the day I hired them, but I also received calls from their case managers and paralegals who want to make sure my treatment was going well. They whole team took care of me. Thank you WCTL for taking full responsibility of my case and getting me an amazing settlement.


I can say with confidence that this team is the best in the business. . . . Dean took the time to really listen and hear me out. He assured me that he was going to move mountains because he believed in me, and he ended up doing just that. I've never met a more focused and passionate attorney in my life. If you're looking for a firm that treats its clients with the utmost respect and care, calling WCTL is a no-brainer. I wouldn't think twice about working with them again in the future.