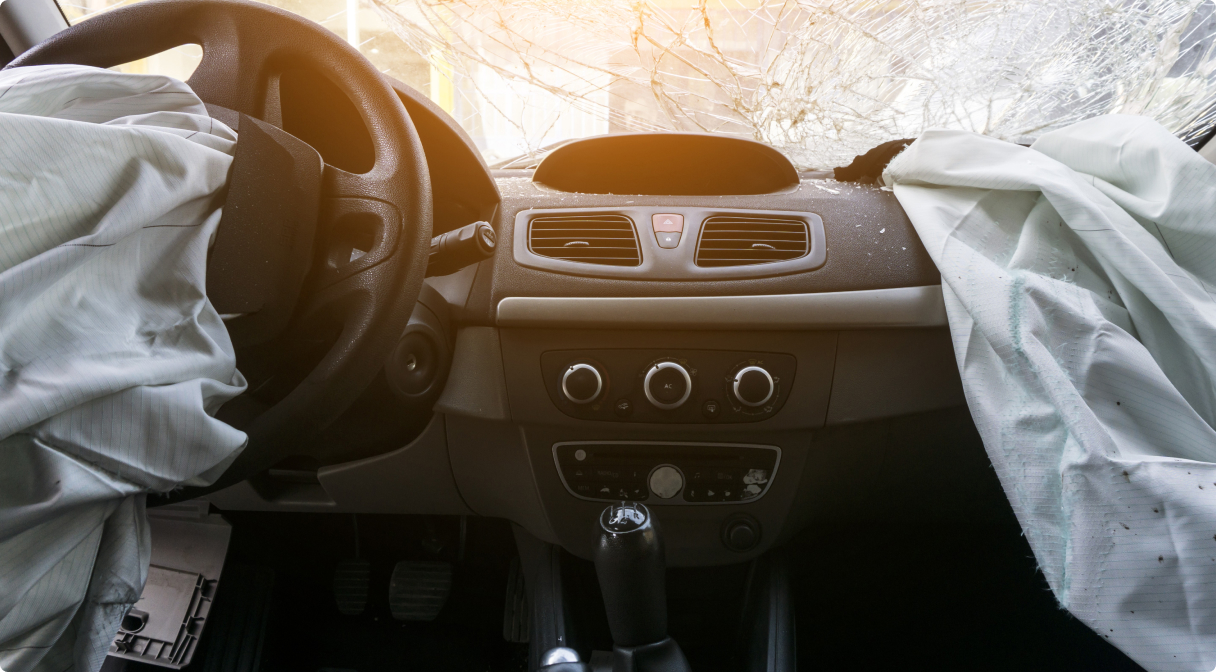 Traumatic Brain Injury Caused by a Car Accident
How Can a Car Accident Cause a Traumatic Brain Injury? What Symptoms Should I Look Out For?
Car accidents are intense events that can leave various parts of the body badly injured. What's worse, is that sometimes, many injuries go undetected because they are internal, which can be the cause of head trauma, traumatic brain injuries, and internal bleeding of the brain. While these kinds of injuries may go undetected for a while, it's important to act fast to prevent long-lasting debilitating effects of such brain injuries. Whether you've been in an accident and have discovered you have a traumatic brain injury or you only suspect one due to your symptoms, our expert team of
Los Angeles car accident attorneys
at
West Coast Trial Lawyers
are here to help you get the care, treatment, and compensation that you need to recover and get well. To schedule a
free consultation
at our
Los Angeles personal injury law firm
, please contact our
24/7 legal team
by calling
(213) 927-3700
or filling out our
quick contact form
.
3 Ways Car Accidents Can Result in Traumatic Brain Injuries
Car accidents can take a severe toll on the driver's and passenger's body. While some injuries might be more apparent than others, oftentimes, head trauma and traumatic brain injuries might go unnoticed at first, especially if the impact resulted in a closed injury (meaning that there is no open wound). Here are three different ways that car accidents can result in head trauma or traumatic brain injuries:
Body jerking due to intense impact. In a car accident, the body of the driver and passenger(s) of an impacted vehicle often undergo stress. The jarring impact as the vehicle goes from being in motion at high speed to a sudden stop as it collides into another vehicle or object can make the body suddenly jerk or slam into another object.When this happens, whether the head is directly impacted or not, the brain slams against the walls of the skull, which can result in internal bleeding, blood clots, skull fractures, and more.
A driver or passenger's head hitting an object.Other times, the head might hit an object, such as the windshield, side of the vehicle, or steering wheel. The head might also be hit by a flying object, such as an ejected radio. This can result in blunt trauma to the head.
A driver or passenger getting ejected from the vehicle.Lasty, and one of the most intense instances of head trauma from a car accident is when a person is ejected from the car during impact - whether they weren't wearing a seatbelt or the seatbelt malfunctioned. In this case, the head can have a direct, intense impact with the ground, causing severe head trauma or traumatic brain injury.
While some of these instances seem to have more intense effects than others, it's also important to keep in mind that it's the intensity of the impact to the head that determines the level of severity of the injury. However, any of these cases can result in open or closed head injuries.
Signs of Traumatic Brain Injuries After a Car Accident
After a car accident, a person may say that they are feeling fine, only to discover a little while after that the impact really did cause them to have serious injuries. In the event of trauma, such as a car accident, the body's nervous system sends out adrenaline that blocks out the pain from being felt. When the adrenaline wears off, that's when a person might discover their injuries. Here are some telltale signs that a car accident victim might be experiencing head trauma, such as a concussion, or traumatic brain injury:
Having a headache
Experiencing fatigue
Experiencing seizures
Having slurred speech
Being extremely confused
Acting under unusual behavior
Fainting or losing consciousness
Having issues with concentration
Feeling dizzy, disoriented, or weak
Experiencing a loss of senses or motor skills
It could be a while before someone feels the symptoms of head trauma or traumatic brain injury. However, with these types of critical brain injuries, it's essential to act fast to reduce the severity of the damage. This is why it is always important, regardless of how "well" a person is feeling after an accident, that they undergo a thorough medical exam and get the medical treatment that they need.
What to Do After Experiencing Head Trauma in a Car Accident
After any car accident, whether you're aware that you've experienced head trauma or not, it's important to call 911 for emergency services and request medical assistance. The police will arrive at the scene of the crash to make an official accident report. Paramedics may also examine you on the spot and/or take you in the ambulance to the hospital in order to receive immediate medical care, if needed. If you are not placed in the ambulance, you should still make a doctor's appointment to get checked out by a medical professional as soon as possible. It is important that you not only receive immediate medical attention, but that you also collect your medical records from each examination or visit.
West Coast Trial Lawyers Is Here to Help
Experiencing head trauma or living with a traumatic brain injury after a car accident is a devastating, life-altering circumstance that no one should have to go through alone. At
West Coast Trial Lawyers
, our team of dedicated
Los Angeles personal injury attorneys
are here to provide you with the support and legal expertise that you need. With our track record of winning more than $1 billion in settlements for our clients, we are confident that we will get you the maximum compensation you deserve. If you are interested in scheduling a free consultation at our Los Angeles personal injury law firm, please contact our 24/7 legal team by calling
(213) 927-3700
or filling out our
quick contact form
.


They know what they're doing, very well. Not only did I not make a single phone call from the day I hired them, but I also received calls from their case managers and paralegals who want to make sure my treatment was going well. They whole team took care of me. Thank you WCTL for taking full responsibility of my case and getting me an amazing settlement.


I can say with confidence that this team is the best in the business. . . . Dean took the time to really listen and hear me out. He assured me that he was going to move mountains because he believed in me, and he ended up doing just that. I've never met a more focused and passionate attorney in my life. If you're looking for a firm that treats its clients with the utmost respect and care, calling WCTL is a no-brainer. I wouldn't think twice about working with them again in the future.