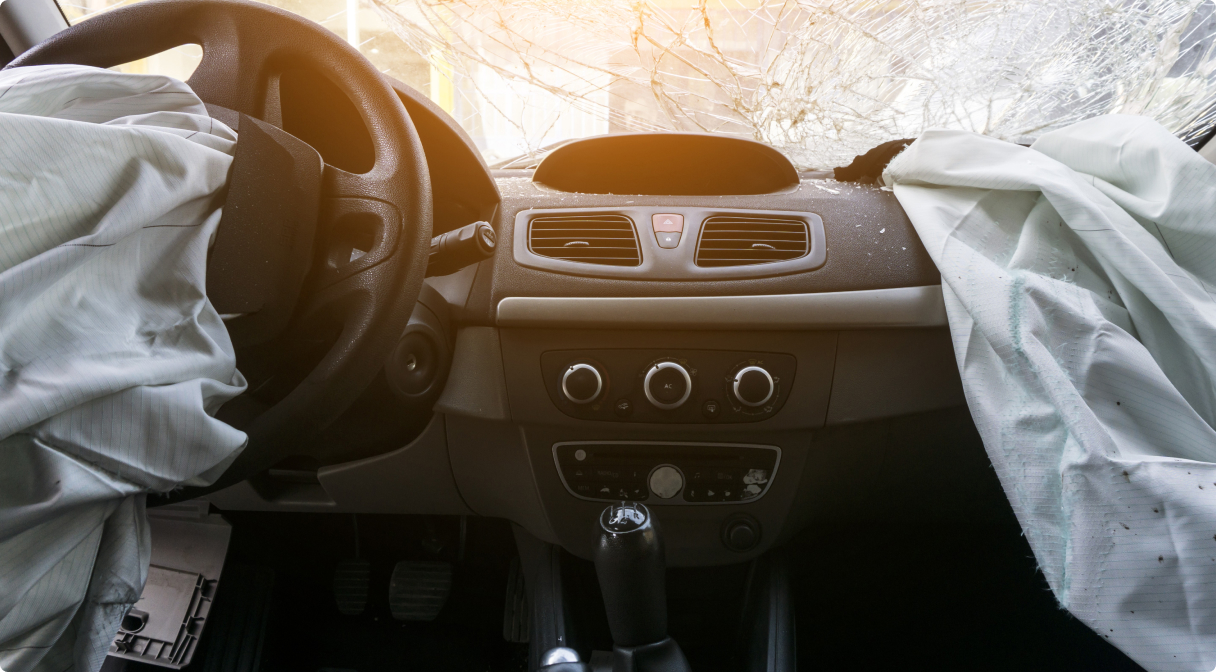 T-Bone Accidents in California
What You Should Do After Getting Into a T-Bone Accident in California
T-bone accidents–also known as "side-impact crashes"–are among the most common types of car accidents in the United States. A t-bone collision can result in a serious injury or fatal accident in many cases due to the violent, direct nature of the impact.
A t-bone accident generally occurs when one vehicle is impacted directly on its side at a relative angle of 90 degrees, hence the name and meaning "t-bone accident"; an homage of sorts due to the aftermath of such a collision visually resembling the popular steak.
They occur when vehicles run through a traffic light or stop sign, colliding with cars entering or passing through an intersection.
T-bone crashes also occur when a driver speeds through a yellow light and collides with cars that are turning right on a red light, thinking the yellow light will slow or stop cars from entering the intersection.
 A car struck in a t-bone collision is completely vulnerable to being impacted with brutal force and has nothing to protect itself or the driver inside from the serious threat of an oncoming vehicle. Unfortunately, the potential for horrific injuries, especially with high speeds involved, is very high and nearly guaranteed in a t-bone accident.
Are t-bone accidents deadly?
The aftermath of a t-bone accident tends to be more deadly and devastating than other car accidents. The costs of medical care associated with treatment will likely be extreme. Individuals injured due to such a collision may be unable to return to work for several weeks or months, if ever.
Injuries resulting from a t-bone collision are generally life-changing, and victims and their loved ones will need representation by an experienced car accident lawyer who will fight for the settlement they need and deserve.
At West Coast Trial Lawyers, our qualified car accident attorneys have over 60 years of collective legal experience in handling personal injury cases. With our track record of winning more than $1 billion in settlements for our clients, we are confident that we will deliver a good outcome to your settlement. 
To schedule a free consultation, please contact our 24/7 legal team by calling 213-927-3700 or filling out our quick contact form.
Common causes for T-Bone Accidents
There are some common causes for t-bone collision ever to occur. The vast majority of these causes are of the common sense variety and will necessarily involve a high degree of negligence on behalf of at least one of the drivers involved. The most recurring reasons for t-bone collisions are:
Drunk driving
Failure to yield
Let's consider a few examples. What if, for example, a driver fails to follow road rules related to right-of-way while at a four-way stop sign?  They then enter the intersection simultaneously as a vehicle to its right and slam into that car. In this case, the driver impacted by the driver who failed to respect right-of-way laws can file a personal injury lawsuit.
The point of the previous example is to illustrate that negligence often plays a significant role in most t-bone collisions. However, there are other factors at play.
A plaintiff who brings a personal injury lawsuit against a negligent driver will also bear the burden of proving that the other driver's negligence was the direct cause of the t-bone collision. Hiring a personal injury lawyer makes this process easier.
To prove negligence, a victim's car accident lawyer must demonstrate that the offending driver violated his or her duty of avoiding the risk of harming another driver by a reckless or negligent action.
In sum, to prevail against a defendant, a plaintiff must prove that:
The defendant owed the plaintiff a duty of care;
The defendant breached their duty of care; and
The plaintiff suffered from injuries and damages due to the defendant's negligence
What exactly is a duty of care? In short, all drivers are responsible for acting prudently and safely while behind the wheel. Any action or inaction that violates this responsibility, whether intentionally or not, can violate one's duty of care.
Additional Causes of T-Bone Accidents
Failing to stop at four-way intersections, running red lights, or rolling through stop signs
Failing to yield the right of way to other drivers as necessary
Negligent driving or being under the influence of drugs and/or alcohol
Texting and driving or talking on the phone while driving
Equipment failure
Inclement weather which impairs driving ability or visibility
Commonly Seen Injuries in T-Bone Collisions
According to data provided by the Insurance Institute for Highway Safety (IIHS), nearly 23 percent of all traffic deaths reported in 2019 resulted from a t-bone accident.
About 19 percent of t-bone crashes were single-vehicle fatalities, while 33 percent were multiple-vehicle deaths. Common injuries sustained as a result of t-bone collisions include:
Head injuries. Head injuries are serious and commonly seen in t-bone collisions, with or without the benefit of side airbags. Anytime a person's head slams against a hard surface, skull fractures, brain injuries, or concussions can occur.
Punctured eardrums. Without the benefit of side airbags, the actual volume of a violent collision can damage a person's eardrums.
Spinal cord injuries. Fractured, slipped, or herniated discs are often seen in t-bone collisions.
Internal bleeding. A t-bone collision generally occurs near the side of a passenger or driver. This may result in severe injuries that could potentially trigger internal bleeding. Internal bleeding can go unnoticed and even cause death without immediate medical attention. 
Whiplash. Whiplash is more commonly seen in rear-end collisions, but it can also occur in a t-bone collision. Whiplash often results in damaged or torn neck muscles, tendons, and ligaments.
What Happens to Your Body During a T-bone Accident?
Depending on speed, angle of contact, type of car, and vehicle safety features like side airbags, what happens to your body during a t-bone accident can vary.
Injuries might be minor at lower speeds with side airbags involved, but they can be severe, life-threatening, or deadly at high speeds.
Initial impact pushes your body in the same direction the vehicle that collides with you is traveling (e.g., if you are hit by a car going left to right, you will be pushed to the right).
However, you will immediately snap back in the opposite direction because of your restraints and seating. This violent jolt can cause fractured bones, concussions, spinal cord injuries, or traumatic brain injuries.
In worst-case scenarios, a violent t-bone accident can cause death.
Statute of Limitations for a T-bone Accident Claim
The statute of limitations for a t-bone accident claim in California is 2 years. However, if you discover injuries resulting from a t-bone crash later, the statute of limitations from the discovery of injuries is 1 year.
It's important to file an accident claim as soon as possible so you are compensated for medical expenses and property damage.
Putting off filing a claim puts you at risk of forgetting and exceeding the time limit. Many victims say they're not in that much pain, but pain and injuries can take months or years to fully develop or worsen.
Any time you're injured in an accident, you should contact an experienced car accident attorney, even if your injuries aren't severe.
Contact Us to Find Out How We Can Help
If you have sustained injuries due to a t-bone collision, our skilled car accident attorneys at West Coast Trial Lawyers can help you recover compensation for the losses you have suffered, including medical bills, property damage, lost wages, and pain and suffering. 
Contact us today by calling 213-927-3700 or filling out our contact form to schedule a free consultation with our experienced, caring, compassionate legal team.


They know what they're doing, very well. Not only did I not make a single phone call from the day I hired them, but I also received calls from their case managers and paralegals who want to make sure my treatment was going well. They whole team took care of me. Thank you WCTL for taking full responsibility of my case and getting me an amazing settlement.


I can say with confidence that this team is the best in the business. . . . Dean took the time to really listen and hear me out. He assured me that he was going to move mountains because he believed in me, and he ended up doing just that. I've never met a more focused and passionate attorney in my life. If you're looking for a firm that treats its clients with the utmost respect and care, calling WCTL is a no-brainer. I wouldn't think twice about working with them again in the future.