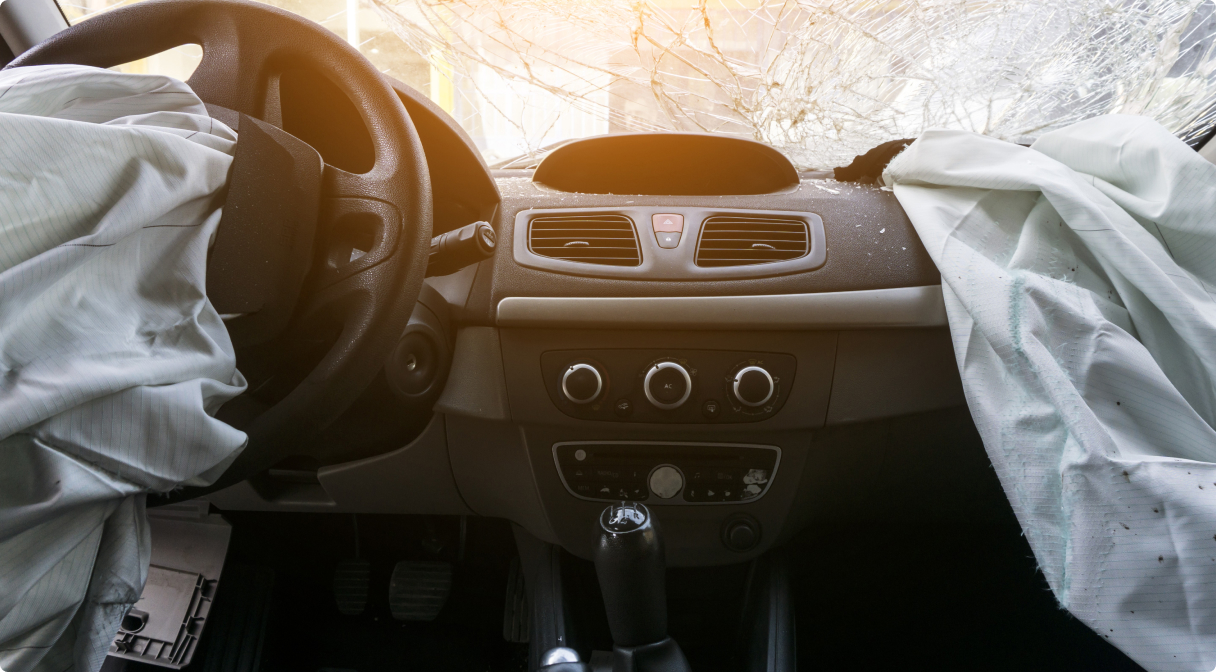 No-Contact Car Accidents in California
What You Should Do After a No-Contact Car Accident to Increase Your Chances of Obtaining a Fair Settlement Offer
No-contact car accidents usually occur when a driver is attempting to avoid crashing into an object, such as a vehicle or animal. Then, the driver gets themself into an accident without making any contact with another driver. Now, the driver is injured and the vehicle is damaged. The crash wasn't necessarily the driver's fault as their intention was to dodge potential danger that was nearby, but the outcome did not result in the driver's favor. 
Under this type of circumstance, it is encouraged for those involved in a no-contact car accident to reach out to an attorney. At West Coast Trial Lawyers, our skilled car accident attorneys will review your case to determine necessary courses of action in order to get you the compensation you deserve. 
To schedule a free consultation, please contact our 24/7 legal team by calling 213-927-3700  or filling out our quick contact form.
What to Do After a No-Contact Car Accident 
A no-contact car accident, also commonly known as a phantom car accident, can be a tricky situation to handle because more often times than not, the other driver involved in the no-contact collision drove off either because they were unaware of their role in causing this collision, or to avoid being held liable for causing the accident. 
However, after a no-contact car accident collision, it's still important to take action quickly, treating it just like any other form of accident. After a phantom car accident, you should: 
Call the police and request an ambulance. Although it might seem unnecessary to you, calling the police and receiving emergency medical assistance is crucial to building your personal injury claim. 
The police should arrive on the scene of the accident to file an official police report. When you report what occurred to them, it's important to give as much detail as possible - what happened, what color the vehicle was, why you swerved, and so on. Having this information on police records can provide substantial evidence to build up your case. 
Also, receiving medical attention on-site of the accident is important, as well. It can support the fact that you were hurt in the accident. If you don't get an ambulance, it's important to go see a doctor right away. If you don't get medical attention right after your crash, the insurance companies can use that against you to claim that you weren't really injured in the accident. 
Gather as much evidence as possible. The easiest way to do this would be to take photos of the site of the crash, the damage to your vehicle, and your injuries. If there are any witnesses to the accident, it is crucial to get their contact information and ask for their witness testimony. 
Although the police are expected to come and file an official police report, it's also in your best interest to write everything down or record the events for your own personal records. Again, try to be as detailed as possible in your report. 
Contact a car accident attorney to help you build your case. A no-contact car accident can be a difficult case to handle. A car accident attorney can determine liability,  help strengthen your case to file a claim, and negotiate with the car insurance agency to ensure that you receive maximum compensation for your losses. 
Who Is Liable in a No-Contact Car Accident? 
Determining liability in a no-contact car accident can be difficult to assess if the other driver got away. However, in some cases, if necessary, a car accident attorney can get the assistance from a private investigator to find the other vehicle involved in the no-contact crash. 
That being said, it's important to understand that California is a non-no fault and a comparative liability state. This means that a crash cannot be considered caused by the fault of no one, and someone will be found liable. This also indicates that liability can be shared. Here are the possible at-fault drivers that can be held responsible for contributing to a no-contact car accident:
The other driver alone can be found liable
You alone can be found liable
You both can be found liable
Comparative liability depends on the degree of recklessness that each driver partook in. Some common examples include: 
Speeding
Distracted driving 
Aggressive driving 
Driving under the influence
Driving while sleep deprived 
Liability will be determined based on the amount of evidence there is to prove that the driver's negligent behavior was the reason behind the no-contact car accident.
Phantom Car Accident and Your Insurance 
If you are able to locate and hold liable the other party involved in the no-contact collision, working with an attorney, you could file an insurance claim against the other driver. If you are unable to do that, you might have to file an insurance claim against yourself. 
California offers, though does not make mandatory, personal injury insurance, also known as med-pay. This kind of insurance can come in handy if there is no way to determine who the other driver involved in the crash was. This insurance is expected to cover the costs of your personal injuries and medical bills. 
An experienced car accident attorney can offer you the support you need to build your case to file a claim against the other driver and with your own insurance, as well. 
West Coast Trial Lawyers Is Here to Help 
If you were injured in a no-contact car accident, our dedicated team of car accident attorneys at West Coast Trial Lawyers are here to support you through each step of your case. We will help build your case, file a successful claim, negotiate with the insurance companies, and take it to court, if needed. 
We work on a contingency-fee basis, which means that you won't pay us a penny unless we successfully settle or win your case. Contact our 24/7 legal team today by calling 213-927-3700  or filling out our contact form to schedule your free consultation.


They know what they're doing, very well. Not only did I not make a single phone call from the day I hired them, but I also received calls from their case managers and paralegals who want to make sure my treatment was going well. They whole team took care of me. Thank you WCTL for taking full responsibility of my case and getting me an amazing settlement.


I can say with confidence that this team is the best in the business. . . . Dean took the time to really listen and hear me out. He assured me that he was going to move mountains because he believed in me, and he ended up doing just that. I've never met a more focused and passionate attorney in my life. If you're looking for a firm that treats its clients with the utmost respect and care, calling WCTL is a no-brainer. I wouldn't think twice about working with them again in the future.