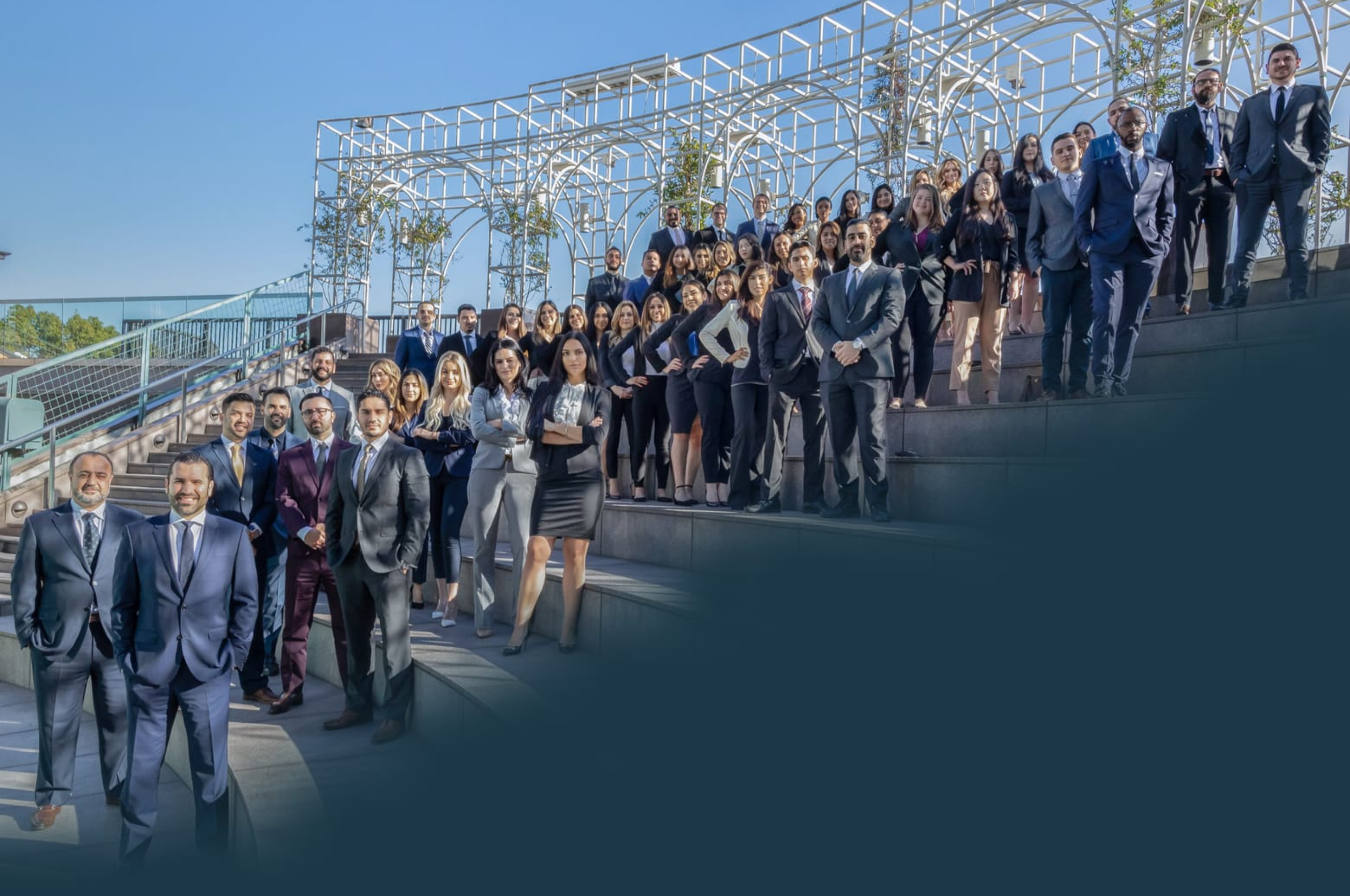 Irvine Personal Injury Lawyer
Contact Our Irvine Personal Injury Lawyers Today to Schedule a Free Consultation
Have you suffered devastating injuries in an accident caused by someone else's negligence? Have your personal injuries had a substantial impact on your life? If you are unsure how to make the liable party pay for their recklessness, you may need the legal guidance and support of a trusted
Irvine personal injury lawyer
at West Coast Trial Lawyers. Contact us today by calling
213-927-3700
 or filling out our
contact form
to schedule a no-cost, risk-free consultation today and find out more about what you can expect from your personal injury insurance and civil claims.
Maximize Your Settlement
Whether you were involved in a
car accident
, suffered a
slip and fall
at your local Irvine grocery store or had a loved one
wrongfully killed
, you need the best available legal representation in order to protect your rights. At
West Coast Trial Lawyers
, we have over 60 years of collective legal experience helping accident victims throughout Irvine, California. We have recovered
over $1 billion
in damages for our clients. You will never pay a fee unless we recover the compensation you are entitled to for your losses. Being involved in any type of accident can be life-changing and traumatic. The last thing anyone wants to do is deal with the stress of negotiating with insurance companies and the possibility of litigation. Hiring an experienced personal injury attorney from our team is sure to alleviate the extra unwanted stress of having to file a personal injury case. We know how to deal with untrustworthy insurance adjusters, so call today for free.
Cases Our Top Ranked Irvine Personal Injury Attorneys Handle
The personal injury attorneys at our Irvine location pride themselves in handling every type of Irvine personal injury claim imaginable. Every aspect of your case will be handled from the beginning to the end. All you need to do is focus on caring for yourself and your loved ones.
Irvine Bicycle Accidents
It's no surprise that many Irvine drivers have difficulty sharing the road with
bicyclists
, however they are legally obligated to. Unfortunately, there have been many cases reported where bicyclists have been involved in fatal traffic accidents. Orange County hospital reports a
500% increase in e-bike accidents
compared to 2021. With this alarming growth rate of Irvine bicycle accidents, it is important to follow California traffic safety rules. While using a helmet is good rider practice, it won't protect you completely from the negligence of another driver. Contact one of our Irvine bicycle accident attorney's if you or a loved one were involved in a bicycle accident and would like to pursue a personal injury claim.
Irvine Car Accidents
Did you know that the intersection at
Jamboree
Road
and
Walnut Road
is one of the most dangerous intersections for car accidents in the city of Irvine? Drivers get into all kinds of dangerous accidents caused by drunk driving, distracted driving and even drowsy driving. It is important to keep your eyes open for any negligent drivers, potential hazards, or road conditions that can leave you in a serious accident. If you have been rear ended by another driver through no fault of your own, our expert team of
Irvine car accident attorneys
are available 24/7 to answer any questions you may have about claims and damages.
Irvine Burn Injuries
Data suggests that the majority of
burn accidents
occur in the home and are caused by daily activities, such as cigarette smoking and cooking accidents. Unfortunately, there are incidents where an individual has intentionally inflicted burn damage onto another. Defective products have also been a common issue leading up to a burn injury. If you were involved in either situation, our
Irvine burn injury attorneys
will help you get the justice you deserve for losses caused by the accident.
Irvine Uber and Lyft Accidents
After California Senate Bill
AB5 and Prop 22
were passed, holding Uber and Lyft liable for their drivers' mishap became complicated. Irvine Uber and Lyft drivers are considered
independent contractors
, and this affects how accident claims against them will be handled. While ridesharing comes with many conveniences, getting hit by another driver is no small issue. Our
Irvine Uber and Lyft accident
lawyers will help answer any questions you may have if you were involved in an accident with a Transportation Network Company
(TNC)
driver.
Irvine Wrongful Death
Experiencing the wrongful death of a loved one is one of the most tragic things anyone can possibly live through, especially when negligence is involved. California law permits the family members of the victim to file a lawsuit on their behalf to recover damages and compensation for their loss. Our
Irvine wrongful death attorneys
will handle your wrongful death claim with care and compassion, and make sure that you recover all the damages you are entitled to on behalf of your loved one.
Irvine Scooter Accidents
Scooters have become all the rage in Irvine, especially at the
UC Irvine campus
. But what happens when you are injured because of a scooter rider's negligence? How is liability determined? West Coast Trial Lawyers has
Irvine scooter accident attorneys
with over 60 years of collective legal experience in handling personal injury cases. Contact us today for a free consultation.
Irvine Spinal Cord Injuries
Spinal cord injuries are devastating and can drastically decrease your quality of life. There is no cure for spinal cord damage, however, many treatment plans are available to help improve a person's quality of life. Speak with one of our trusted
Irvine spinal cord injury lawyers
to learn all about your rights to compensation and holding the at-fault party liable. We will ensure you get the maximum compensation you deserve to help cover for any medical expenses caused by the accident.
Irvine Dog Bite Accidents
Dog owners in Irvine are responsible for their dogs and any aggressive behaviors they may display. If the aggressive behavior results in any kind of mishap such as a bite or attack, the dog may be quarantined for
rabies
or put down by anesthesia. Irvine dog owners are responsible for all actions of their beloved pets, regardless of if they were aware of their aggressive behaviors in the past. This is because California does not practice the
one-bite rule
that allows first-time dog offenders to be let off with a warning. If you were a victim of a dog bite and would like to pursue a case against the owner for negligence, our
Irvine dog bite attorneys
will help you get justice and compensation for any damages caused by the attack.
Irvine Food Delivery Accidents
It is common to see Irvine food delivery drivers commit fraudulent acts like tampering with orders or eating out of their customers' food. California law makes it
illegal to tamper
with another person's food because of the danger and health risks it poses. Food delivery drivers are also required to deliver orders before the deadline. This could cause them to speed or drive recklessly, resulting in an unsafe environment for drivers nearby. This could in turn increase the likelihood of an Irvine car crash. If you were involved in an accident with a food delivery driver, you should contact an experienced
Irvine food delivery accident attorney
to file a claim against the driver at-fault for your damages.
Irvine Pedestrian Accidents
Pedestrians are vulnerable commuters and in Irvine they always have the
right of way
on any street or crossing. Pedestrian accidents are especially heinous and almost always involve a high degree of negligence. If you or a loved one were involved in a pedestrian accident and would like to file a lawsuit against the party at-fault for damages, our expert team of
Irvine pedestrian accident lawyers
will negotiate with insurance companies to help you get maximum compensation.
Irvine Brain Injuries
The brain is arguably the most important organ in the human body and once brain cells are damaged, they
cannot repair
themselves. Brain injury accidents are often caused by car accidents, physical violence, and many more factors, but the effects on a victim are often unpredictable and will always involve costly medical treatment. If an individual was at-fault for your brain injury, you may be eligible to file a personal injury claim and receive compensation that can help cover your medical costs relating to the accident. Speak to an
Irvine brain injury lawyer
today.
Irvine Truck Accidents
The majority of all truck accidents are caused by some form of driver negligence. Examples of truck driver negligence can include driving more than the legal limit, distracted driving, speeding, and violating traffic laws. If you were involved in an accident with a negligent driver, you may be entitled to receive compensation for any damages caused by the collision. Consult a free call with an
Irvine truck accident lawyer
at WCTL.
Irvine Premises Liability Accidents
Irvine premises liability range from slip and fall accidents to cars being broken into because of negligent security parking. Other premises liability cases could include toxic mold and lead paint exposure. Don't suffer for another person's failure to take care of their property. Irvine property owners owe due diligence to anyone who is on the premises of their properties. Speak with an experienced
Irvine premises liability attorney
today to discuss if you are entitled to file a claim.
Irvine Motorcycle Accidents
California averages over
500 motorcycle fatalities
a year, making it the top two most dangerous states when it comes to motorcycle safety. Due to speeding being one of the main factors behind Irvine motorcycle accidents, it's important for motorcyclists and drivers to be cautious when sharing the road. West Coast Trial Lawyers have extensive experience in handling these types of personal injury cases and will help you get the justice you deserve for any losses you have suffered. Contact one of our
Irvine motorcycle accident attorneys
for better assistance.
Irvine Bus Accidents
Whether you were riding on the
OCTA
or another local Irvine bus line, you have rights in the event that you were injured in a bus accident. Bus drivers are known as
common carriers
, which means they are required to be extra careful because they are transporting passengers. However, bus accidents still occur in the city of Irvine, sometimes due to the negligence of other road users. Our
Irvine bus accident attorneys
are readily available to guide you through the process of filing a personal injury claim. We strongly believe in our clients and their cases. Regardless of the type of case you may have, we will work on a
contingency fee
basis. This means that you will not pay any attorney fees until we settle or win your case.
What Evidence Will We Need to Support Your Case
In personal injury lawsuits, your lawyer will be responsible for proving liability based on a preponderance of the evidence. This means the evidence presented in court must show that the defendant is more likely than not responsible for causing your injuries. For this reason, the evidence obtained must be powerful. Your attorney will better understand what types of evidence should be recovered in your case based on the type of accident you were involved in. For example, if your personal injury claim is based on a motor vehicle accident, some of the specific types of evidence that could be used to support your case could include:
Copy of the official police report
Blood alcohol concentration (BAC) test results
Photographs or video footage of the collision
Some of the other types of evidence that might help prove liability in your Irvine personal injury claim include:
Photos of your injuries
Photos of property damages
Medical records
CCTV footage
Witness statements
Expert testimony
What an Experienced Irvine Personal Injury Lawyer Can Do for You
Insurance companies are strictly
for-profit business
. Their goal is to make as much money as possible, which means paying you as little as possible for your damages. Our
Irvine personal injury lawyers
will fight back. Whether you suffered injuries after a motorcycle or premises liability accident, an insurance company will always respond by offering you a quick settlement. You shouldn't accept their initial offer before consulting with an Irvine personal injury attorney. In many cases, these insurance companies will succeed in pressuring accident victims into accepting much less than what they are entitled to. Our Irvine personal injury lawyers have our client's best interests in mind. We will handle every aspect of your claim, including: 1)
Protecting Your Legal Rights:
Our Irvine personal injury attorneys at West Coast Trial Lawyers are very familiar with the way insurance companies operate. Our attorneys have represented these companies in the past and we will use this knowledge to take care of all the details and paperwork that go into filing an Irvine personal injury claim. 2)
Guiding You Through the Legal Process:
Your personal injury lawyer will be completely dedicated to your case. They will answer your questions and patiently guide you through every stage of the legal process. An experienced Irvine attorney is always available to reassure you and make sure you understand everything regarding your case. 3)
Recovering Compensation
: Your Irvine personal injury lawyer will assess your case and aggressively pursue all damages available to you. In addition to damages for your past and future medical bills, you may be entitled to compensation for past and future lost wages, loss of earning capacity, pain and suffering, emotional distress, and all costs associated with your injuries. 4)
Filing a Lawsuit:
  Most of our cases are resolved without the need for litigation. However, litigation may be in your best interest. In these cases, we will present a strong and persuasive case to the judge or jury to help get you the maximum compensation you deserve.
How to Know if You Have Grounds for a Personal Injury Claim in Irvine
One of the reasons why personal injury victims in Irvine do not take legal action after suffering injuries is because they are not sure whether they have grounds for a claim or not. It is very common for victims to believe their injuries are not severe enough to warrant filing a civil claim. Here are a couple of questions you should ask yourself before considering an Irvine personal injury claim;
Is someone else at-fault for your accident or injuries?
Could someone else be responsible for causing the accident?
Have your injuries had a significant impact on your life financially, emotionally, physically, or otherwise?
Are your injuries expected to have a lasting impact on your life for years to come?
If the answer to one or more of these questions is yes, it may be in your best interests to reach out to an Irvine personal injury lawyer for help. The at-fault party can be ordered to cover your damages in their entirety.
How Does the Personal Injury Claims Process Work?
Far too many injury victims fail to move forward with the personal injury claims process because they are overwhelmed or intimidated, while also struggling to cope with the extent of their injuries. Here is a basic idea of what you can expect after you hire a personal injury attorney from WCTL to take on your claim:
Your attorney begins the personal injury investigation process by examining the cause of your accident.
Your attorney will gather the evidence needed to support your case and to establish liability.
Once fault has been established, your attorney will review your damages in full to accurately calculate the value of your claim.
If the liable party is protected by some type of insurance policy, we will file a claim with the appropriate insurer.
If the insurance company is unwilling or not obligated to cover your damages in their entirety, we will begin to prepare your case for civil court.
At trial, your Irvine personal injury attorney will present the evidence needed to secure maximum compensation for your damages.
For some Irvine personal injury cases, you may be able to secure the settlement you need through the insurance company. It's important to remember that every person's personal injury claim can take a different path. After reviewing the damages you endured, your attorney can give you a better idea of what to expect from your personal injury case.
Common Injuries to Sue for in Irvine
The type of injury you were diagnosed with will not impact your ability to recover compensation. Here are some types of personal injury cases commonly seen in Irvine;
Post-traumatic stress disorder (PTSD)
Broken or fractured bones
Damaged product injuries
Head injuries
Concussion
Whiplash
Herniated discs
Soft tissue injuries
Traumatic brain injuries
Paralysis
Loss of limbs
Contusions or lacerations
Organ failure
Internal bleeding
If you suffered another type of injury that was not listed above, an Irvine personal injury attorney at West Coast Trial Lawyers can tell you if you have grounds to sue or not. Explore your legal options further when you contact our Irvine law firm to discuss the details of your case.
California Personal Injury Laws That Could Affect Your Case
Once you have decided to move forward with your Irvine personal injury claim, it is important to understand certain laws that could have an impact on your claim. Depending on the type of accident you were involved in, additional laws may pertain to your case. However,
comparative negligence
and the
statute of limitations
are likely to influence the outcome of the vast majority of personal injury claims across Irvine in the state of California.
Comparative Negligence State
California operates under a pure
comparative negligence
system. When you are partially responsible for causing your accident or the injuries you sustained, the state will follow these laws to determine how to handle your case. In some states, you may be barred from recovering compensation if you are partially responsible. However, in California, you can recover compensation for sharing fault no matter how much blame is yours. But that does not mean your case will not be affected if you are partially at-fault. You can expect your injury settlement to be reduced to reflect your portion of liability. For example, if you were driving over the speed limit when a distracted driver struck you, the judge may find you 40 percent responsible for your injuries. Your injury settlement would then be reduced by 40 percent, leaving you with just 60 percent of your original injury settlement. For this reason, having an experienced personal injury attorney in Irvine representing you will be critical, as the liable party is likely to argue you are partially at fault for the accident or your resulting injuries.
California Statute of Limitations
When someone else is responsible for causing your injuries in an accident in Irvine, your case will fall under the California
statute of limitations
for personal injury claims. Here, you will have a maximum of
two years
to file your claim before the statute of limitation runs out. Failure to file your personal injury lawsuit before the statute of limitations expires will result in your case being dismissed. You will no longer have the right to recover compensation through the Irvine civil court system. Your attorney can handle the legal details of your case so issues like these do not adversely impact your ability to get the most out of your claim.
What Is Your Irvine Personal Injury Claim Worth?
If you were critically injured in an accident caused by someone else, you have the right to pursue legal action. To ensure no loss goes unaccounted for, your lawyer will separate your damages into two categories known as economic and non-economic damages.
Economic
damages
are monetary and
non-economic damages
include your emotional and physical losses. Some of the more commonly awarded types of damages in Irvine personal injury claims include:
Pain and suffering
Scarring and disfigurement
Loss of enjoyment of life
Emotional distress
Lost wages
Diminished earning capacity
Property damage
Medical expenses
Loss of household services
Get Help From a Personal Injury Lawyer in Irvine
If you have sustained injuries due to someone's negligence or deliberate acts of malice, you have the right to hold the guilty party responsible for your losses. An
Irvine personal injury lawyer
at West Coast Trial Lawyers can recover compensation for your losses. Call us today at
213-927-3700
or fill out our
convenient contact form
to schedule a free consultation with our experienced, caring, and compassionate legal team.


They know what they're doing, very well. Not only did I not make a single phone call from the day I hired them, but I also received calls from their case managers and paralegals who want to make sure my treatment was going well. They whole team took care of me. Thank you WCTL for taking full responsibility of my case and getting me an amazing settlement.


I can say with confidence that this team is the best in the business. . . . Dean took the time to really listen and hear me out. He assured me that he was going to move mountains because he believed in me, and he ended up doing just that. I've never met a more focused and passionate attorney in my life. If you're looking for a firm that treats its clients with the utmost respect and care, calling WCTL is a no-brainer. I wouldn't think twice about working with them again in the future.