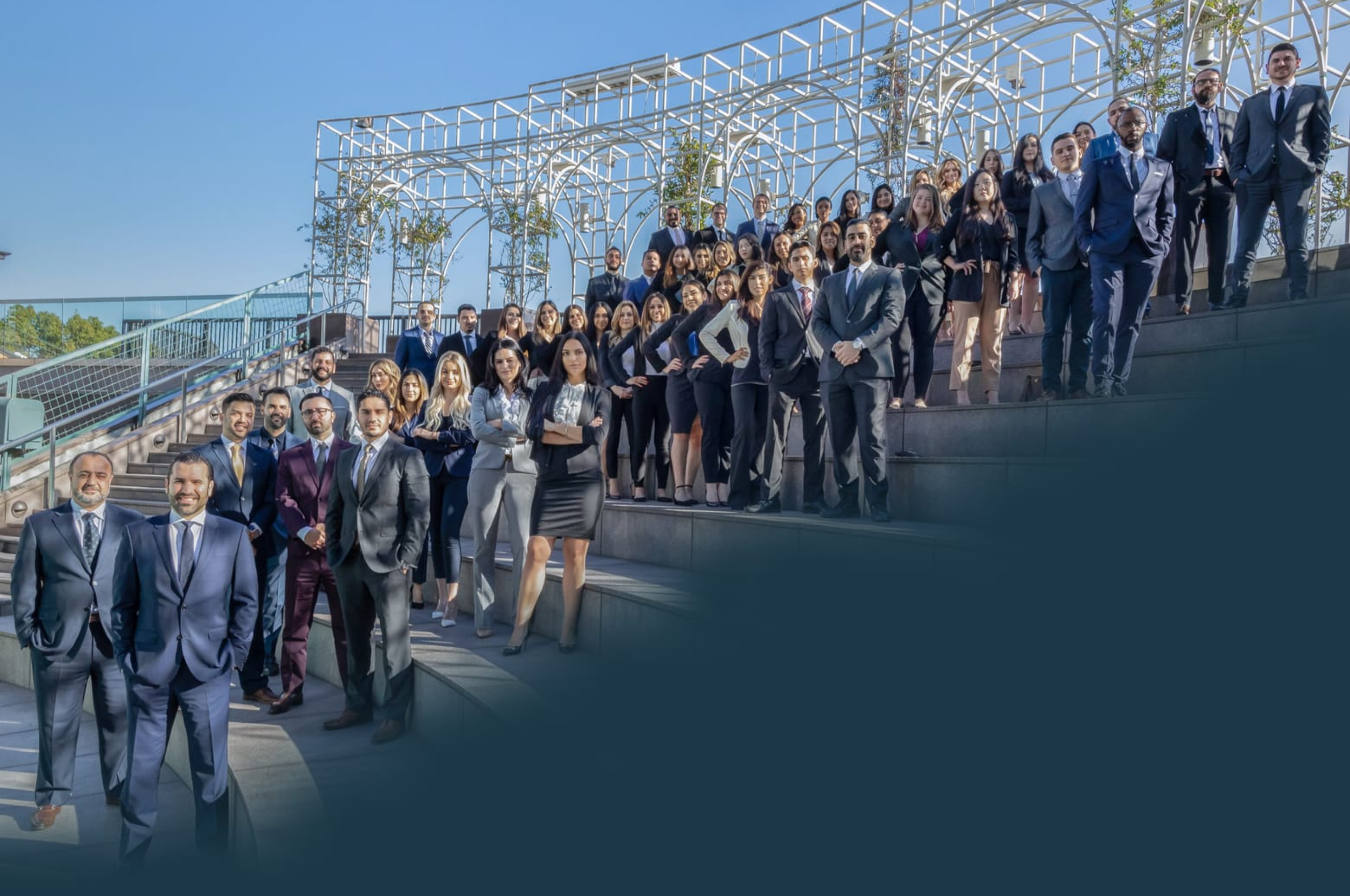 Woodland Hills Personal Injury Attorney
Call Now for a Free Consultation With a Woodland Hills Attorney
Did you sustain injuries after an accident that was caused by someone else's negligent actions? Has your life been greatly affected ever since this accident occurred? If so, you may be entitled to file a personal injury claim to obtain compensation for your losses. We welcome victims of personal injury to reach out to our 24/7 legal team to get started on the process of filing a claim. Our Woodland Hills personal injury attorneys have over 60 years of collective legal experience. We have won more than 5,000 personal injury cases and recovered over $1 billion in settlements for our clients. As we continue to achieve client satisfaction with each case we handle, we are confident that we will get you the compensation you deserve. To schedule a free consultation at our Woodland Hills office, reach out to us today by calling
213-927-3700
 or filling out our
quick contact form
.
Types of Cases We Can Help You Win
At West Coast Trial Lawyers, we tackle every type of personal injury claim. We strive to assist all victims of personal injury. Do not hesitate to contact us if you have suffered any injuries or damages after being involved in accidents, such as the following:
Why Should You Hire a Woodland Hills Personal Injury Attorney?
It is important to acquire legal representation after an accident. Your attorney will help you file a claim, negotiate with insurance companies, and recover fair compensation to cover for damages, such as medical bills, property damage, lost wages, pain and suffering, and more. If you decide to handle your situation all on your own, you may have a difficult time trying to balance your priorities, such as gathering evidence or discussing your situation with insurance companies. Insurance companies often find people with no legal representation as an easy target to offer low compensation to. Furthermore, they pay very close attention to your statements. Any wrong wording or information can be used against you.
Evidence to Include in Your Woodland Hills Personal Injury Claim
In a personal injury lawsuit, you will be required to gather evidence to construct a strong claim against the other party. Your Woodland Hills personal injury attorney will assess the evidence you provided them with to determine what appropriate steps must be fulfilled to increase your chances of obtaining a fair settlement offer. Each accident has different types of evidence that should be included. For example, if your personal injury claim revolves around a motor vehicle accident, you should have the following as evidence:
Copy of the official police report
Witness information
Photographs or video footage of your injuries and/or damages
Photographs or video footage of the location of where the accident took place
Documentation of your perspective of the accident
Medical records of your injuries that were caused by the accident
Security footage
California Personal Injury Laws That Could Affect Your Case
Once you have started the process of filing a personal injury claim, you will need to have an understanding of California's personal injury laws and how it could have an impact on the outcome of settlement offer.
Living in a Pure Comparative Negligence State
California has a pure comparative negligence system set in place. Pure comparative negligence means that if you are partially at-fault for causing an accident, you may still be able to obtain compensation. However, the settlement offer will be reduced depending on the amount of negligence you have committed. For example, if you were looking at your phone while driving and were struck by a speeding driver, you may be found 20 percent liable for damages. The 20 percent will reduce your compensation, thus leaving you with 80 percent of it. To ensure you get a fair settlement offer, you should hire an experienced Woodland Hills personal injury attorney to represent you. Since the other party will try to argue against you that you were more at-fault for the accident than they were, your attorney will help deliver a strong argument to ensure you are given the amount you deserve.
Statute of Limitations for a Personal Injury Claim in Woodland Hills
The statute of limitations for a personal injury claim is 2 years. Once you have exceeded the deadline, you are no longer qualified to submit a personal injury claim against the other party. However, there are a few exceptions to having the deadline extended. The plaintiff must be:
A minor,
Impaired,
In jail,
Out-of-state, or
Legally insane.
The "discovery rule" may also affect the statute of limitations. Basically, the statute of limitations will begin on the initial date of when the injury was discovered or should have been discovered.
What Damages Are Available in a Woodland Hills Personal Injury Claim?
Victims of personal injury are given the right to receive compensation for losses caused by an accident. Typically, you will have the opportunity to be granted economic damages and non-economic damages. Economic damages are monetary and non-economic damages include your emotional and physical losses. Some of the more commonly awarded types of damages in a Woodland Hills personal injury claim include:
Pain and suffering
Scarring
Disfigurement
Loss of enjoyment of life
Emotional distress
Lost wages
Loss of earning capacity
Property damage
Medical bills
Loss of consortium
It is possible to also obtain punitive damages. Punitive damages are intended as punishment and are only awarded when a defendant's behavior is especially harmful. It is awarded at the court's discretion and will vary depending on the specific circumstances of a case.
Woodland Hills FAQ
Going through a personal injury claim can be challenging. However, we urge those who are interested in filing such a claim to get legal insight on what to expect. This will help you feel more prepared, educated, and confident as you proceed to move forward with your case. As we have handled over thousands of personal injury cases, we have often come across many questions our clients have asked regarding their situation. Below, we have listed a few of those frequently asked questions. If you do not see your question in this list, we welcome you to reach out to our Woodland Hills office to schedule a free consultation with our personal injury attorneys so we can discuss your concerns in greater detail.
Will I Have to Go to Court?
It depends on your case, but yes, it is possible to go to court. Your attorney will assess your case to determine whether you can secure a fair settlement offer through the insurance company. If not, you will have to take your case to court to obtain recoverable compensation.
What Does It Cost to Hire a Personal Injury Lawyer?
There is no exact answer for this type of question. Each attorney will offer a different amount of pay for the services that they offer. At West Coast Trial Lawyers, we work with clients on a contingency-fee basis. This means you will not be expected to cover any out-of-pocket expenses. You will also not need to cover any attorneys fees until we settle your case. The specific details of your contingency agreement can be discussed during your free consultation.
Can I File a Claim for My Injured Child?
Yes. The parent or legal guardian of the injured child will be given the right to file a personal injury claim against the party at-fault for damages. You will be required to gather evidence that will help prove that the other party's negligence was the main cause of the child's injuries. The three elements of negligence that should be covered in your case include the following:
The defendant owed the child a duty of care;
The defendant breached their duty of care; and
The defendant's unlawful actions resulted in the child's injuries.
Get Help From Our Woodland Hills Personal Injury Attorneys Today
If you or a loved one were seriously injured due to negligent actions committed by another party, our experienced Woodland Hills personal injury attorneys at West Coast Trial Lawyers are available 24/7 to offer legal assistance. Contact us today by calling
213-927-3700
or by filling out our
contact form
to schedule a free consultation at our Woodland Hills personal injury law firm.


They know what they're doing, very well. Not only did I not make a single phone call from the day I hired them, but I also received calls from their case managers and paralegals who want to make sure my treatment was going well. They whole team took care of me. Thank you WCTL for taking full responsibility of my case and getting me an amazing settlement.


I can say with confidence that this team is the best in the business. . . . Dean took the time to really listen and hear me out. He assured me that he was going to move mountains because he believed in me, and he ended up doing just that. I've never met a more focused and passionate attorney in my life. If you're looking for a firm that treats its clients with the utmost respect and care, calling WCTL is a no-brainer. I wouldn't think twice about working with them again in the future.