Property Damage and Car Accident Insurance Claims in California
How Does Car Accident Insurance Cover Property Damage After an Accident in California?
Over 40,000 fatal car accidents happen in the United States each year. In 2018, 8.4 million drivers were involved in a crash. Survivors of car accidents who are lucky enough to be free from injury may, however, suffer property damage. It was reported that nearly 8,464 drivers got into a property damage collision and the damages were estimated to be around $53.1 million.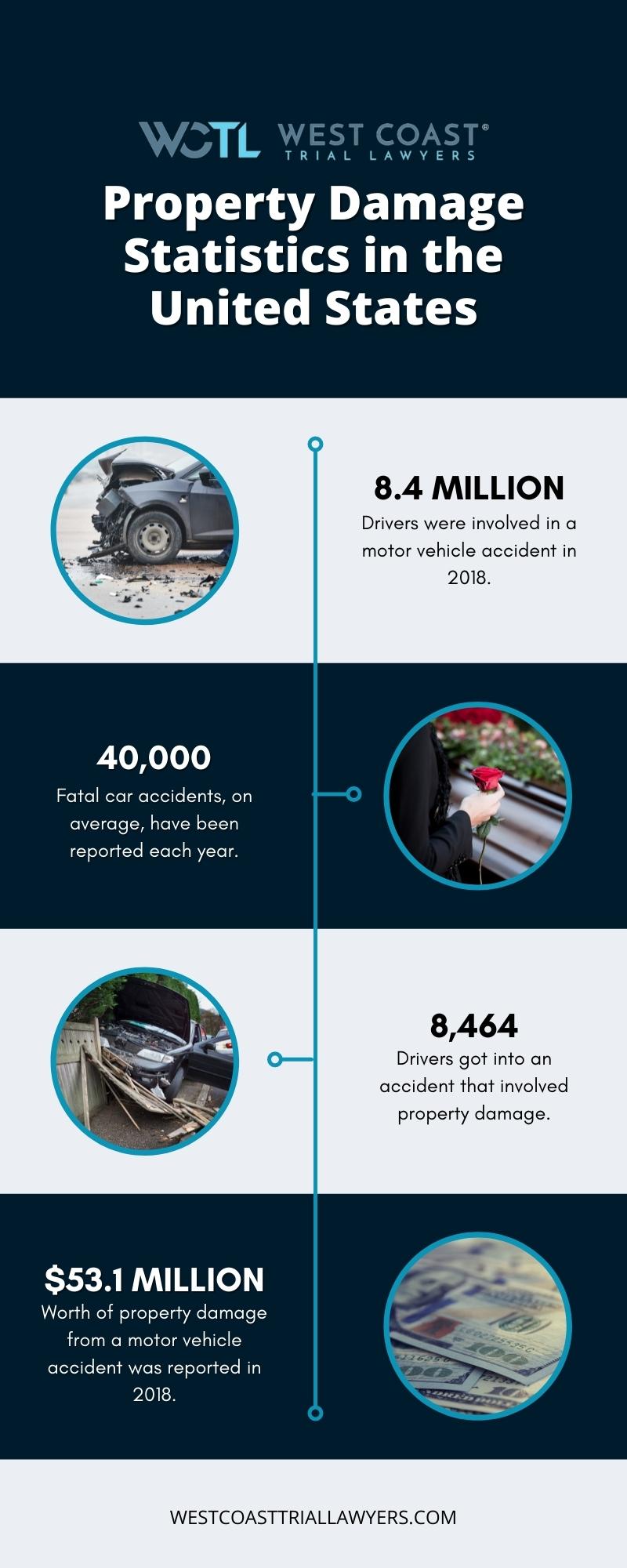 What is covered under your property damage claim is dependent on your insurance policy and state laws. For professional advice regarding property damage, please contact our
24/7 legal team
by calling
213-927-3700
 or filling out our
quick contact form
.
What Is Property Damage?
Property damage
and personal injury are considered separate issues. Property damage refers to the destruction of a personal estate by means of another's negligence or voluntary behavior. The amount collected for a property damage claim is relative to the replacement value, repair costs, loss of use, and sentimental value of the damaged object or estate.
What Does Property Damage Car Insurance Cover?
Property damage car insurance is
required by law
in most states. The purpose of this insurance is to help you cover the incurred costs of damage done by your vehicle. It is meant purely for the other party and
does not
cover your personal expenses. In California, it is mandatory that car owners have a minimum of
$5,000
worth of coverage. Normally, this coverage is used for:
Any and all restorations to the opposing vehicle, which includes but is not limited to replacement parts and labor costs
Physical damage done to property, such as broken lamp posts, fences, or windows
Depending on your policy, your property damage claim might include your legal defense fees.
Loss of income due to car damage
Additional fees determined by the court
How Does the Court Determine Property Damage Claim Amounts? 
Since property damage claims cast a wide net over what is covered, determining the recovery costs can be tricky. Many wisely choose to hire a
property damage lawyer
to help measure the value of objects that were destroyed. Listed below are a few considerations taken when examining
recovery costs
.
Market Costs vs Actual Cash 
As times change and the economy fluctuates, the value of the property may change, as well. While some items become vintage, others will depreciate in value. Insurance companies are usually inclined to pay the market value of the object damaged rather than the actual cash originally spent. When collecting funds from a damage claim, you may also be entitled to:
Cost of Repairs - This could include items like new car parts or even the labor costs, such as auto shop work or repairs.
Loss of Use - If the damaged item affects you financially, then you may also be entitled to lost work wages. For example, if your business is closed down due to an accident, or if your car is an essential part of your business, then you may be able to recover some of those costs.
Sentimental Value- This refers to items that may not be as expensive but which hold emotional value. These include items such as wedding photos or family heirlooms. The value of these objects is determined by the court.
West Coast Trial Lawyers Is Here to Help
West Coast Trial Lawyers will not charge you for a consultation. Our clients are represented on a contingency fee basis. If we do not win, you owe us nothing. There is no financial risk to prevent you from reaching out. Our qualified personal injury lawyers are highly-trained and have extensive experience with cases that are similar to yours. We are committed to helping you resolve your legal issues as quickly as possible while receiving the best results. If you or someone you know has been the victim of emotional distress from an injury, reach out to us by calling
213-927-3700
or completing our
online contact form
.


They know what they're doing, very well. Not only did I not make a single phone call from the day I hired them, but I also received calls from their case managers and paralegals who want to make sure my treatment was going well. They whole team took care of me. Thank you WCTL for taking full responsibility of my case and getting me an amazing settlement.


I can say with confidence that this team is the best in the business. . . . Dean took the time to really listen and hear me out. He assured me that he was going to move mountains because he believed in me, and he ended up doing just that. I've never met a more focused and passionate attorney in my life. If you're looking for a firm that treats its clients with the utmost respect and care, calling WCTL is a no-brainer. I wouldn't think twice about working with them again in the future.