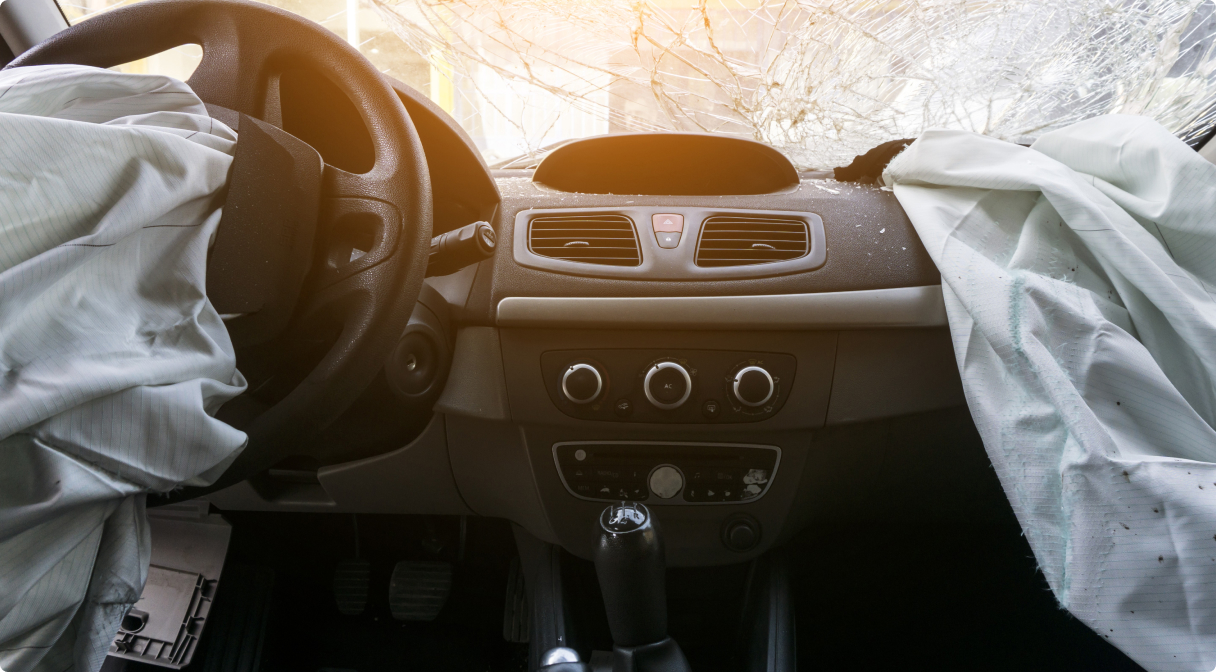 Head-On Car Accidents in California
How Head-On Collisions Harm Car Accident Victims
Head-on collisions can be particularly traumatizing and destructive. A head-on collision occurs when two vehicles, which are traveling in opposite directions, directly crash into one other. Head-on collisions tend to be uncommon, but when they occur, the resulting injuries and loss of property can be catastrophic.
Head-on collisions often occur as a result of mechanical failure or a driver's negligence, such as when a driver ends up on the wrong side of the road, is under the influence of alcohol or drugs, or is distracted. According to a 2018 study released by the US Department of Transportation, about 3,651 head-on collisions took place in the United States. 10.8 percent of these crashes were deadly. 
The impact of a head-on collision is more severe than in other types of accidents, and the accumulated costs of medical care associated with treating subsequent injuries will likely be extreme.
If you were involved in a head-on collision and are seeking legal assistance, our skilled car accident attorneys at West Coast Trial Lawyers have handled and won more than 5,000 personal injury cases. As we continue to succeed in client satisfaction, we are confident that we will deliver a good outcome to your case.
To schedule a free consultation at our personal injury law firm, please contact our 24/7 legal team by calling 213-927-3700 or filling out our quick contact form.
Injuries Caused by Head-On Collisions
Head-on collisions produce some of the most horrific injuries, and if they occur at excessive speeds, permanent or fatal injuries are almost inevitable. Anytime a vehicle strikes another head-on, the energy released in the impact is multiplied. Combine this with the sudden loss of speed at the moment of impact and a person can easily be thrown through a windshield, which is more trauma than the average human body can handle.
Some form of negligence on the behalf of one, or both drivers, is often the culprit in a head-on collision. Generally, there is no real reason for a head-on collision to occur unless negligent or reckless driving was involved. Some of the more devastating injuries that may occur after a head-on collision are:
Brain trauma
Paralysis
Broken bones
Disfigurement
Considerations for Head-On Collisions
If you were involved in a head-on collision, the burden of proof will be on you to prove that either negligence or recklessness on behalf of the other driver was the cause of the collision in order for you to recover any damages.
In order to prove that negligence or recklessness was the cause of the head-on collision, it needs to be proven that the other driver breached their duty of care. Every driver has a responsibility to drive safely and behave in a reasonable manner while behind the wheel. If a driver violates this responsibility, say by choosing to drive drunk or fatigued, they can be found responsible for the collision.
Choosing to drive drunk or fatigued will likely be considered a breach of duty, as a driver is more likely to end up driving the wrong way or possibly swerving into oncoming traffic in an inebriated or exhausted state. Driving while intoxicated will almost certainly qualify a defendant for punitive damages. 
Determining liability in a head-on collision may be challenging. The initial impact can be very intense due to the possibility of having both cars positioned differently than how they appeared when the impact took place.
Liability can be determined, for example, by analyzing skid marks left on the road after a collision, although this isn't always the case.
What if both drivers are found liable? In these cases, both drivers may bring personal injury claims against one another. Going to trial, for example, is one way to determine who is more responsible for the head-on collision. Of course, it is possible to settle outside of court. But if the case goes to trial, a jury will determine exactly how to distribute liability between you and the other driver.
In cases that go to trial, whether you're able to recover any damages will depend on which theory your state follows: comparative negligence or contributory negligence.
The state of California follows the doctrine of comparative negligence, which means that you may be able to recover some damages even if you played a role in the head-on collision.
Special Circumstances Involving Head-On Collisions
Some roads have a higher likelihood of contributing to the possibility of a head-on collision.
There is data that suggests that head-on collisions are more common in rural areas. In fact, head-on collisions account for 13 percent of all rural car crashes involving fatalities. By way of comparison, head-on crashes in urban areas make up 7 percent of all car crashes involving fatalities, a 6 percent difference. The lesson? Be extra careful while driving on those winding, country roads.
Contact Us to Find Out How We Can Help
If you have sustained injuries as a result of a head-on collision, our qualified car accident attorneys at West Coast Trial Lawyers can help you recover compensation for the losses you have suffered, including medical bills, property damage, lost wages, and pain and suffering. 
Contact us today by calling 213-927-3700 or filling out our contact form to schedule a free consultation with our experienced, caring, and compassionate legal team.


They know what they're doing, very well. Not only did I not make a single phone call from the day I hired them, but I also received calls from their case managers and paralegals who want to make sure my treatment was going well. They whole team took care of me. Thank you WCTL for taking full responsibility of my case and getting me an amazing settlement.


I can say with confidence that this team is the best in the business. . . . Dean took the time to really listen and hear me out. He assured me that he was going to move mountains because he believed in me, and he ended up doing just that. I've never met a more focused and passionate attorney in my life. If you're looking for a firm that treats its clients with the utmost respect and care, calling WCTL is a no-brainer. I wouldn't think twice about working with them again in the future.